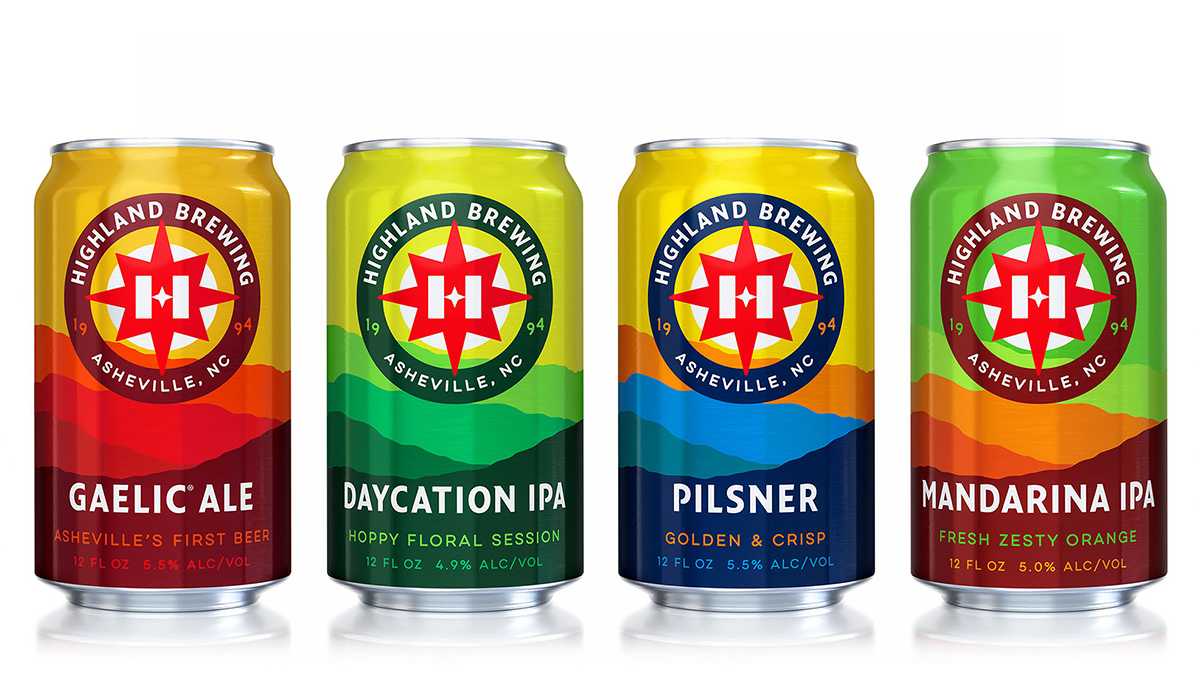 An Insider's Look at Highland Brewing's Rebrand
I spent some of the best chunks of my childhood and college years in Asheville, North Carolina. My entire family is there, and I've been drinking Highland Brewing beers since the brewery's early years. In the summer of 1995 you might have found me sitting just above their first basement brewery, in Barley's taproom sipping a Gaelic Ale and sporting a SUGAR t-shirt and an ill-advised hemp necklace.
Our agency, Helms Workshop, builds and redesigns brands. We create brand strategies, we name brands, and we craft messaging, packaging and core expressions that tell a brand's story. That means everything from the packaging and website to brand merchandise and point-of-purchase displays, even social media content. We've branded smaller start-ups like Modern Times, Fullsteam and Austin Beerworks, and redesigned breweries who have been in the market a little longer, like Boulevard Brewing.
(MORE: Ludacris' New Atlanta Restaurant Focuses on Independent Beer)
In 2017 when I sat down for a beer with Highland Family Owner Leah Wong and she asked for my help in revitalizing the Highland brand I was beyond excited. I'd lost the necklace by that point, which probably helped her decision.
Why Does a Brewery Decide to Rebrand?
There are a number of reasons why a brewery (or any consumer packaged good) decides to refresh or redesign their brand. Over time, perhaps the market evolved, and the brand gradually became less relevant. Perhaps the company has made major changes, and the existing branding no longer reflects the values or vision of the company. A rebrand could be considered as companies expand into new markets with unfamiliar audiences. And then there's competing on increasingly crowded shelves. For Highland Brewing, these were all factors in the decision to rebrand their brewery after 23 years.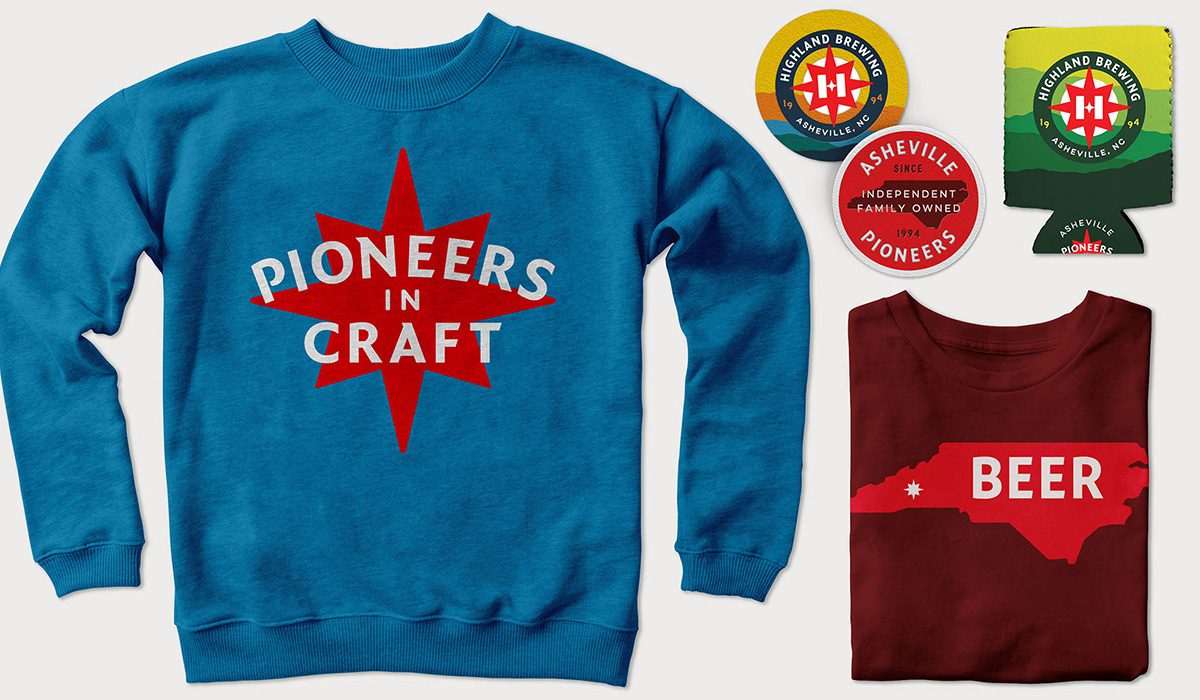 Craft beer in 2018 is a different animal than it was when Oscar Wong founded Highland in 1994. As new breweries open each week in the U.S., store shelves are exponentially more crowded than when Weezer's "blue" album first hit stores.
(MORE: 'Juicy or Hazy' Ales Debut in BA Beer Style Guide)
Highland had evolved their beer portfolio to reflect changing consumer tastes, but the branding remained the same. As Oscar's daughter Leah, now president of the company, looked at Highland she realized that they had an authenticity problem. The branding no longer reflected who they had become: They aren't Scottish and they don't brew Scottish beers. Plus, their packaging, which was centered around an eight-color illustration of a kilted Scotsman raising a pint, was getting lost on the shelf. Locals knew and loved Highland because of their history with the brand, but as the brewery entered new markets, they found it tough to inspire drinkers to give them a try.
Evolution or Revolution: How Do You Know Whether to Refresh or Redesign?
Changing a brand is big decision, and it takes more than gut instinct. Ultimately it comes down to an honest look outward toward your audience, and inward to your values— and applying that learning as a lens to evaluate brand equity.
Highland had a lot of conversations internally, commissioned studies and surveyed customers. It became clear that the existing branding was sending a message that didn't match the beer, the brewery or its culture. The visual equity — the Scotsman, the tartan, the gaelic typography — was disconnected from their identity and didn't merit evolution. Highland had grown in its 23 years, and the team was unanimous in favor of revolution.
How Does a Rebrand or Brand Refresh Work?
With Highland Brewing and any brand project, redesigning starts with listening and learning. We use a broad range of methods to surface insights and develop a strategy before we dive into design. We work with clients on primary market research, brand equity audits, competitive landscape analysis and, most importantly, interviews with the people who work with and love the brand. With larger companies there is often extensive consumer research and market surveys to gain a wider understanding not only who our audience is, but how the audience perceives the brand.
"Highland had grown in its 23 years, and the team was unanimous in favor of revolution."
(MORE: Beer Trading's Impact)
Ultimately we're mining these areas to uncover the spark that makes the brand special. Every brand has one, though they may not recognize it. It can be a product benefit, a core principle or even a quirky idiosyncrasy in culture. The cornerstone of our process, and ultimately our job, is to identify what makes a brand unique and amplify it into messaging, packaging and every other touch point that beer-loving consumers experience. The key is focusing on something that the brand can own.
For Highland, that spark stretched back to the basement of Barley's Taproom. When Oscar rolled out the first Highland keg, he made history as the first craft brewery in North Carolina since prohibition— and began the craft beer boom in Asheville. Oscar was a pioneer. And that spirit is alive and thriving in 2018, visible in every aspect of the company. In addition to reigniting their portfolio, Highland has led a charge in independent craft beer with one of the country's largest solar programs, and established substantial partnerships to protect the mountains that surround their home.
Highland's pioneering spirit, quality beer and their deep commitment to protecting the Blue Ridge Mountains served as cornerstones for the new branding. From the compass logo to the vibrant ridgelines that wrap the packaging, each element ties back to those foundational values. The primary "Pioneers in Craft" messaging is supported by language that reinforces that the brewery is family-owned, and proclaims their place as Asheville's original brewery. Overall the new branding reignites a conversation with long-standing fans and stands out on the shelf, inviting new drinkers to join in as the brand grows.
We've been telling you "Change is Coming" for months, and it's finally here. Here's your first look at our new packaging, logo and even some merch – added bonus – you get to hear our president, Leah, and founder, Oscar, talk about how we approached this huge and awesome brand refresh. Become part of the next chapter of Highland's pioneering history!

Posted by Highland Brewing Company on Sunday, February 18, 2018
CraftBeer.com is fully dedicated to small and independent U.S. breweries. We are published by the Brewers Association, the not-for-profit trade group dedicated to promoting and protecting America's small and independent craft brewers. Stories and opinions shared on CraftBeer.com do not imply endorsement by or positions taken by the Brewers Association or its members.