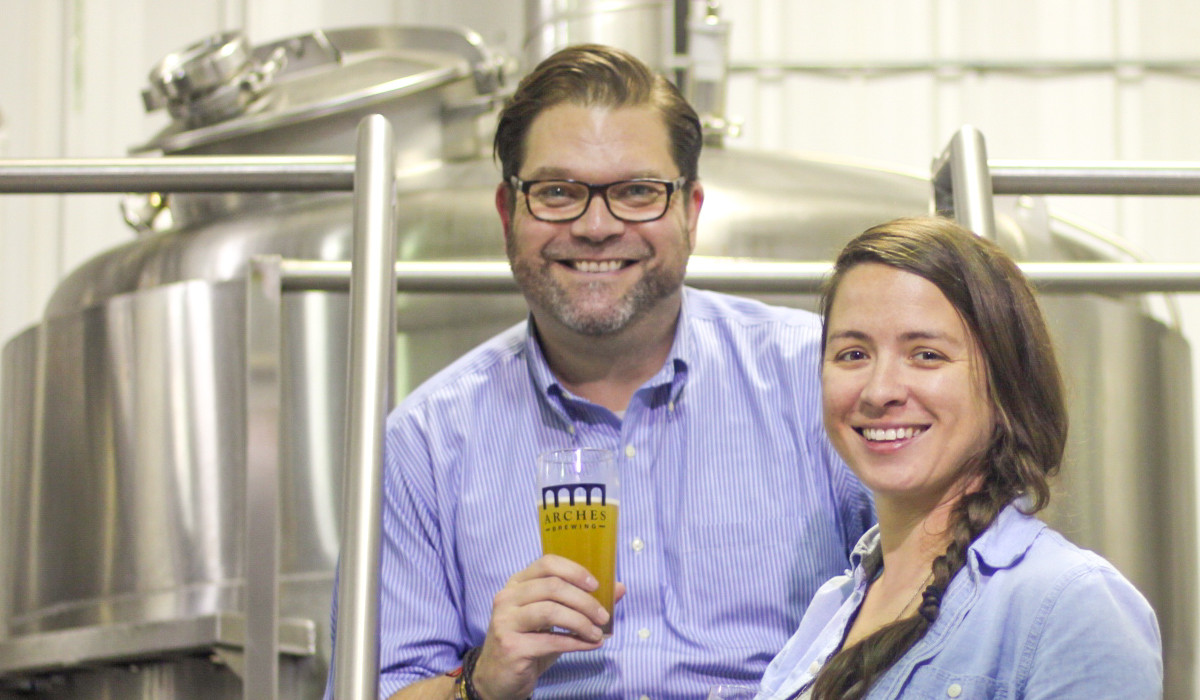 Arches Brewing Opens Doors to LGBTQAI Community
Hapeville, Georgia's Arches Brewing teams up with local resident Jamie Miles to bring a monthly LGBTQAI mixer to the southside of Atlanta.
Metro Atlanta is home to a thriving LGBTQAI center. Though Atlanta proper has served as the epicenter for the lesbian, gay, bisexual, transgender, queer or questioning, intersex, and asexual or allied community, many have moved south of the city into the Tri-Cities area. The Tri-Cities area originally encompassed East Point, Hapeville, and College Park but has grown to include Forest Park, Union City, and other surrounding cities.
Like others, Jamie Miles moved from the city of Atlanta to the Tri-Cities area. When asked what attracted him to the southside of the city, Miles says, "Tri-Cities offers an affordable lifestyle that is rich in culture and diversity. It's growing very fast and has a strong community feel."
And while many enjoy life on the southside of Atlanta, there's one thing missing. "Tri-Cities is great but we don't have a gay bar or anything on the southside of town," says Miles. Atlanta has a bustling LGBTQAI bar scene that allows people from the neighborhood to socialize openly without prejudice. So Miles had an idea to bring together LGBTQAI residents on the southside.
A Safe Haven for the LGBTQAI Community
Miles approached Ashley Henry, the Tasting Room and Events Manager at Arches Brewing, with the idea for Arches to host the LGBTQIA Mix & Mingle, and she immediately said yes.
Similar to gay bars around the world, the mixer provides a safe haven for anyone in spite of their sexual orientation or gender identity/expression. "It's an opportunity to mix and mingle with fellow neighbors in the LGBTQAI community," says Miles. And having the mixer at a brewery gives LGBTQAI members the flexibility to make it a family affair since kids and dogs are allowed.
The mixer has already had a positive effect on the people in the Tri-Cities area. Miles shared a story about a couple who has lived in the area for the last three years. While the couple has visited other businesses in the area, at the mixer, they knew they were in a safe space where they could hug each other in public without any repercussions.
"You could tell there was something missing [in the neighborhood] by the amount of people that came. There was a big void in this community for this type of an event, so it's been great to see …not only do we want to reach out and meet other people in our community, but give opportunities for people to connect," says Henry.
Arches Brewing's Commitment to Giving
Wanting to do even more, Arches Brewing offered to donate $1 from every pint to an LGBTQAI-affliated charity. Each month, Miles and Henry select a non-profit to donate to.
For the first mixer, Arches Brewing donated to Rainbow House Coalition, an organization dedicated to providing affordable housing for LGBTQAI members. The duo plans to donate to Alphabet Soup Atlanta, a transgender support group focused on helping individuals who are transitioning midcareer.
Later this year, Arches Brewing will host a kick-off party for the 50th Annual Atlanta Pride Parade. On October 3rd, the weekend before the Atlanta Pride Parade, Arches Brewing will host an all-day pride event featuring live music, comedy show, art, drag performances, food trucks, and a special beer release in honor of the festivities.
In the future, the duo would like to bring an interactive component to the mixer by providing food and beer pairings. They also would like to partner with other businesses in the area to increase interaction with the LGBTQAI community.
CraftBeer.com is fully dedicated to small and independent U.S. breweries. We are published by the Brewers Association, the not-for-profit trade group dedicated to promoting and protecting America's small and independent craft brewers. Stories and opinions shared on CraftBeer.com do not imply endorsement by or positions taken by the Brewers Association or its members.