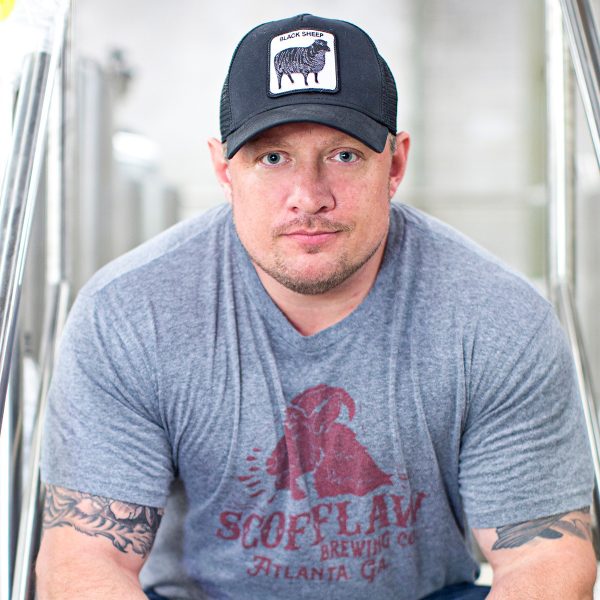 Georgia Brewery's Controversial Facebook Photo Casts Spotlight on Consistency
When you ask a new brewery owner the hardest part about its first year in operation, they usually tell you it's licensing, or learning how to schedule brew days to keep up with demand. Rarely do you hear how rapid growth can create headaches for a small brewery, but that's the complicated space where the founders of Atlanta's Scofflaw Brewing find themselves.
Scofflaw — a word for people who "scoffed" at anti-drinking laws during Prohibition — blasted into the Atlanta beer scene in September 2016, their juicy IPAs an instant hit. Co-founder Matt Shirah tells us they were "blindsided by the reception" they received, which led the small brewery to triple brewing capacity in nine months.
(LEARN: CraftBeer.com's Big List of Beer Schools)
Booming business sounds like a good thing, but swift growth comes with problems, and for Scofflaw Brewing, that problem has been making consistent beer.
A Private Challenge Goes Public
Consistency is not a secret struggle for new breweries. They're scaling up from smaller systems. They're experimenting with ingredients. But Scofflaw decided to take their struggle very public in a controversial August Facebook post that showed the brewery staff flipping the bird to the camera.
The photo wasn't at all subtle. It wasn't meant to be. Scofflaw has built its reputation as the nonconformist, "We brew what we want, when we want" brewery. The brewery says its intention was to open a frank discussion about how consistency can be a struggle. The text added to the photo reads:
This is a small batch brewery. The amount of time a beer spends in a tank, sometimes due to limited human resources, variances in ingredients, and other shit like this affects the beer. We do not have hops contracts this year. We are small so we get the shittiest pick of hops. Grain does not all come from the same field. We tinker with all inputs to work to improve the beer. This is part of what makes small batch brewing and craft brewing what it is. I know there are a lot of experts out there, so to you, if you want to get schooled on this, drop by and speak to Travis or one of our other biologist. On the other hand, if you want more consistency, you can find plenty brands that never try to improve. Brands that have the money and access to gigantic tanks that they can blend into to make more consistent beer. We will gladly give you some recommendations.
The photo attracted responses from all ends of the spectrum, from people who supported them ("I bet those fingers smell like success … F**k the naysayers,") to people who said their message missed the mark ("You reminded me why I don't buy your beer … You put out bad batches of beer, make excuses, and insult those who are unsatisfied with your product.")
Co-founder and brewmaster Travis Herman tried to clarify a few days later. In his response, he admits the photo was "poor messaging" and "unclear."
"Of course we know there are issues that need to be addressed," he writes. "In the pursuit of making the best beer possible this challenge will likely never end. When you grow at a blistering rate, it becomes even more difficult." (See Travis' full post below.)
Working Behind the Scenes
Scofflaw says before the photo, they'd been working behind the scenes to educate their fans about their growing pains. If they heard complaints, they personally invited people to tour the brewery with Travis one-on-one.
(VISIT: Find a U.S. Brewery)
"We operate on the assumption that we can constantly improve." Matt Shirah, Scofflaw Brewing
"Before any uproar, on 10 separate occasions, we brought folks in-house to review what they considered to be inconsistent," Matt tells CraftBeer.com. "After providing them with a more detailed explanation of the process and science behind brewing (i.e., small batches variances, tank variances, ingredient sourcing etc.), they walked away with a clear understanding of batch variance."
Scofflaw continues to invite people who have questions to come look behind the scenes. As for Matt and Travis, they stress that brewing quality beer for Georgia drinkers is their top priority.
"You always have to have a good product and our team certainly can produce a high-quality product," Matt says. "Is it the best we can do? Probably not yet, but we operate on the assumption that we can constantly improve."
CraftBeer.com is fully dedicated to small and independent U.S. breweries. We are published by the Brewers Association, the not-for-profit trade group dedicated to promoting and protecting America's small and independent craft brewers. Stories and opinions shared on CraftBeer.com do not imply endorsement by or positions taken by the Brewers Association or its members.