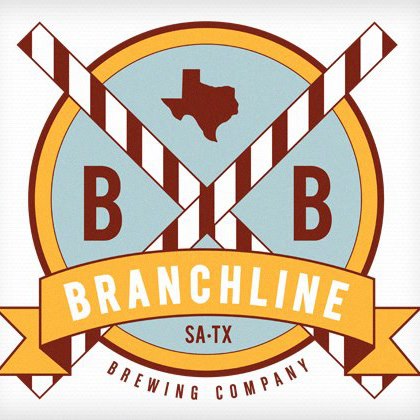 Branchline Brewing Co.
Headed up by Corpus Christi native Jason Ard, his wife Laura and Head Brewer Les Locke, Branchline Brewing Co. has already has gained a reputation for solid beers and great open houses at the brewery in San Antonio's Northeast Side neighborhood.
Branchline features a built-to-order 10-barrel brewhouse and 20-barrel fermentation tanks. However heavy demand for signature beers like Shady Oak Blonde (brewed with Texas wildflower honey), Evil Owl Amber Ale and Woodcutter Rye IPA has already led to an expansion just months after opening.
Ard says he grew up listening to the sounds of boxcars and train whistles from the two branch lines running by his grandfather's farm and thought it only appropriate to pay tribute to him. Coming up with a name that fit the bill wasn't going to be easy, but Ard settled on Branchline Brewing Company, adding that the name "holds a lot of meaning in what we are trying to do with our beer, branching out of our three main styles to create some pretty amazing beers. It also stays in tune with our history and story of how we came to start the brewery."
Branchline started strong as special releases and seasonal beers have been in their lineup since the beginning. "We want to have beers everyone will enjoy" said Ard, who, along with Locke, has also started a modest barrel-aging program for releases down the road.
Ard had been homebrewing for a few years when the idea to open Branchline came to him. With his grandfather, a former engineer and WWII veteran, having recently passed away, Ard wanted to honor his grandfather's legacy by having something of his own.
The beers are currently available only on draft, but Ard has plans for limited bottle releases soon and a canning line in the near future. "Cans just make sense in Texas, and are definitely better for the beer," Ard said.
With laws in Texas having recently changed to allow brewpubs to distribute off-site, Ard advised that they are looking into the possibility of applying for a brewpub license. The change in business model would allow Branchline to continue with its current distribution, but would also give the San Antonio brewery the ability to sell beer on-site for off-site consumption.
"We've recently added a new 20-barrel fermentor that will be devoted to Shady Oak Blonde, and we have our sights on a couple of more fermentors for our other year-round releases, as well as the possibility of purchasing the space next to us for more expansion," said Ard.
It appears good things are on their way for Branchline. Look for them when you're in the Austin or San Antonio areas!
---
Jeremy Banas (@ruinationpress) is a beer writer in San Antonio, Texas. His writes weekly as the San Antonio Craft Beer Examiner for Examiner.com, as well as his own website Ruination Press. He is active in the Texas craft beer scene, serving as a founding member of San Antonio Beer Week, and is San Antonio City Chair for the Texas based craft beer advocacy group Open The Taps.
CraftBeer.com is fully dedicated to small and independent U.S. breweries. We are published by the Brewers Association, the not-for-profit trade group dedicated to promoting and protecting America's small and independent craft brewers. Stories and opinions shared on CraftBeer.com do not imply endorsement by or positions taken by the Brewers Association or its members.