Brooklyn, New York's Bushwick neighborhood was once a major player in brewing. By 1904, Bushwick and nearby Williamsburg boasted 44 breweries, producing lots of hoppy pilseners. At one point before Prohibition, Brooklyn brewed  10 percent of America's beer, thanks to a large population of German and Austrian settlers, according to the New York Times. But 1976 saw the closing of the last of the old breweries in the neighborhood when Schaefer, who made the official beer of the Brooklyn Dodgers, ended production in Brooklyn.
Now, four decades later, Kings County Brewing Collective (KCBC) has opened its doors, breathing fresh life into Bushwick, creating somewhat of a revival in this old American haven of hops and malts.
(MORE: A Beer Lover's Guide to Long Island City)
The Epicenter of Cool
Brooklyn's Bushwick neighborhood, whether you agree or not, is the home base for everything cool. Cool murals decorate the streets. Cool bodegas sell everything from Takis to organic grass-fed turkey meatballs. Cool people strut to the L train in long coats and huge sunglasses. It seems like an alternate universe compared to other parts of Brooklyn, where we prefer puffy coats and eye contact.
When KCBC launched in July 2016, history got a reboot. Three young, thirsty, award-winning homebrewers started brewing up a storm in what co-founder Pete Lengyel says is "almost like a test kitchen." Kings County Brewers Collective is a 5,000 square foot mighty operation turning out creative brews that you can taste in its cozy front taproom.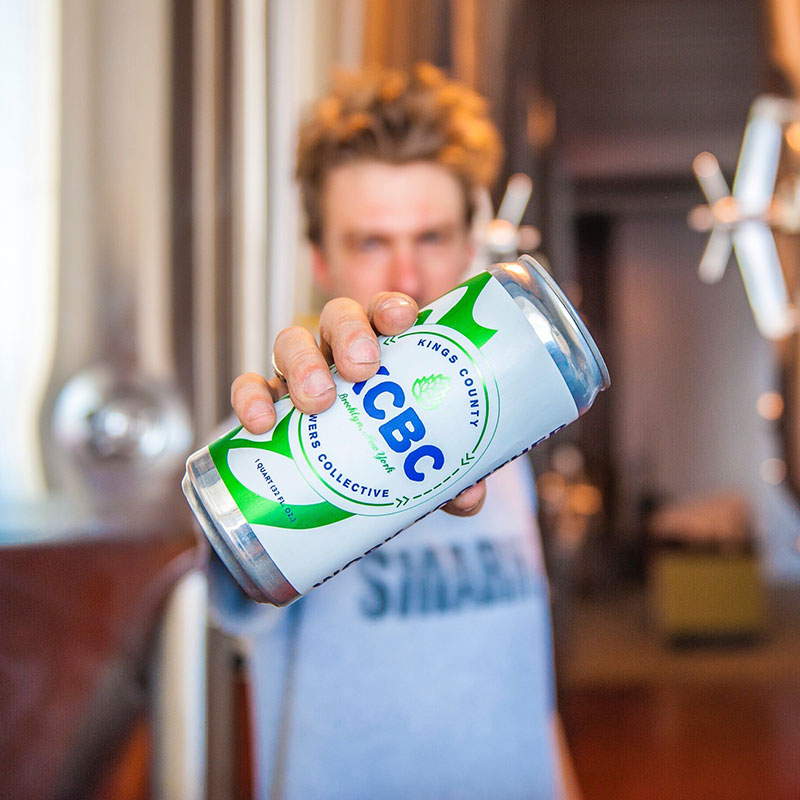 On a calm, cold sunny day on Troutman Street, Pete is back in the brewery making a mash. The building's landlord, Gary, is there, too, enjoying an afternoon brew. Gary, whom Pete calls KCBC's "angel," gave the brewers a 20-year lease, ensuring their reign as Bushwick's brewery (though Braven Brewery will soon start brewing in Bushwick, too). KCBC originally almost opened in the location that's now Honey's, Brooklyn's first meadery, nearby on Scott Avenue. But Bushwick's brewery ended up more centrally located here on Troutman, a perfect meeting spot right by the Jefferson Street L train stop. It's less than a mile from Roberta's, which is often credited with starting the hip, DIY food revolution in Bushwick in 2008.
It was time for a brewery. KCBC raised the money it needed to open in less than two months. Lengyel has a copy of their "enormous" business plan at the brewery. Aside from their own investments and a loan, they were able to raise $700,000 to start the brewery. A little too close to Brooklyn Brewery to call it "Brooklyn" anything, they opted for a name that still paid homage to their location and its history. (Brooklyn is located in Kings County in New York.)
"We want to have as much variety as possible," Lengyel said. "The three of us are making no restrictions on what we use, spending more money on different varieties of hops and malts."
Each brewer has his own style preference: for Zack Kinney, it's sours and barrel-fermented beers; for Tony Bellis, it's hoppy, classic session and experimental beers; for Pete, it's "SMaSH" beers, or single malt and single hop beers. You might call him the more technical brewer thanks in part to his science background, he said.
(MORE: Science Says You're Wrong About IPAs and Spicy Foods)
Drink to the Future
In the Bushwick spirit, collaboration is key. "Nightmare on Troutman Street," a West Coast-style red IPA, was brewed this past fall with Bitter & Esters, a Prospect Heights store where customers brew their own beer. There's an upcoming double IPA, "Yeah Buddy!" brewed with Finback Brewery using Valencia oranges. Another collaboration with Interboro, a hoppy lager called "Taco Wednesday," was inspired by a trip to the classic Bushwick taco spot Tortilleria Mexicana Los Hermanos, located inside a tortilla factory. KCBC released their first can in December, an IPA called "Dangerous Precedent," adorned with a bright red octopus who looks seriously thirsty. Their first bottle, a red wine barrel-aged amber sour, will be released February 4 at the taproom.
With killer names and killer cool vibes, KCBC is making history taste so good.
CraftBeer.com is fully dedicated to small and independent U.S. breweries. We are published by the Brewers Association, the not-for-profit trade group dedicated to promoting and protecting America's small and independent craft brewers. Stories and opinions shared on CraftBeer.com do not imply endorsement by or positions taken by the Brewers Association or its members.