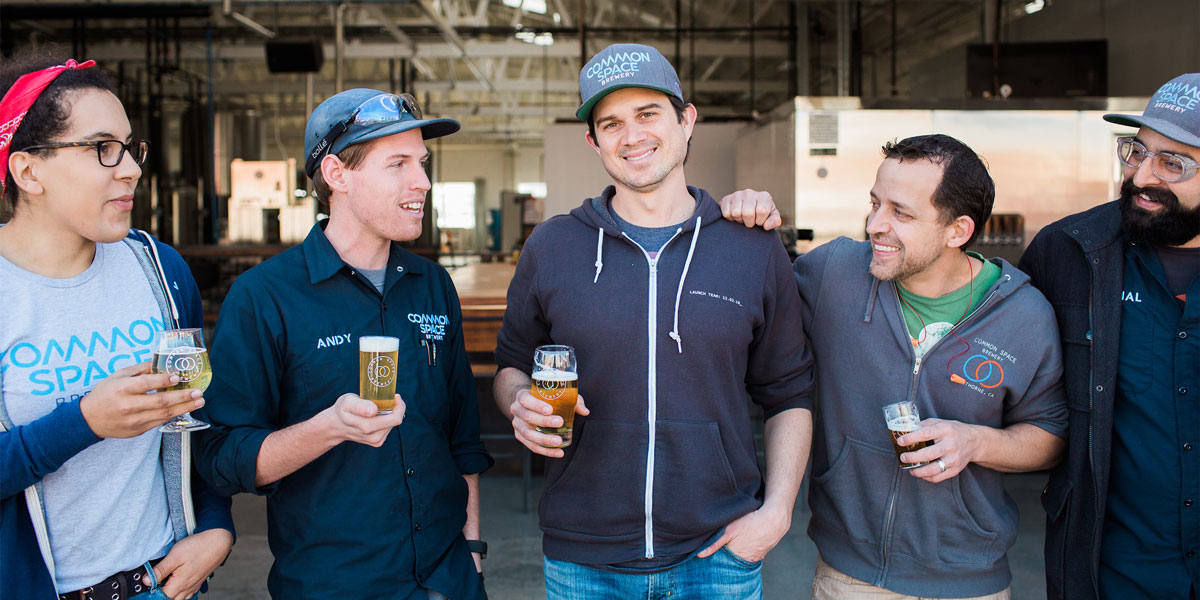 Common Space Brewery: The California Craft Brewery Where It's All About Community
Common Space Brewery of Hawthorne, California, is bringing people together over beer through a myriad of ways, utilizing their 24,000-square-foot, World War II-era, double bow truss, brick building. With so much real estate to work with, its founders are steadfastly guided by a philosophy of improving lives — and doing so in fun and interesting ways.
Better yet, Common Space is transcending the craft brewery-going experience by serving up a variety of weekly and monthly education sessions that span from coding and writing to thought leadership talks to nutrition and wellness seminars.
They even trademarked the phrase "Great Beer Gives Back" to solidify their guiding philosophy. Going one step further, the brewery's branding reflects separate elements coming together, epitomizing the shared belief amongst the founders that people are more similar than different; that beer has the power to help us all find our "Common Space."
(Seek the Seal: Post Your Photos on Instagram)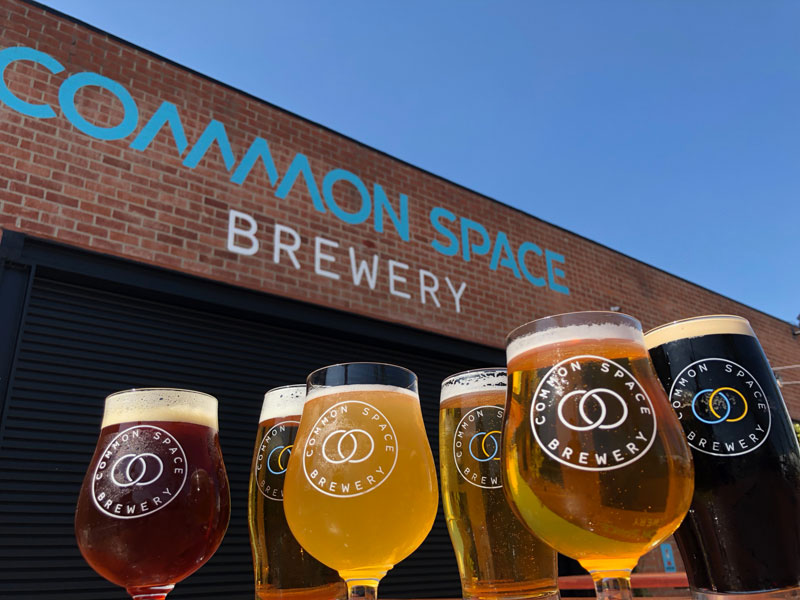 Situated near SpaceX headquarters, within earshot of Los Angeles International Airport and located in a part of Los Angeles — the South Bay — that is revitalizing at warp speed along with a burgeoning craft beer scene, the brewery has methodically ingrained themselves into the community of Hawthorne.
(Find: A US Brewery Near You)
This, all within a short time frame since their opening this year in late February.
"We're coming out of the gates really strong," says Dave Childress, who, along with Ryan Filippini and Brent Knapp, founded Common Space Brewery.
"There is a ton of excitement in the community between SpaceX and a lot of new businesses coming into the area, which has added to the influx of energy," Childress says, remarking at how the brewery is riding a "whirlwind" of early success.
(MORE: 4 Small Breweries Happy to Stay Small)
"The reception and support from the community and city has been fantastic since day one," he says. Knapp, a South Bay native who, in addition to his duties as a co-founder is also the CEO, says that his motivation behind opening up a brewery was to "improve lives" and give back to the community.
Monthly philanthropic events organized by the brewery span both local and international causes, including People Assisting The Homeless (PATH) and Hope for Marian, a charitable organization benefiting a local 3-year-old girl diagnosed with Niemann-Pick Type C — also known as "Childhood Alzheimer's" — which is a rare and fatal children's disease.
(List: A Beer Geek's Travel Checklist)
The brewery participates in Operation Care Package, which sends care packages made up of items donated by the community to service members based overseas. The cause is personal to Childress, himself a veteran, who was deployed to Iraq in 2003 as a cavalry executive officer in the Army.
The brewery's 27-foot-high ceilings surround an open floor plan, which compliments its 1,000-square-foot patio that was inspired by and designed to replicate the beer gardens of Munich. Knapp says those beer gardens are among his favorite places in the world.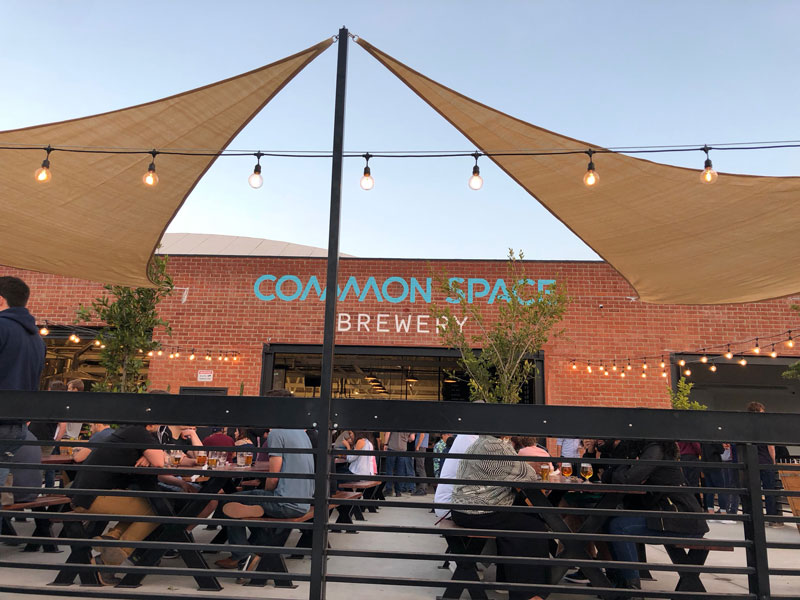 "The way they have long communal tables and it's a gathering spot for people and the community, not a bar," he says.
(Discover: The Precarious Future of Wild Hops of the American West)
Brewmaster Kushal Hall was previously with Speakeasy Ales and Lagers in San Francisco, where he had spent nine years rising from the bottling line to eventually becoming the director of brewing operations. Hall was tapped to lead the brewery with autonomy in developing recipes from scratch, and he was encouraged to experiment.
"We have a pilot system, which is a huge reason why I fell in love with the brewery. It meant to me that we can take big risks," Hall says. "One of the first things I told them [Common Space founders] was, we're going to dump beer and you need to be okay with that."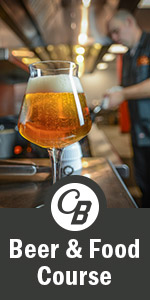 With everyone on board with this research and development program, Hall says that, aside from dumping one batch of imperial stout, "it's fantastic to make four barrels of beer where, if it's good, we can move it to the taproom in 2-to-3 weeks."
(More: What is Craft Beer?)
The green light for Hall to freely experiment is already paying off.
The brewery's Jasmine Rice Saison 008, which at 5.5% ABV has a silky-smooth taste with a one-two punch of fruity flavor and a hint of pepper, has been one of the most successful recipes that have come out of the pilot system.
Their holistic approach to crafting and delivering high-quality beer to the end consumer — from the attention to detail in sourcing a variety of ingredients to meticulously studying water chemistry (mineral balance, pH level, sulfate-to-chlorate ratio) — is a commitment that speaks to their conviction of "quality from grain to glass."
But this is just the beginning for the nascent brewery. The founders (and the community they serve) are nothing short of excited about all that lies ahead.
CraftBeer.com is fully dedicated to small and independent U.S. breweries. We are published by the Brewers Association, the not-for-profit trade group dedicated to promoting and protecting America's small and independent craft brewers. Stories and opinions shared on CraftBeer.com do not imply endorsement by or positions taken by the Brewers Association or its members.