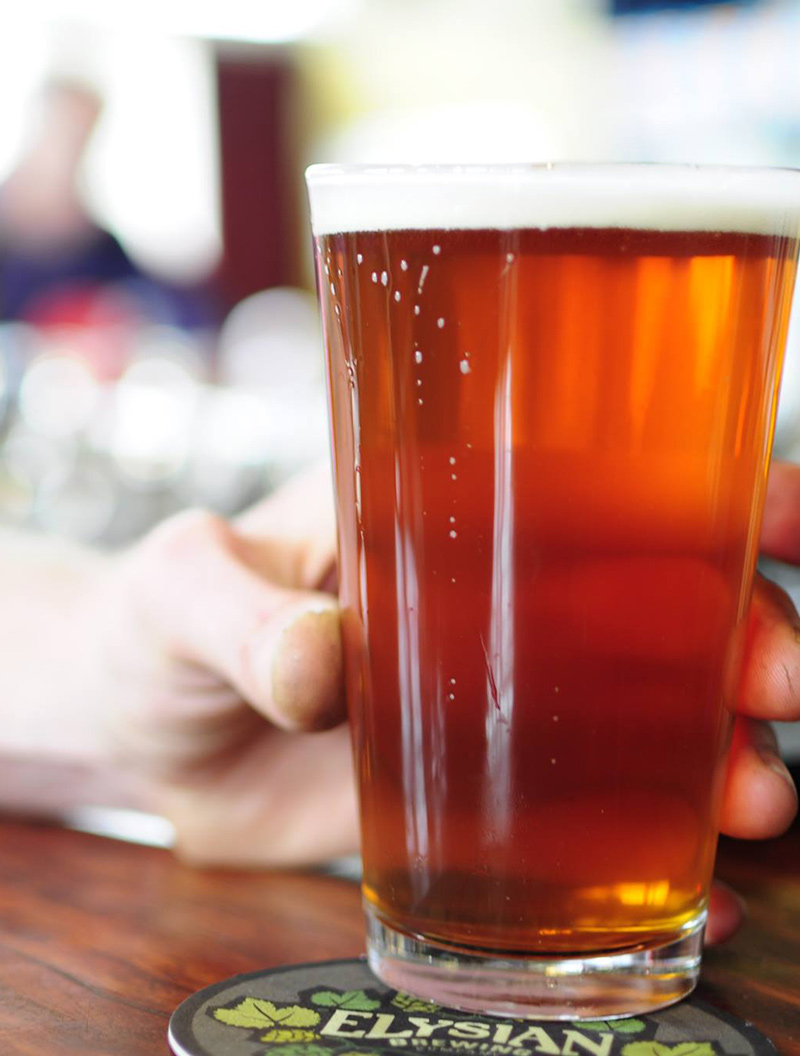 Elysian Brewing Company
Dick Cantwell, head brewer and a co-owner of Elysian Brewing Company in Seattle, Wa., is a year-round brewer, but the man is especially passionate about seasonal beers. He's known in the craft beer world as "The Pumpkin King" for his commitment and experimentation with pumpkin beers each fall.
2013 marked Elysian's 9th Annual Great Pumpkin Beer Festival, a three-day craft beer event at its south Seattle production facility (one of four Elysian locations). Cantwell personally brewed one of the 15 beers Elysian contributed to the line-up of 80 pumpkin beers. He also collaborated on another seven of the pumpkin brews that were available.
Some 2,000 people a day arrived to enjoy the holy grail of seasonal beers, including Elysian's Night Owl Pumpkin Ale. Night Owl is a glass of autumn, conjuring up everything that is beautiful and right about fall.
The brewery is known for its IPAs, like the best-selling Space Dust seasonal that bites with a pleasant floral finish. Elysian's year-round Immortal IPA is a Pacific Northwest favorite that presents with a unique copper color, popping with a nice, bitter IPA greeting and a smooth finish. Elysian's Hop Guava pale ale is a distinctive seasonal that features white wheat and honey malt.
Newer craft beers in their line-up include Split Shot Stout, an espresso milk stout the brewery makes each spring with the help of Seattle's Stumptown Coffee, and a barrel-aged version of their year-round Dragonstooth Stout.
Cantwell got his first brewing job in 1990. He made brewery rounds with a couple of six packs of his homebrew and had two job offers by the end of his first day. Since 1996, Cantwell has been head-brewer at Elysian, which has been named Large Brewpub of the Year at the Great American Beer Festival® in 1999, 2003 and 2004, and 2004.
Elysian's newest location—the 400-seat Elysian Fields, is located in the old Pioneer Square district. The pub sits perfectly within walking distance of both the CenturyLink Field (Seattle Seahawks) and Safeco Field (Seattle Mariners).
The former carriage factory features a 120-foot oval zinc-topped bar, aquariums and low golden lighting that serves as a great antidote to the often-overcast Pacific Northwest sky. The place feels historic and new at the same time. Elysian Fields' menu is complimented by 18 house beers.
Cantwell is as nuanced as his beer. In addition to its draft and dining locations, Elysian's packaging facilities allow the brewery to distribute to 10 states. He often collaborates with other breweries, like New Belgium Brewing Co. in Ft. Collins, Colo., which he calls "a great mentor" in the areas of branding, marketing, staffing and distribution. He is also a seasoned beer writer, authoring articles and books like "The Brewers Association's Guide to Starting Your Own Brewery."
CraftBeer.com is fully dedicated to small and independent U.S. breweries. We are published by the Brewers Association, the not-for-profit trade group dedicated to promoting and protecting America's small and independent craft brewers. Stories and opinions shared on CraftBeer.com do not imply endorsement by or positions taken by the Brewers Association or its members.