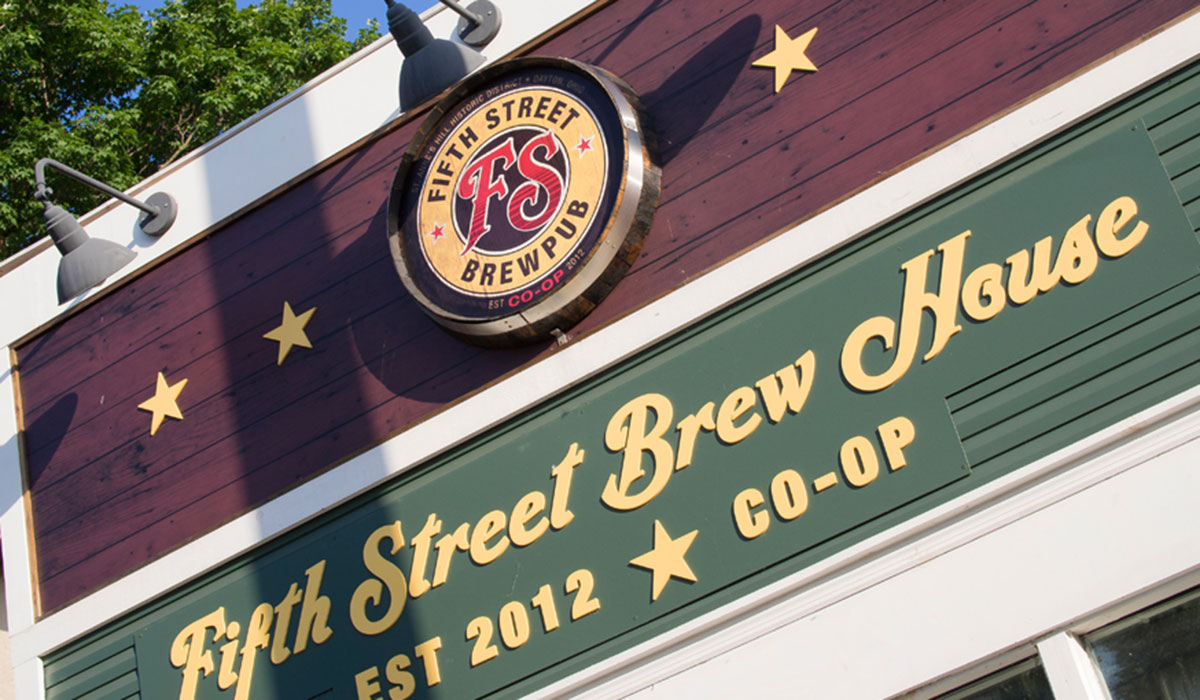 Fifth Street Brewpub: How Neighbors Started a Co-Op Brewery
Fifth Street Brewpub is one of 14 breweries to spring up in the Greater Dayton area within the last five years, but it's Ohio's only co-op brewery, and one of only a handful of such cooperatively owned breweries like it in the country. Started in 2012, Fifth Street Brewpub differentiates itself from other local brewpubs by being 100 percent member-owned.
What makes a co-op brewery different? On the surface, not much, says General Manager Tanya Brock. "Anybody who's just going to stop and have a drink, they are none the wiser."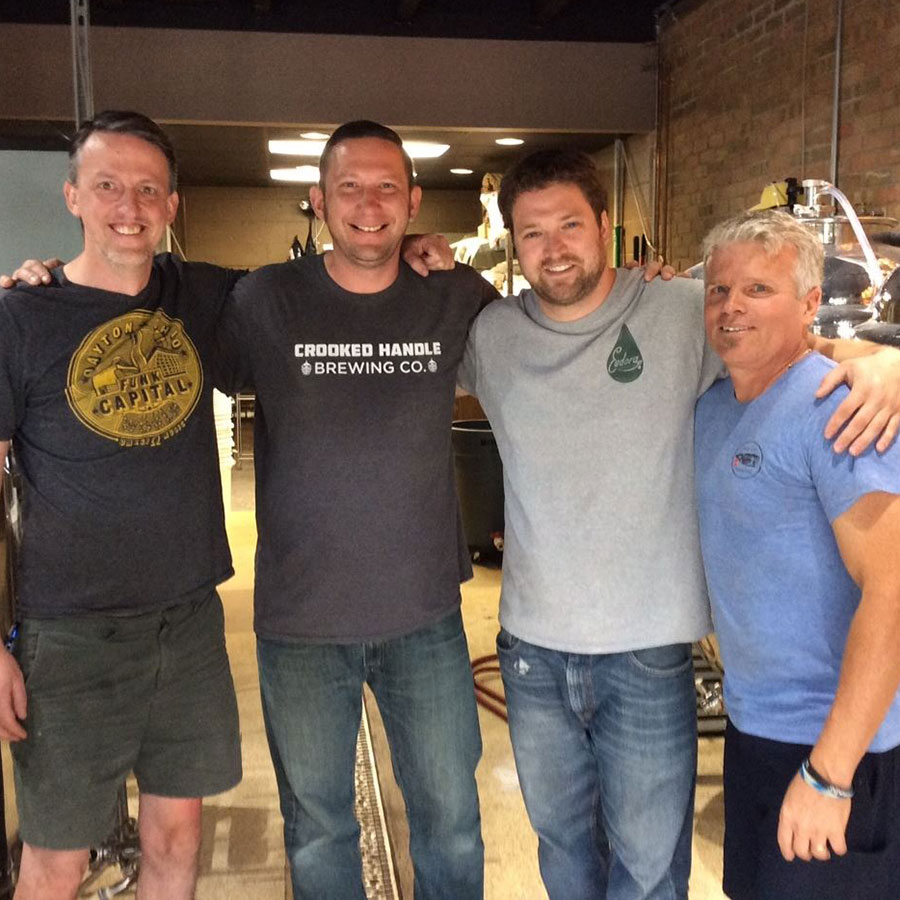 Yet, dig deeper and you find an organization that is responsive to the community. Being a co-op, Brock explains, "makes us listen more to the patrons that come in and be more cognizant of getting to know them."
(MORE: Brewers Association Announces SAVOR 2017 Brewery List)
Building Fifth Street Brewpub as a Co-Op
This responsiveness is rooted in the pub's origins, which started as a neighborhood initiative to save a historic building. The brewpub, located at 1600 E. Fifth Street, is in a downtown residential neighborhood known as St. Anne's Hill. The architectural features of the neighborhood's Victorian homes landed St. Anne's Hill on the National Register of Historic Places in the mid-1980s, but until recently, economic recovery has been slow to come to post-industrial Dayton.
Residents of the city that birthed the Wright Brothers and Guided By Voices have found that innovation and growth most often come through DIY bootstrapping. In 2010, a group of 34 St. Anne's Hill residents invested to restore the local landmark at 1600 E. Fifth Street.
The initial plan was to fix and sell the building to a business, but post-renovation, the building sat empty. The group realized that if they wanted a business in the building, they'd have to build one themselves. After a meeting with Jeff Black, brewer and a founding member of Austin, Texas' Black Star Co-Op—America's first cooperatively owned brewery—the St. Anne's Hill neighbors decided to emulate Black Star's model.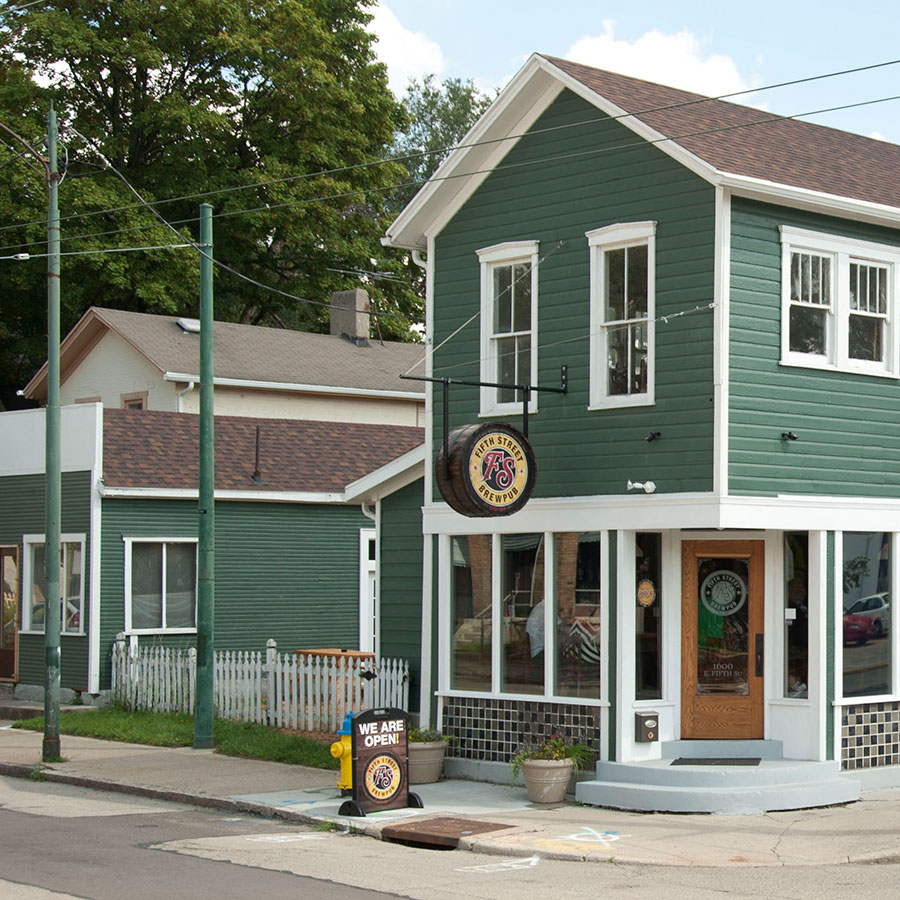 (MORE: 9 Brewery Couples On Their Strong Relationships and Successful Breweries)
Co-Op Membership and Management
Membership is open to anyone with $125 and the pitch for membership was, and still is, simple: One share, one stake. Member-owners get to claim that, "I own a brewpub," a slogan that dominates the brewery's marketing campaigns. And Dayton has responded enthusiastically, immediately purchasing more than 800 memberships. Five years later, membership tops 3,300.
Membership draws from the surrounding community, with a heavy tilt towards those in the neighborhood. "We're a real life version of Cheers," Brock explains. "The majority of people who come here two, three, four, five times a week. This is their watering hole; this is a place that they rely on for dinner, or lunch or breakfast."
Many employees are members, but membership isn't required to work at Fifth Street Brewpub. "We leave it up to the individual employee," says Brock, although she notes that there is a "strong nudge" for management to join. "[It's] self-beneficial that we're members because members have a voting right."
With so many owners, how does anything get done? Brock runs the day-to-day operations and members elect a Board-at-Large, which advises, and a Board of Directors, which oversees operations. There are four officers: the president, vice president, secretary, and treasurer.
"Those four are my direct supervisors," Brock explains. "They're the ones that I work very closely with on figuring out the business management and the larger goals of what we're doing."
Brewing Classic Beer Styles
Darren Link, Fifth Street's brewmaster, manages the beer for Brock. Link's seven-barrel brewhouse is located across a paved biergarten from the main pub, in an outbuilding restored and retrofitted for the brewing equipment.
Link's beer list is peppered with classic styles — a German-style Kolsch and a Scottish Wee Heavy sit alongside English-style pale ales, browns and stouts. Link is a prolific brewer who plays with expectations.
"I like to challenge myself mentally, challenge my skills by throwing the curve balls in there," he explains. One of his signature beers is Herbavore #1, a pale ale with honey and basil.
A homebrewer turned pro, Link's homebrewing experience has allowed him to make beers that are different without being gimmicky. Expect Link to push the envelope, but not chase trends: "I'm going to have to be pulled kicking and screaming into the Northeast IPA," he jokes. And barrel aging? It's pretty limited. "We have a whopping four barrels," laughs Link.
(MORE: Mark Your Calendars for American Craft Beer Week 2017)
A Decision to Distribute
Fifth Street initially planned to limit distribution to on-premise sales, but in the last year, Link has expanded to nearly three-dozen outlets throughout Dayton. Although the brewpub produced less than 400 barrels last year, Link sees distribution as necessary because it allows them "to increase production, increased our perception in the market, and use that distribution as an advertising tool and an additional source of income."
And that visibility brings this co-op brewery full circle to its roots: building community. The pub and its members continue to invest in community, be it through an annual homebrew competition where the winner brews his or her recipe on Link's system, or the popular Monday night Guest Bartender program that allows local non-profits to sling beers in exchange for a portion of the sales.
Brock and Link work together to find additional outreach, often at the suggestion of members, and look forward to projects like creating a commemorative anniversary brew for Link Dayton Bike Share, a non-profit organization with self-serve bike rental locations throughout town. These actions are a way to give back to the neighborhood that gave life to the brewery.
CraftBeer.com is fully dedicated to small and independent U.S. breweries. We are published by the Brewers Association, the not-for-profit trade group dedicated to promoting and protecting America's small and independent craft brewers. Stories and opinions shared on CraftBeer.com do not imply endorsement by or positions taken by the Brewers Association or its members.