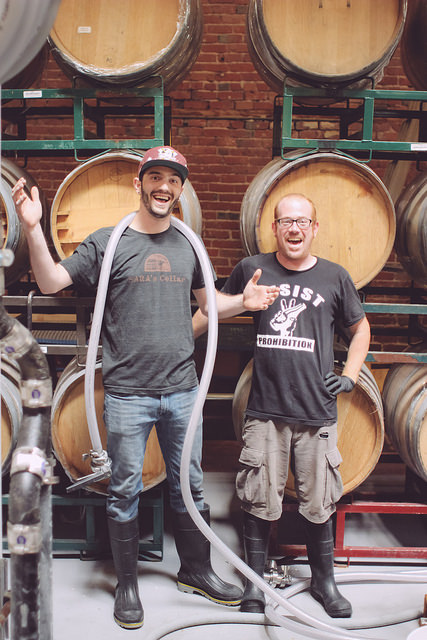 The Good Beer Company
As I step into their new production brewery in Orange County, Calif., Brandon Fender (owner, brewer) and Dave Larsen (head brewer) welcome me to The Good Beer Company. The brewhouse sitting behind them is angelically shining from a beam of light pouring in through a skylight three floors up. "What do you call it when the sun's rays pour through a hole in the clouds?" I ask. "I think that is called crepuscular rays," says my wife, knowingly. "Whatever! The light pouring on the brewhouse looks righteous…like the brew gods approve."
Fourth Street Santa Ana, also known as "Calle Cuatro," is a vibrant, culture-rich area, full of art, adventurous chef-driven eateries and a celebrated Latino history. The only thing missing was a production brewery…until now. "One of the keys of my business plan was to have a unique location," says Fender. "I didn't want to open up in an industrial area."
The body of their building is unique; wooden bones hold up the three-floor skeleton, the patina-clad brewhouse is the digestive system and a long steel ventilation pipe makes up the esophagus. The exhaust on the roof, as it were, fills downtown Santa Ana with euphoric brewery aromas. Being over 100-years-old, the building originally served as a livery, then an office building and now a brewery.
The Good Beer Company aims to make more than just good beer—the name is more of a mission statement. "We hope we will make great beer of course," says Fender. "The Good Beer Company is more about being a good company—it's a play on words. We are going to do things that are good for the community."
If supporting the myriad of local festivals isn't enough, Fender hopes to direct efforts to dealing with Santa Ana's homeless and deteriorating buildings.
"This is our community and these are the people that are going to come in and drink our beer," says Fender. "We want to be able to give back to them." If that's not good enough, The Good Beer Company has been employee-owned from the get go.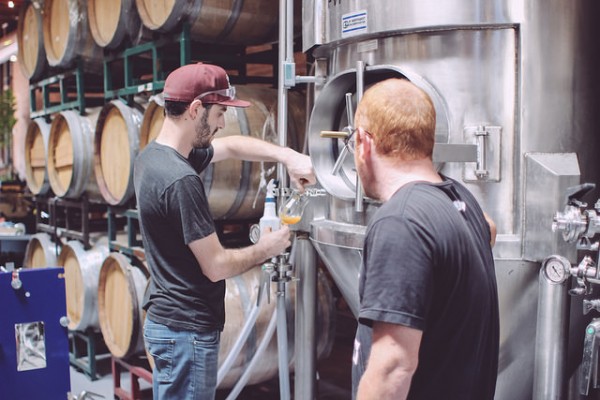 On the brewing side of things, head brewer and close friend Dave Larsen wields the mash paddle. Larsen, a homebrewer for over a decade, has been gathering experience at Cismontane Brewing Co. in Rancho Santa Margarita, and has also brewed at Haven Gastropub in Pasadena.
Stylistically, the two will brew rustic and west coast beers using a variety of traditional and wild yeasts. Fifty or so wine barrels will be used to temporary home their old world beers. New school hops will burst and dry hop the Good Beer Co's IPA.
"As brewers and owners, it all comes down to what we want to drink, says Fender. I usually reach for an IPA, but if I'm having a nice meal, I want something Belgian and complex that compliments food."
When asked whether he ever wanted to own a brewery, Fender smiles and says, "Nah," then takes a huge bite out of his grilled cheese sandwich with egg from a local deli. "My passion lies in making great places."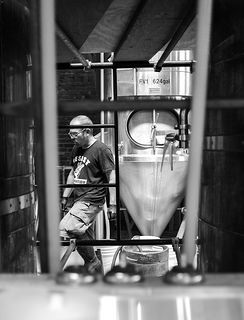 Going from design school to studying social ecology, his outlook on creating a brewery stems from wanting to create a place for people to enjoy. "If we can create a place that people want to hang out and spend time, that'll bring a smile to my face and a tear to my eye," Fender says chuckling, taking a sip of beer.
Fender himself is no stranger to brewing. As a decorated homebrewer and self-proclaimed "beer bug collector," he's always looking to stretch the boundaries of beer as we know it.
"It all went downhill when Dave showed up at my house with a used wine barrel, and I was like…lets fill it up! We filled it with a four percent saison and pulled some off every few months. I like blending it with other beers as well. That's the exciting part about wild beers, not knowing what the outcome will be."
The Good Beer Company opened with two beers, a pale hoppy wheat beer and a rosy saison. They are located at 309 W. 4th Street in Santa Ana, Calif.
---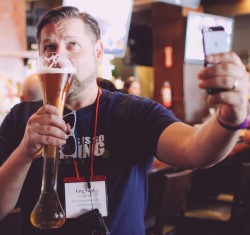 Gregory Nagel's thirst for beer knowledge is often conquered by homebrewing and seeking out the freshest local beer the world has to offer. When not furiously typing about beer in his fortress of solitude, he can be found strumming an old guitar or playing with his strange collection of vintage Russian film cameras. Greg is the founder and sole contributor at OCBeerBlog.com and creator of Firkfest, a cask beer festival in Orange County, Calif.
CraftBeer.com is fully dedicated to small and independent U.S. breweries. We are published by the Brewers Association, the not-for-profit trade group dedicated to promoting and protecting America's small and independent craft brewers. Stories and opinions shared on CraftBeer.com do not imply endorsement by or positions taken by the Brewers Association or its members.