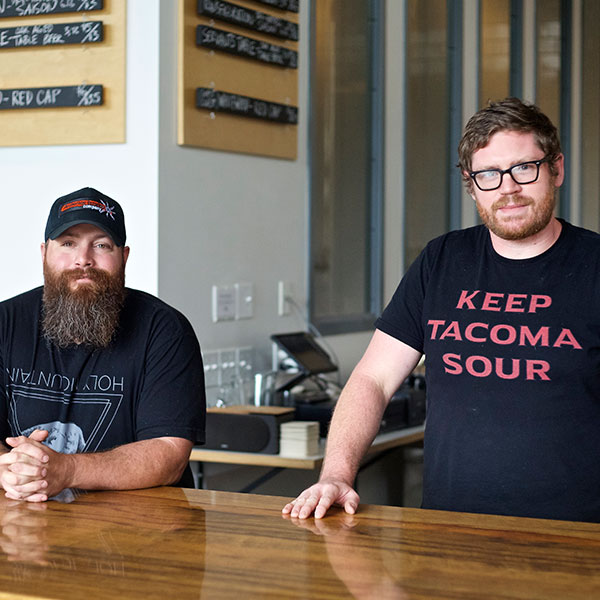 Holy Mountain Brewing Stands Out In Seattle's Vibrant Craft Beer Scene
Seattle is well-known for its vibrant craft beer scene, so when a new brewery manages to create high-demand beers, the Emerald City takes notice. That's exactly what's happening at Holy Mountain Brewing.
In January 2015, two friends finally opened up Holy Mountain's taproom doors in Seattle's Interbay neighborhood. The idea for this taproom, and the brewery that would stock it, had been years in the making.
Filling a Hole in the Market
The beer alone had been brewing since fall 2014. When it came time to open the doors, there had already been numerous self-renovations of their new space, unexpected hoop jumping thanks to city permitting requirements, and countless late nights. The founders admit those days were both exciting and petrifying.
"Opening up the taproom was completely terrifying," says Colin Lenfesty, one of the two existing founders of Holy Mountain. "I got here at three in the morning. I couldn't sleep," he continues with a laugh.
Mike Murphy, Colin's partner in the venture, also laughs as they reminisce. "We expected it to be busy, but we didn't expect it to be … that."
If you're wondering what Murphy means by "that," he's referring to a full house, an understaffed taproom and a shortage of pint and tulip glasses for the volume of beer people ordered on opening day. Within 15 minutes of Holy Mountain being open, Lenfesty and Murphy were behind the bar pouring beers and washing dishes, lending a hand to their first three employees who had been hired on to staff the bar. What was supposed to be a night of relaxation and celebration soon became an all-hands-on-deck endeavor.
(Walk This Way: Seattle's Ballard Neighborhood | Asheville's South Slope)
"We got our asses handed to us," Lenfesty says, laughing.
"It blew us away," Murphy says.
Scary for the humble team of two, but a complete delight for Seattle. You see, Holy Mountain's opening has managed to raise the already high bar for craft beer in the Emerald City. They've done this by paving a new path and creating a demand for styles you'll find in their taproom, but not necessarily everywhere else in the city.
"We just kind of saw a sort a hole in the market — something that wasn't really being done in Seattle with the beers that we wanted to drink," Lenfesty explains. "That aggressive, concentrated focus barrel aging program, mixed fermentation and those really awesome classic Belgian beers that we liked," Lenfesty elaborates.
"We wanted to put as much time and energy as we could into barrel aging and barrel fermentation. No one was really doing that in Seattle," Murphy explains.
Midnight Still Creates a Frenzy
It's safe to say that Holy Mountain is succeeding in its quest to fill that hole in the market. A perfect case-in-point is their famed Midnight Still. If this name rings a bell, there's a reason. This Bourbon Barrel Aged imperial stout's first batch was aged for a total of 15 months in October 2014, with their second batch being brewed for another six months in July 2015. When it was all said and done, Holy Mountain had created a near-perfect beer that clocked in at a heavy 12.5% ABV — and Seattle noticed.
Though Holy Mountain has brewed a number of noteworthy beers, the Midnight Still was one that put the team in the ranking as one of Seattle's most talked-about breweries. And for a city that relishes its craft scene with insurmountable pride, that is quite the compliment.
But the barrel aging program isn't the only thing getting Murphy and Lenfesty's attention these days.
"Our secondary thing is focusing on classic styles of beer — hoppy beers, lagers, stuff like that. Stuff we like to drink." Lenfesty says.
Something beer lovers won't often find in the Holy Mountain taproom is the quintessential Pacific Northwest beer: the IPA. Though it's one of Lenfesty's favorite styles, there is a reason as to why it's not often found on the line-up.
"Instead [of IPAs] we brew hoppy pale ales. It's also sort of a thing to make people think about drinking something else," he says.
(MORE: Alibi Ale Works on Building a Brewery Without an IPA)
Humble and Thankful
Even without an IPA, there is no denying that Holy Mountain's line-up is exemplary. But that factor alone isn't what makes the place special and worth a visit (or perhaps a few). What continues to set Holy Mountain in a class of its own is the humility that is exemplified by Murphy and Lenfesty, and their gratitude to their team and customers for their stunning success.
"The most encouraging thing has been our staff. We have insanely talented people here — people more talented than we are — that are excited about what we're doing," Murphy says. "They drive us to keep doing it, to keep being creative."
Lenfesky agrees and continues on in thanking some other important folks: their fans.
"We know most of the people that come in often make the journey to come here," he says. "It's really cool to see regulars come in, people from other breweries. It's really flattering."
Flattering, but for beer lovers in Seattle, also necessary. If you're not keeping up with what's being tapped at Holy Mountain, then you are missing out on pushing your taste buds, trying out new styles and experiencing the true craft of craft within the city.
"I think the beer we're making now is better than beer we were making when we opened. As long as we can stay on that track, make it better and tweak recipes, that's the fun stuff," Murphy says.
And, of course, is it fun for us too. It goes without saying that we're on the edge of our seat waiting to hear what is on deck in Interbay.
CraftBeer.com is fully dedicated to small and independent U.S. breweries. We are published by the Brewers Association, the not-for-profit trade group dedicated to promoting and protecting America's small and independent craft brewers. Stories and opinions shared on CraftBeer.com do not imply endorsement by or positions taken by the Brewers Association or its members.