Hop River Brewing Company is new to Fort Wayne, Indiana. Its taproom and 15-barrel microbrewery opened in February 2018 — but its convivial beer hall is already a neighborhood fixture. Here, kids set up board games on long communal tables while their parents order pulled pork nachos. A couple trades sips of Kolsch and altbier — head brewer Kevin Debs brews the only alt in town. Cyclists and kayakers coast into the parking lot and grab tables on the patio next to the tomato plants and peer up at the clouds that threaten rain.
[newsletter_signup_box]
President Ben Jackson and vice president Paris McFarthing wanted their brewery to be a gathering place for the community. But the co-founders didn't realize it would play such an active role in the neighborhood's development.
The Flow of Development
Fort Wayne is moving away from its past as a manufacturing city and reinventing itself as a community with a revitalized city center. A 20 million dollar investment in its riverfront neighborhoods, which include many of the city's 86 parks and much of its 90-mile trail network, has moved development north of downtown. That's where Hop River Brewing Company sits ready to greet the next wave of artists, entrepreneurs, outdoor enthusiasts and young professionals flocking back to Fort Wayne.
(MORE: 4 Small Breweries Happy to Stay Small)
The brewery is located along the Historic Wells Street Corridor. McFarthing describes it as "a local, eclectic avenue." It's just blocks from where a major riverfront development will offer opportunities for outdoor recreation and entertainment in 2019. It was a strategic choice.
"We're taking advantage of a location that's just outside of downtown, but still sort of industrial and up-and-coming," Jackson says. "A brewery in the neighborhood is a harbinger of increased economic growth. It's more of a long-term investment. It's this great anchor around which the community can build."
Hop River Brewing's Prime Location
The brewery's location made it a logical place to host a planning meeting for the project. But when the first meeting was packed and the local historical center and several other nonprofit organizations approached them to use the taproom for meetings and events, Jackson and McFarthing realized this was more than just an opportunity to sell beer.
"We had this 'aha moment' where we said 'Why aren't we just doing this all the time?'" McFarthing says. "This is great way to connect with people. Because at the end of the day, it's very hard for people to support you if you don't support them. Inviting people in is really our way of supporting our community."
(Meet You Upstairs: Great Brewery Rooftops)
Now the taproom is a favorite location for fundraisers and meetings. It's also a regular stop for pedal and paddle events that pull guests off the trails and out of Fort Wayne's three rivers and into the neighborhood for a beer. On any given day at the brewery, you might find neighbors working on craft projects, making enrichment treats for shelter pets or brainstorming new ideas over pints of bright, super sessionable Magnitude 6 Pale Ale and the malty yet refined Maestro Vienna Lager.
Collaborative and Inclusive
A spirit of collaboration is evident on tap too. Hop River Brewing Company guest taps feature beer from other Fort Wayne brewers. And the brewery has collaborated with Junk Ditch Brewing Company on a Saison. A popular lemon shandy was developed for a local music festival and a recent batch of Midnight Retreat Imperial Stout was aged in bourbon barrels from Three Rivers Distilling Company across town.
(MORE: The Precarious Future of Wild Hops of the American West)
The family-friendly atmosphere — complete with board games, pinball machines and a kids' menu — is also a draw. "There's not many places you can go and drink beer and also bring your kids in an atmosphere like this," bartender Dusty Stephens says. "At least not in Fort Wayne."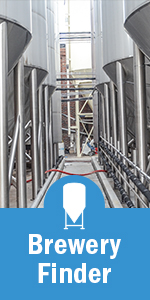 In The Right Place
The goal is to make the beer list as low-key and accessible as the taproom vibe. The delicate Kolsch and the piney, hoppy Lasers in the Jungle IPA are best sellers. But Hop River Brewing Company also emphasizes easy drinking options like a mild and mellow pilsner, a strapping Scottish ale and crisp American-style lagers to meet Indiana beer fans where they are — both at the taproom and in bars and restaurants around the state.
"We're sized to be a production brewery," McFarthing says. "At the end of the day, we just want to be where people drinking beer are."
They're already in the right place. By the time the neighborhood is in full bloom, Hop River Brewing Company will already have taken root.
CraftBeer.com is fully dedicated to small and independent U.S. breweries. We are published by the Brewers Association, the not-for-profit trade group dedicated to promoting and protecting America's small and independent craft brewers. Stories and opinions shared on CraftBeer.com do not imply endorsement by or positions taken by the Brewers Association or its members.