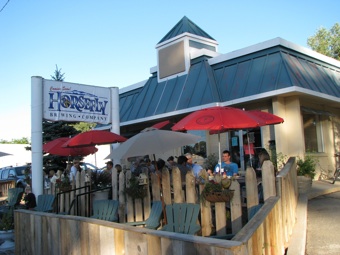 Horsefly Brewing Co.
John Shrader, head brewer at Horsefly Brewing Co. in Montrose, Colo., is not your typical craft brewer. He readily concedes that he never homebrewed, was more comfortable running a kitchen than a mash tun, finds inspiration in the beers he buys at his local liquor store, and has no problem dedicating a couple of taps to a well-known Colorado big beer.
"The way I look at it," said Shrader in a Texas drawl that belays his home state, "if a construction crew comes in to eat and wants Coors and I get two out of ten of them to try my blonde lager, I've just made two new craft beer customers."
Not that Shrader has any problem selling all the beer he can brew. On any given day he has about a dozen of his tasty creations on tap. Horsefly serves beer at four locations around town, including two at the local regional airport.
When the brewery opened in 2009, the founders wanted to name their brewery after a local landmark. The local Uncompahgre Plateau was too hard to spell, so they settled on Horsefly Peak, the highest summit of the Uncompahgre Plateau at 10,000 feet. The flagship Horsefly Brewing Co. location on Montrose's historic main street was repurposed from a former national fried chicken fast food restaurant.
Shrader has worked at Horsefly for about four years. He had previously worked in the brewery's kitchen and briefly left to work at a ranch kitchen specializing in fresh beef.
"That didn't last very long because the ranch decided to get rid of all its cows," he said. "So I started hanging around the tap room again because I didn't have anything else to do," he recalled.
After four months of helping out, the head brewer position opened up, and the owners asked Shrader if he wanted to make beer. This inauspicious beginning has ended in the stuff from which craft beer legends are made; this guy makes some outstanding beer.
The Bug Eyed-Blonde he spoke of is perfect—smooth, balanced and very friendly. His Peace Maker IPA is an honor. His Scottish Ale and English Ale alone could bring peace back to the British Isles if there was ever another conflict. Schrader's creativity comes through in such selections as the Green-Chili lager that while feisty, will not face-slap you. He also has a Black-Cherry Porter and Winter Warmer Barrel-Aged Stout that made his customers very happy this winter. Above all, Shrader is of the less-is-more school of brewing.
"I take pride in keeping things simple, to produce handmade beer using a grain paddle to stir each batch," he said. "It's fun to watch our customers branch out from the blonde and lagers to the porters."
When he's not making beer, he and his wife are raising twins. Schrader is also a musician, playing harmonica with The Johnson County Coroners, a local rock and blues band.
CraftBeer.com is fully dedicated to small and independent U.S. breweries. We are published by the Brewers Association, the not-for-profit trade group dedicated to promoting and protecting America's small and independent craft brewers. Stories and opinions shared on CraftBeer.com do not imply endorsement by or positions taken by the Brewers Association or its members.