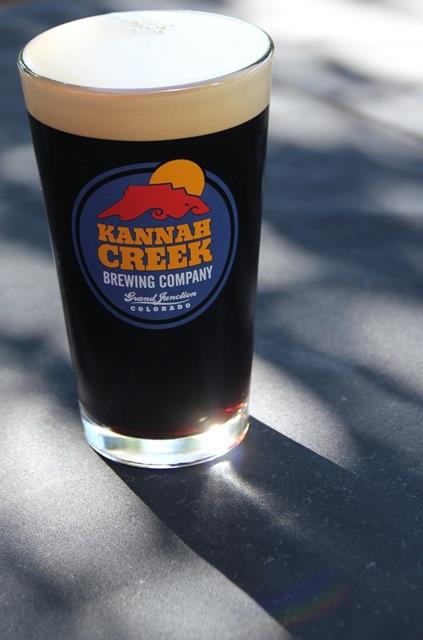 Kannah Creek Brewing Company
Jim Jeffryes's journey to becoming an award-winning craft beer brewer began with a taste of someone else's homebrew at a backyard barbecue in 1990, and progressed to brewing school in 1999. During his progression as a brewer, Jeffreys was diagnosed with multiple sclerosis (MS) in 1994.
"I was working in a high stress job with Xerox in electronics research and stress just makes MS worse," said Jeffryes, who now co-owns Kannah Creek Brewing Company with his wife Bernadette and managing partner Eric Ross.
In 1997, Jeffryes quit his job in California, and moved his family to Grand Junction on the Western Slope of Colorado to be with extended family and plan a new future in craft beer. After brewing school, an apprenticeship with CB & Potts and a stint with another Grand Junction brewery, he and his partners opened Kannah Creek in 2005.
It turned out to be a good move. Not only did Grand Junction get an award-winning brewery, but the stress of achieving his brewing dreams was much more manageable than working a corporate job. Today his MS is under control, and what is progressing is the growth of Kannah Creek Brewing Company.
Edgewater Brewery
Jeffryes and his partners just opened their second location—Edgewater Brewery—adjacent to the Grand Junction Botanical Garden on the Colorado River. This location features an all-new hamburger and sandwich-oriented menu, unlike the flagship location's Italian fare. Edgewater also has a large stage that serves as an outdoor concert venue. The brewery features a 30-barrel system that eclipses the seven-barrel system at the original brewery. Jeffryes employs five carefully-trained brewers to run both lines.
Kannah Creek offers a wide range of styles, from blondes to pales and stouts and porters. Lands End Amber and Standing Wave Pale Ale, both award winners in multiple competitions, are the most popular brews. Winter Solstice, the brewery's most recent seasonal, was a red ale that sold out quickly. The popular beer will return under a new name this year, as that name was already in use by Anderson Valley Brewing Company in California.
Jeffryes also recently introduced Crossed Irons Irish Ale. This beer was brewed in honor of their local firefighters. The name and the label are tribute to the the flat head axe and the halligan bar that are commonly used in fighting fires.
In 2013, Kannah Creek produced 2,000 barrels of beer, selling half in packaged sales and the other half through the taps. The brewery has a capacity of 6,000 gallons and Jeffryes expects the percentage of packaged sales to be higher in 2014 as production at the new facility ramps up.
Jeffryes said all he ever wanted to do was to make better beer. He keeps his operation very precise by having a testing lab at each location, as well as regular testing by an outside lab to ensure purity.
"The knowledge of grain, yeast and hops that we use to make beer today goes back 150 years," Jeffryes said. "It's easy to make a batch of beer. The tricky part is to make a batch of beer that tastes the same today as the same recipe we made last month."
CraftBeer.com is fully dedicated to small and independent U.S. breweries. We are published by the Brewers Association, the not-for-profit trade group dedicated to promoting and protecting America's small and independent craft brewers. Stories and opinions shared on CraftBeer.com do not imply endorsement by or positions taken by the Brewers Association or its members.