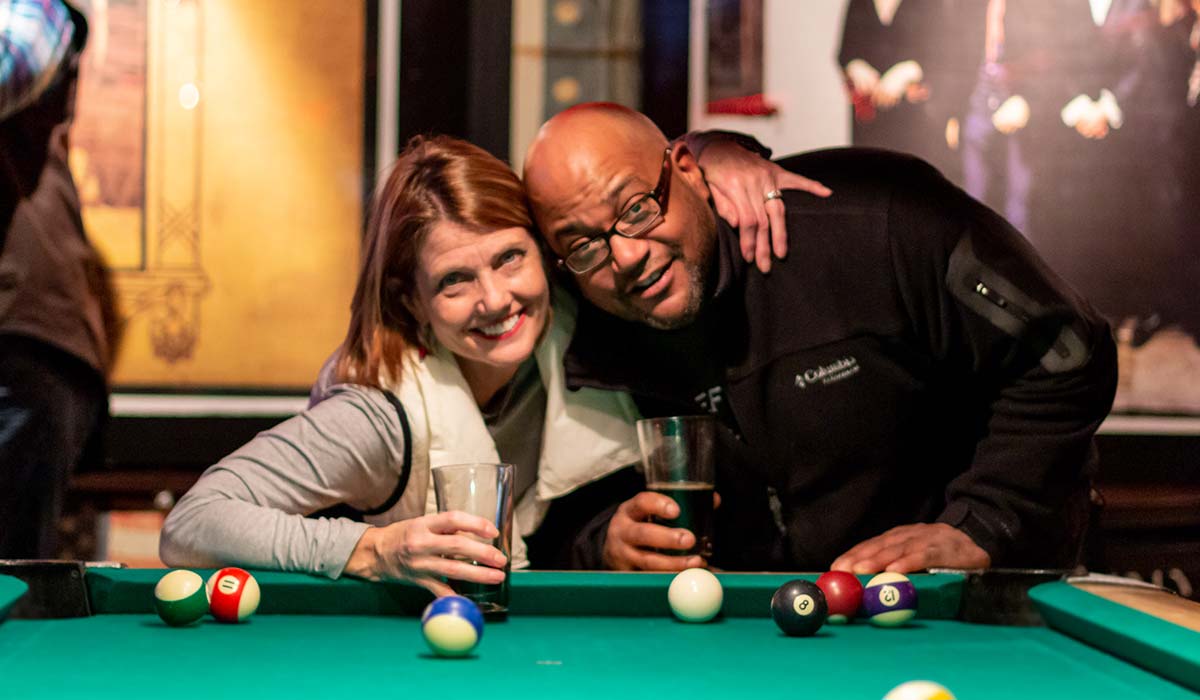 Lakefront's 'My Turn' Beer Series is One-of-a-Kind Employee Perk
Some companies give out watches or arrange special dinners to show appreciation for their employees. Milwaukee's long-standing Lakefront Brewery takes a different approach. With its My Turn beer series, the brewery lets every employee, from the social media manager to the catering chef, develop a beer. Then Lakefront puts their faces on a poster and prints their name on bottles that ship nationwide. Then, the brewery throws a party more befitting a family reunion than a special release.
Lakefront Brewery's "My Turn" Beer Series Puts People First
One of the most personalized one-off beer programs in the industry spawned organically when Russ Klisch, president and co-founder of the 32-year-old Milwaukee brewery, took a page from the Good Boss book and asked his employees for help. Klisch had noticed more one-off beers entering the market and wanted Lakefront to get involved. But something about the trend didn't sit right.
"I felt like these beers were all [representing] one personality, a head brewer that liked one specific style," he says. Wanting to do something different, he fielded suggestions from his employees.
"They were all over the place," he says.
Instead of picking just one, he decided the brewery should try them all, and every employee would take ownership of his or her idea. Not just the brewing team, either, but the entire full-time staff, from the back of the house to the front.
Since 2012, Lakefront has released 31 My Turn beer series brews, with styles ranging from Baltic porter to Mexican-style lager. Every full-time employee eventually gets a turn, and they usually know it years in advance. The order is decided by seniority, with some flexibility baked in to account for the seasons. For instance, an easy-drinking kölsch just tastes better in summer weather. When it's their turn, employees work with head brewer Luther Paul to create the recipe. Ideas are never shot down.
"We never tell them what to do," says Klisch. That's because Lakefront wants "to promote [its] people. There are no test batches. We want the beer to show the personality of the individual."
(READ: 10 Craft Beers Under 140 Calories)
My Turn Beers Reflect Tradition, Cultures, Personalities
One of the most recent My Turn beer series beers was inspired by catering sous chef Anai Sigala's favorite family get-togethers, El Día de Reyes — Three King's Day. Working with Paul, she developed a beer that recalls the hot chocolate she and her family drink with slices of rosca de reyes cake every year on the holiday. Her Mexican hot chocolate ale, named "Anai" of course, pours dark-brown and rounds into shape with notes of cinnamon, nutmeg and chili.
"I just felt like you're never too old for king cake and Mexican hot chocolate, but we love to drink [beer] in Wisconsin, so why not," she says.
The My Turn beer series is more than an opportunity to showcase family traditions. Both the Anai and the Arturo–a Mexican ale created by Lakefront's sous chef–were Mexican-inspired beers that spoke to their creators' Latino identities.
"It's important to keep doing My Turn; you get to see how diverse we all are in our tastes and, hopefully in the future, [you'll see] more of our unique cultural tastes, too," Sigala says.
Logistics coordinator Terrance Tolliver agrees.
"When Lakefront came up with this idea…we had half the employees we do now [currently there are 70 full-timers on staff]. It's cool to see the next employee get an opportunity to create a beer that tells people a little about them," he says.
That opportunity allowed Tolliver to choose a lighter style beer when it was his turn. The Quad Cities native admits that he grew up consuming Bud Light and Miller Lite before he began to get into craft beer at Lakefront. When it was his turn, he and Paul developed a German-style kölsch that not only stoked his nostalgia, but also hit the market in 2013, before the traditional style resurfaced in popularity.
(VISIT: Find a U.S. Brewery)
'Junk' Beer's Silver Lining
Over the summer, Lakefront had to recall bottles of "Junk," one of the My Turn releases, after discovering the beer contained wild yeast from the cherries that it was brewed with. The yeast was continuing to ferment, causing carbon dioxide to build up in the bottles, and that meant the bottles could burst. The beer itself was still safe to drink, but the brewery issued a recall as a safety procedure and offered refunds.
"It was a bummer, but I am glad that we jumped in front of [the issue]," explains Lakefront Brewing's export manager and social media manager, Andrew Jungwirth, the employee who worked on the recalled beer. Jungwirth's nickname is "Junk," and that's how the name of the My Turn beer, a kettle sour with cherries and cherry blossoms, came to be.
"Junk sold really well, but we couldn't keep the bottles out there on shelves and issued a voluntary recall," he says.
Despite the wild yeast, Junk beer was anything but. The beer earned a silver medal at the International Beer Cup in Japan, a country that Junkwirth is fond of and pulled inspiration for the beer.
When the Spotlight is On You and Your Beer
Kristin Heuneke, head chef at Lakefront, had her turn in 2018 and used it to create a smoked maple weizenbock that was inspired by more than just her love of food.
"I had a lot on my shoulders because I was the first woman to have a My Turn in years, and I didn't want to produce some sweet and fruity beer," she says. "I wanted something that was strong and in-your-face."
She chose to brew a smoked beer.
"After years of running a high-volume kitchen in a male-dominant industry, it felt like a great representation of who I am and most of the women I know," she says.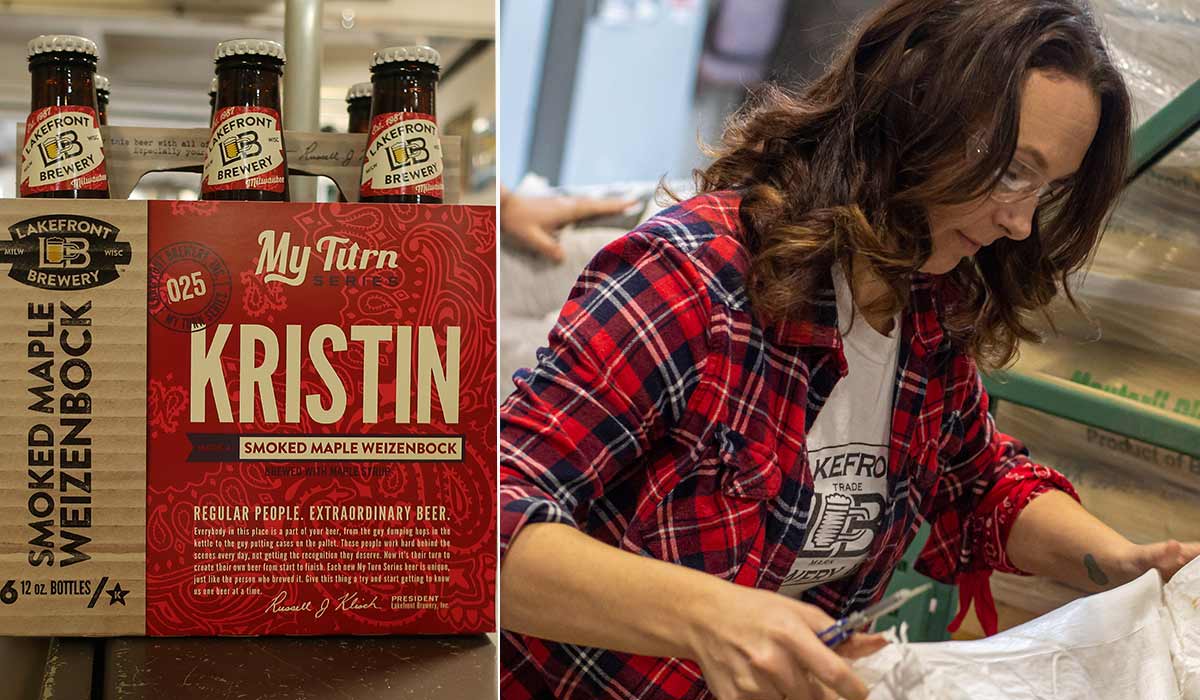 She knew that creating a smoked beer would be risky, though.
"Not many people, even craft beer aficionados, are fans of smoked beers," she says.
But the final sign of approval came from Paul.
"He isn't a man of many words. So his smile and nod were enough to tell me I chose a good style," she tells us.
Her "Kristin" beer, an 8.2% ABV smoked weizenbock, ultimately reminded her of pancakes with bacon. That was precisely the effect she was seeking. Thick from the wheat in the grain bill, a little sweet and aromatic from the maple and smoky like cooked bacon from the addition of smoked malts.
"Voila! Breakfast in a bottle," she exclaims.
As for what My Turn means to her, Heuneke doesn't mince words.
"Everyone counts down the days until they can make their beer. And when it is your turn you have three months where you feel like a star," she says. "It's like getting your golden birthday and tenure wrapped into one."
CraftBeer.com is fully dedicated to small and independent U.S. breweries. We are published by the Brewers Association, the not-for-profit trade group dedicated to promoting and protecting America's small and independent craft brewers. Stories and opinions shared on CraftBeer.com do not imply endorsement by or positions taken by the Brewers Association or its members.