Lock 27, a small brewpub located just outside of Dayton, Ohio, is opening the expansion floodgates. This summer, they are christening a second location with up to 10 times the annual barrelage of their initial brewery.
The company will transform from a small, on-premise only restaurant in the 'burbs to a multi-site operation that includes high-end dining and a distribution brewery in the heart of a resurging metropolitan area.
Lock 27's Original Location
The brewery's original location, named after a nearby lock in the former Erie Canal, opened in 2013 in a strip mall in Centerville, Ohio—one of Dayton's larger suburbs.
Sandwiched between a 24/7 fitness center and a Bath and Body Works, Lock 27's opening was part of a release of pent-up demand for local beer. Today, the Miami Valley hosts 13 breweries (and counting), but prior to 2012 there were none. When it opened, Lock 27 was on the leading edge of the trend.
Owner Steve Barnhart's initial venture, which will remain open in tandem with the expansion brewery, is as much a restaurant as it is a brew house. Despite the pre-fab building, the interior has a comfortable, rustic feel, with wood staves, faux brick and vintage photos highlighting the area's past.
The food is a huge draw, with a menu of gourmet poutines, curries and other exotic fare. House beers, brewed on a bustling three-barrel brewhouse in the back of the restaurant, make up the beer list. They also feature several guest taps.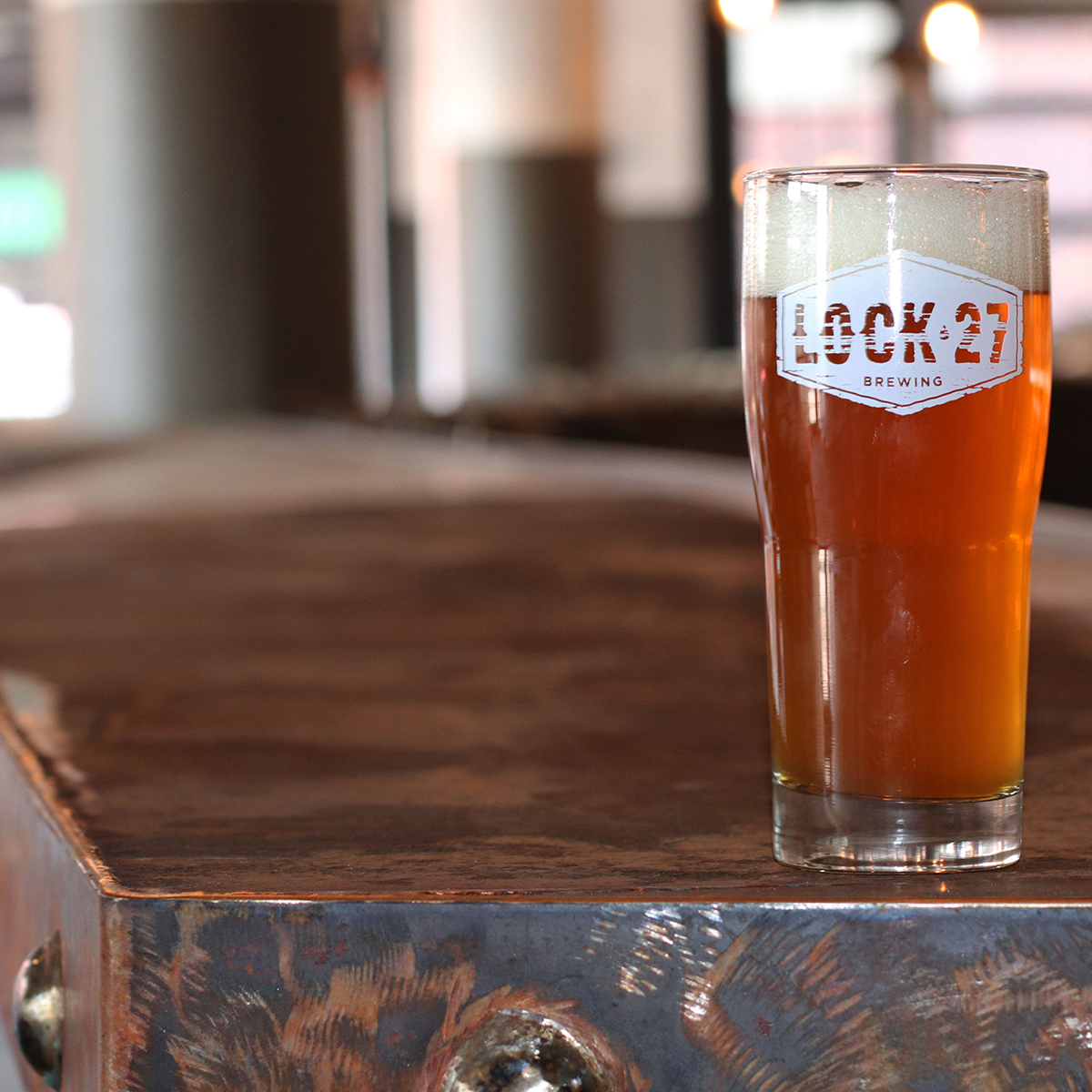 Building a Future by Honoring the Past
Fast forward four years and Barnhart is once again riding the leading edge of a trend. His new brewery, set to open in July 2017, is part of an urban resurgence that capitalizes on a reverse "white flight."
Dayton, once known as a manufacturing town, was hit hard in the 80s and 90s, leaving the downtown area heavily vacant. But now, the city has doubled down on its downtown by building condos, attracting businesses, and promoting an active nightlife. As a result, the heart of the city is beating again.
Within a block of the river and squarely in the middle of downtown, the new Lock 27 brewery occupies two floors of an old Delco factory. It shares a plaza with the Dayton Dragon's stadium, the Gem City's single A minor league baseball team.
(More: 7 Baseball Beers You'll Find at Minor League Stadiums)
The floors above the brewery are luxury loft apartments, with stunning views of the ballpark, the Great Miami River, and downtown Dayton, seen through floor to ceiling windows that line the outside walls.
Whereas Barnhart had to work to give his original site a vintage feel, with his new location, he had to actively prevent the contractors from updating too much.
"Right off the bat from an aesthetic perspective, we're doing what I call 'ratrod,'" explains Barnhart, referencing a style of hot rods that retain a vintage feel. "What we didn't want to lose in the building was the history of the space. This building was built in 1912, so everything we did, we tried to make sure we maintained as much as we could in terms of that rustic, rugged feel."
This look and feel is consistent throughout, from the distressed paint to the reclaimed wooden doors (all found throughout the original building); from the sink made from the freight elevator chains to the rough, unfinished concrete floor. The bar is new, but even it has been distressed to mimic metal from a 100-year old factory. A large seating area with huge, windowed garage doors that mimic the original factory windows opens onto the plaza, blending inside and out.
Built with Growth in Mind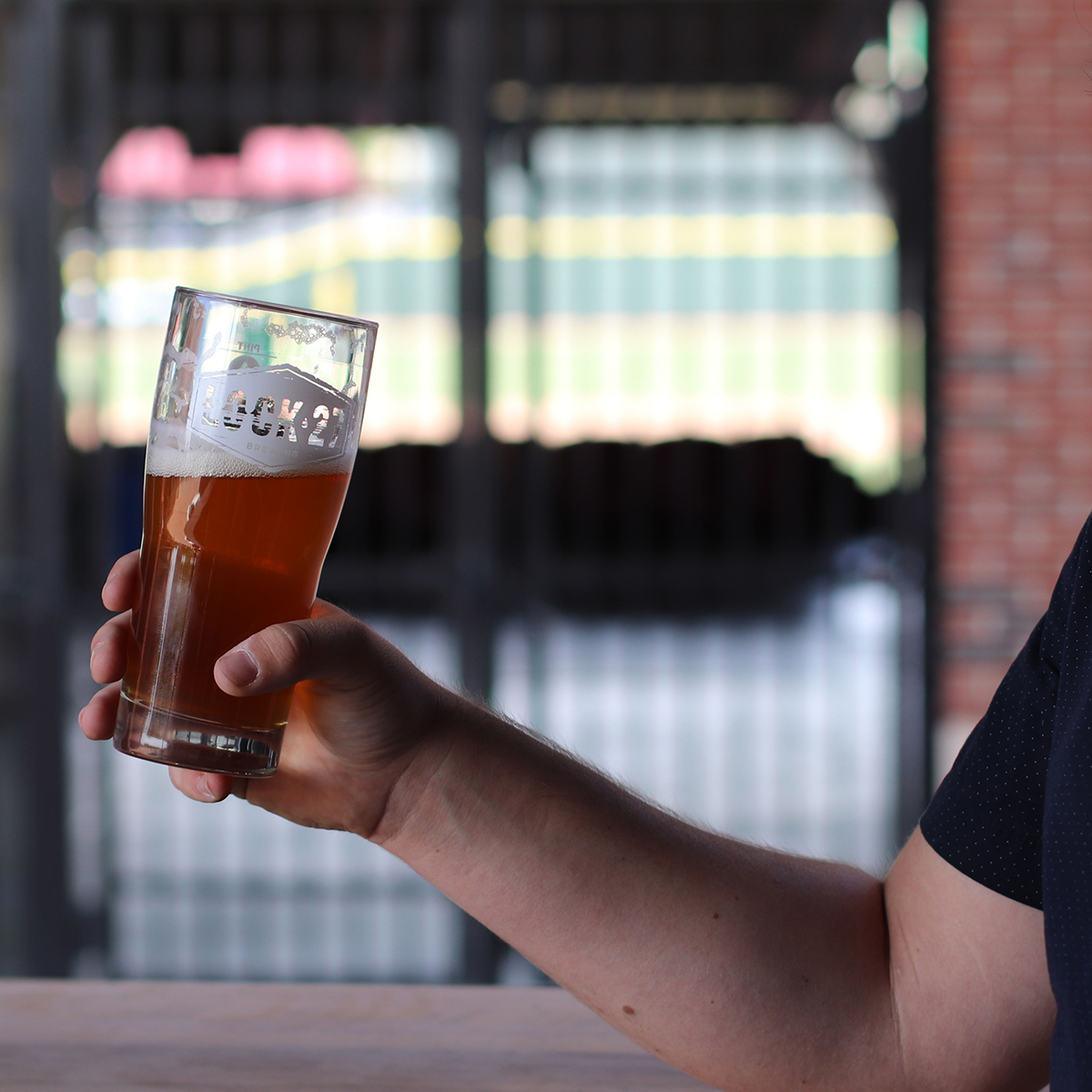 Tucked in the back corner of this huge space is the new brewery. Sitting squat between the basement and the first floor, the brewery pops up from the basement. Construction crews had to cut an opening in the nearly 12-inch concrete floors to be able to make room for it.
(More: CraftBeer.com's Great American Beer Bars)
Although the brewhouse is compact, it's not small. Since adding new fermenters would entail removing the entire brewhouse to fit them into space, Barnhart opted to upgrade to the largest vessels the space would hold. As a result, this brewhouse itself is almost seven times larger than the Centerville one, and represents a significant upgrade in overall fermentation capacity.
Barnhart has expanded his brewing team and hired a sales manager who will oversee offsite distribution, a new foray for Lock 27. Barnhart explains, "We think we have capacity for between maybe 4000-8000 barrels a year, but not without some additional investment outside of the space."
Already Thinking About the Next Move
In the midst of construction of the new brewery, Barnhart is already thinking about his next move: "As we grow scale, we will grow past our ability to store here and will start looking for an offsite distribution space for us," he explains. "The idea is to produce here, do the things we need to do here under license, and then do distribution from somewhere else."
Some breweries might be intimidated by such a large step forward, but for Barnhart, the eye to the future epitomizes his business ventures. Barnhart notes that his initial brewery was never destined to be the final product. Instead, it was a prototype of sorts, a model that built towards the current expansion.
"We used the first three years as a pilot test," notes Barnhart. "We built a little brand; we built up our core recipes; we built up a following. Now's the time for us to take that following and turn it out into the marketplace."
Starting this summer, Barnhart will be able to see how well his planning worked out.
CraftBeer.com is fully dedicated to small and independent U.S. breweries. We are published by the Brewers Association, the not-for-profit trade group dedicated to promoting and protecting America's small and independent craft brewers. Stories and opinions shared on CraftBeer.com do not imply endorsement by or positions taken by the Brewers Association or its members.