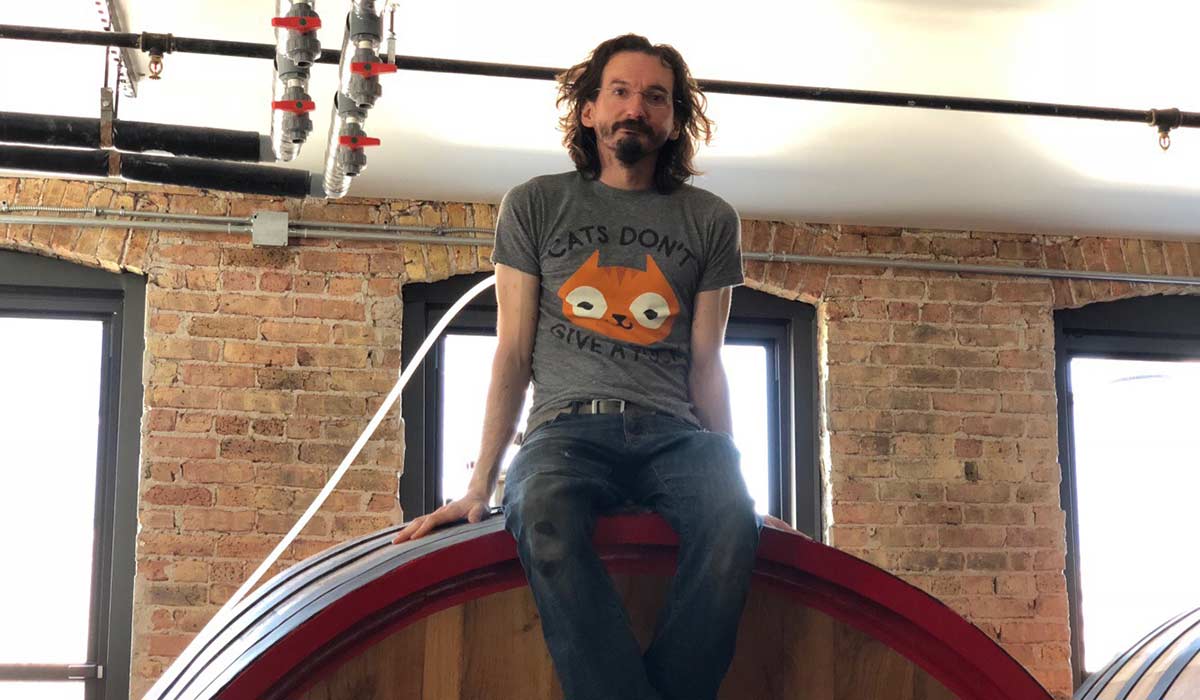 Off Color's Quirky John Laffler Finds 'Magic' in Yeast
The tiny mouse that appears on all Off Color Brewing's packaging is a subtle reference. It's the only living thing that hangs out at the brewery more than co-founder John Laffler.
"It's either 'I'm not sure what else we're supposed to be doing with our time' or a long con to get a brewery cat," he says.
Laffler is a small, wiry man with glasses, a beard, and long, wild black hair. He possesses an eccentricity and an hyperactivity that leads from one activity to the next. Pour an unfinished beer off the foedre, tell an off-beat anecdote, or disappear and reappear with an armful of Miller High Life. Off Color, a term that conjures eccentricity, is an appropriate name for the brewery, co-founded by Laffler and Dave Bleitner.
John Laffler and the 'Magic' of Yeast
The pair met at the Siebel Institute in 2008 and helped out at Metropolitan Brewing when it opened. Laffler went off to Goose Island and Bleitner to Two Brothers before opening their own spot in 2013.
"A lot of what we try to do is take an avant-garde approach to brewing and looking for how we can push the craft forward in terms of fermentation studies, trialing unique yeasts, bacterias and techniques," Laffler says.
Off Color's beers are distinct, delicate and, ultimately driven by yeast. Laffler calls it the lone aspect of brewing "where there is still an element of magic happening in an otherwise relatively industrialized process."
"… there is still an element of magic happening …" John Laffler, Off Color Brewing
(READ: Burley Oak Founder Pledges to Stay Small)
Its most ubiquitous brand, farmhouse ale Apex Predator is a perfect example. Driven by the yeast, it's a crisp, esthery homage to the classic Belgian saison. And it's completed in an Off Color twist with a subtle influence of dry-hopping.
Laffler and Bleitner's outfit released just shy of 7,000 barrels of beer in 2018. But they're far from a brewery focused solely on funky, tart and dry farmhouse ales. Their most sought-after brand is a Russian Imperial Stout called Dino S'Mores made with graham flour and marshmallow fluff.
"We're definitely more of a niche brewery for yeast nerds. But we take a lot of pride in making nuanced, delicate beers that are appealing to even those folks who don't usually like beer," Laffler says. "[I] like to think we make pretty beers."
Collaborations Put Off Color Brewing on the Map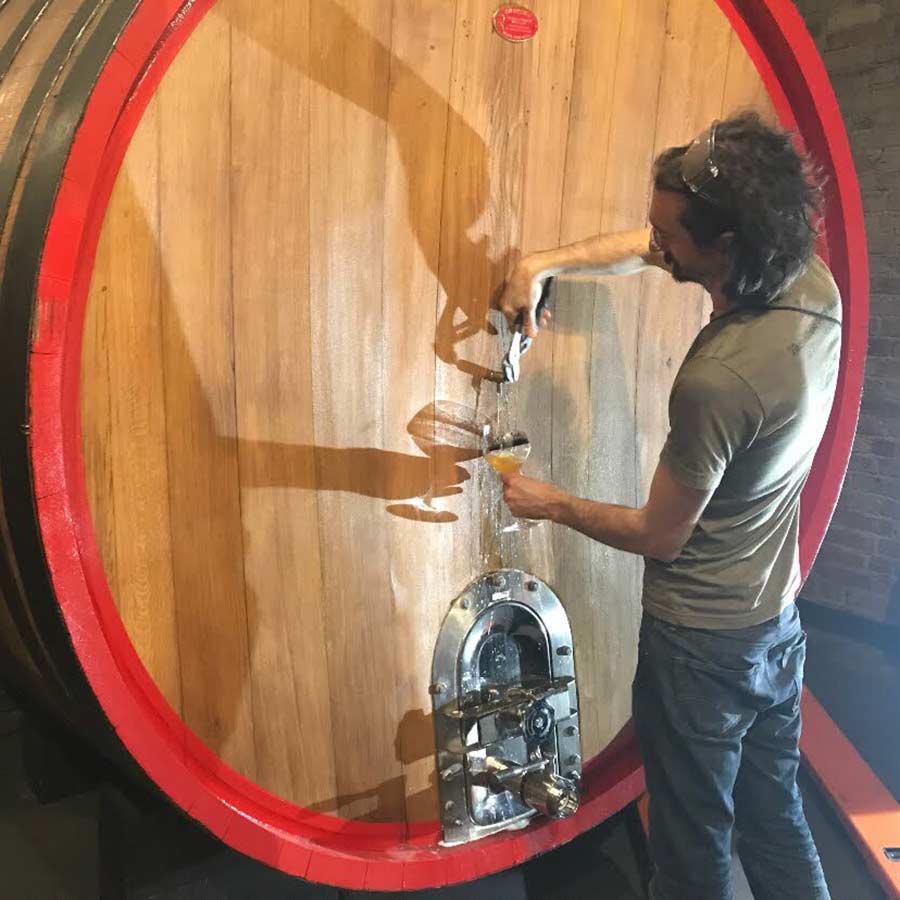 The beer that gave Off Color some notoriety was the collaboration it did with Miller High Life named Eeek!. The Off Color crew collaborated with the brewers at Miller to re-interpret the beer by brewing the Miller High Life recipe, but inoculating the beer with Off Color's wild yeast. The brewery did a similar thing with Portland, Maine's Allagash Brewing, where they brewed a version of Allagash White, added lemons, and a wild yeast to create — pun intended — a wildly different beer.
"We're very conscious that the landscape of American craft beer is built on the work of those in the past. And we like to build on that framework with them as a way of paying homage to the folks who have greatly influenced us," Laffler says. "It's also important to us to do it as a collaboration with them, not just co-opting their work."
(VISIT: Find a U.S. Brewery)
Moving forward, Off Color is going to focus on a number of, well, off-color projects. Laffler says they plan on releasing more foedre beers in 2019, as well as continuing work on a mix fermentation sake. There's a new year-round beer in the works called Very, Very Far. It will incorporate an "odd-ball" yeast used in white wines like Chenin Blanc called "Torulaspora Delbruekii."
"For us, that's much more interesting than figuring out a novel way of blending the same three trendy hops together," Laffler says.
When the Weirdness Pays Off
In 2018, Off Color introduced what could be a game-changing packaging format. It introduced some of the brewery's higher ABV or "unusual taste profile" beers in 250 mL bottles with a goal of offering a "lower price, which makes the more approachable single serving size a better cost per ounce deal too. More beer, less money," says Ben Ustick, Off Color's media relations guru.
They also opened a taproom called The Mousetrap. It's a small, cozy place with dim lighting, high-top tables, no televisions, and a view into the barrel room. True to brand, it is a place of eccentricity and weirdness. It's not uncommon to see someone — perhaps even a beer writer and his friend — wearing a dinosaur and tiger costume. Also true to form, very few people even batted an eye at this behavior.
"Yeah…we're a pack of strays," Laffler says. "I think folks have just gotten used to it by now."
(READ: The Rise of Wine Beers)
Laffler says the brewery spent a lot more money last year to make less beer.
"We're very happy being the size we are at now," he says. "Our [full-time employees] have health insurance, there's room for everyone to grow in their profession and have creative input, and we're not trying to force a bunch of volume into an oversaturated market and focus on making our beer better instead of making more of it."
CraftBeer.com is fully dedicated to small and independent U.S. breweries. We are published by the Brewers Association, the not-for-profit trade group dedicated to promoting and protecting America's small and independent craft brewers. Stories and opinions shared on CraftBeer.com do not imply endorsement by or positions taken by the Brewers Association or its members.