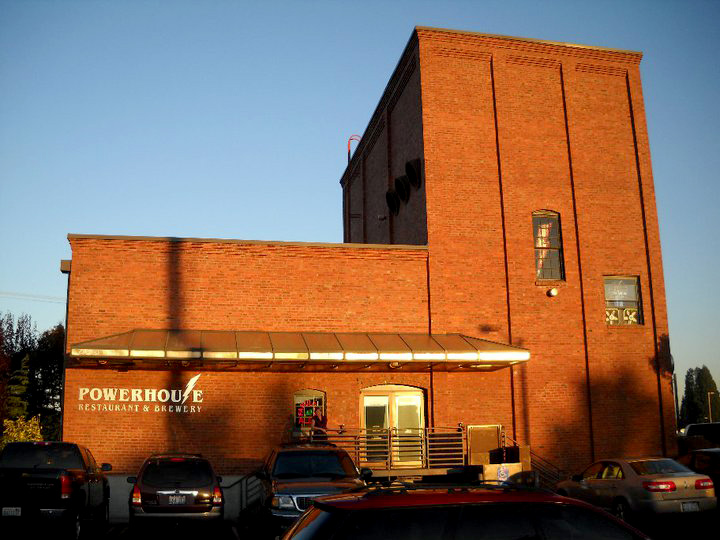 Powerhouse Restaurant & Brewery
One look at the beer board above the bar at Powerhouse Restaurant & Brewery in Puyallup, Wa.,  and it's clear that someone has an abiding respect for the tradition of craft beer. The honor of the number one tap slot is reserved for the only guest beer in the house lineup—Anchor Steam, from Anchor Brewing in San Francisco. In 1965, Anchor Steam was considered by many beer historians to be only craft beer brewery left in America.
"Our brew master Tim Patty is good friends with the brew master at Anchor," Powerhouse owner and homebrewer Dan Tweten explained in an understated manner. Tweten, who has a culinary background, and a family history in the restaurant and hospitality business, is the new owner of Powerhouse Brewery. In the past six months, Tweten has made some changes to the kitchen side of the operation, but the brewery—which has been under the careful eye of Patty for the past 12 years—has been business as usual.
"There have been no changes to the beer," Tweten emphatically stated. "Our customers like our beer the way it is."
That doesn't mean that you won't find some variety on top of Powerhouse's regular line up. During my visit, I tried a cask-aged Russian imperial stout (three and five-year-old versions) that greets the palate like royalty. I was also lucky enough to try their tasty Old English Barleywine Ale, a recent gold medal winner at the Tacoma Craft Beer Festival. The rest of the lineup is familiar and oh so competent, all the way from from its floral IPA to its smooth Four Alarm Porter. The love of the craft is evident. Everyone from the assistant brew master to the bar keep took time to speak with pride about the nuances a tasting sampler offers to the first-time visitor.
The other story at Powerhouse Brewery—and the side of the operations that really gets Tweten excited—is the building itself. Originally constructed in 1907, and renovated by the original architect Dusty Trail, the building was built as a power substation for the Seattle to Olympia trolley station. Its hard-fired red brick presence rises up four stories on half of its profile to accommodate huge power turbines. Its conversion to a gravity-fed brewing space was a stroke of genius and vision.
The aura of Powerhouse Brewery is one of great feng shui that no doubt contributes to its good tasting beer. That this grand structure was returned to the community as a cultural landmark to be enjoyed seems much appreciated by its regulars. While Tweten reports he is negotiating space in a nearby building for casks and storage, Powerhouse is a fresh serve, small batch brewery that increases beer sales each year. None of its beer is bottled or kegged for outside sales. Its customer base is steady, with a stream of growler stop-ins. It is a comfortable and unique place driven by the energy of loyal, local customers.
CraftBeer.com is fully dedicated to small and independent U.S. breweries. We are published by the Brewers Association, the not-for-profit trade group dedicated to promoting and protecting America's small and independent craft brewers. Stories and opinions shared on CraftBeer.com do not imply endorsement by or positions taken by the Brewers Association or its members.