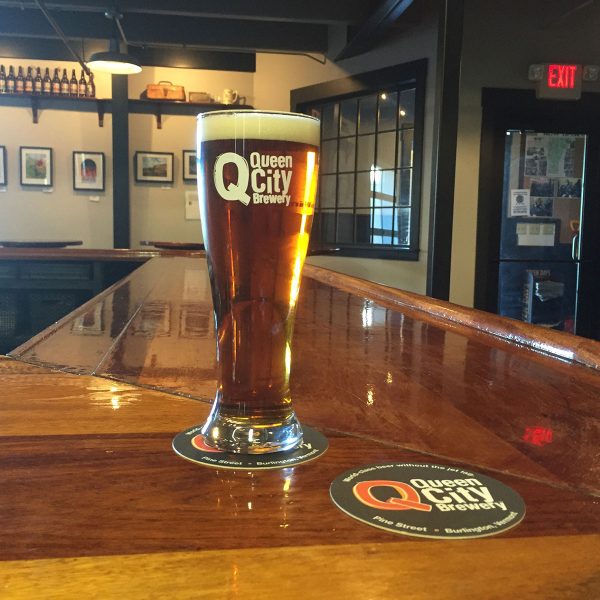 New England Brewery Goes Old School to Make Steinbier, Beer Brewed with Fire and Hot Rocks
On a warm fall afternoon, a sweet, smoky aroma drifted from the parking lot behind Queen City Brewery in Burlington, Vermont. Were they roasting s'mores? Smoking ribs? The answer was revealed as bar manager Jason Held lugged a metal bucket of flat, gray stones from the half-barrel grill up the stairs to the brewing tanks: Another batch of Vermont Steinbier was on its way.
Queen City Brewery arose from a group of friends' love of homebrewing, their knowledge gained from careers in science and engineering and their desire to offer "world-class beer without the jet lag," as the brewery's motto states. Instead of trying to compete in the already-crowded world of IPA producers, however, these brewmasters stuck with the classics, including German-style Kölsch, Belgian-style blonde, Munich dunkel and English bitter ale, as well as the steinbier, which is a rarity in the United States.
(MORE: Brewers Association Lists the Top 50 U.S. Craft Breweries)
Paul Hale, one of the brewery's founders and a former associate vice president of research at the University of Vermont, says the group learned about steinbier from The Beer Hunter, a brief television series from the 1980s in which writing legend Michael Jackson explored various types of beer. In one episode, Jackson visited the Bavarian Rauchenfels Brewery in Marktoberdorf, Germany, to learn about steinbier.
After seeing the video of the giant cage holding the rock ("stein" is German for "stone") over a massive fire, then swinging it on a winch to the kettle, Hale says their first thought was, "We have to try to make this."
Though steinbier is not specifically an autumn beer, the brewing of it became an annual event each October at Hale's house. He and his homebrewing friends started out doing 10-gallon kegs, and by the time they opened the brewery in 2014, they were up to producing 50 gallons of the beer.
"We made a big event out of it," says Hale.
Wanting to stay true to the Rauchenfels Brewery's method showcased on The Beer Hunter, Hale and his team use graywacke from a farm in nearby Westford, Vermont. This variety of sandstone works well for brewing because it doesn't split or pop easily when subjected to high heat or the abrupt temperature change when being transferred from the grill to the wort kettle.
(MORE: CraftBeer.com's Big Glossary of Beer Words)
The team heats the graywacke over a beech wood fire—another replication of the Rauchenfels' procedure—until the stones reach 1,200 degrees Celsius (2,192 degrees Fahrenheit). They then shovel the red-hot rock into a metal bucket and pair up to carry the heavy load from the parking lot into the brewery, using a hockey stick as a two-man handle.
Hale devised a rope and pulley system to haul the bucket up over the wort kettle and gently lower it in. The steam that pours out of the tank's opening signifies the stones are doing their job: caramelizing the sugar in the wort to impart a delicate sweetness in the final product.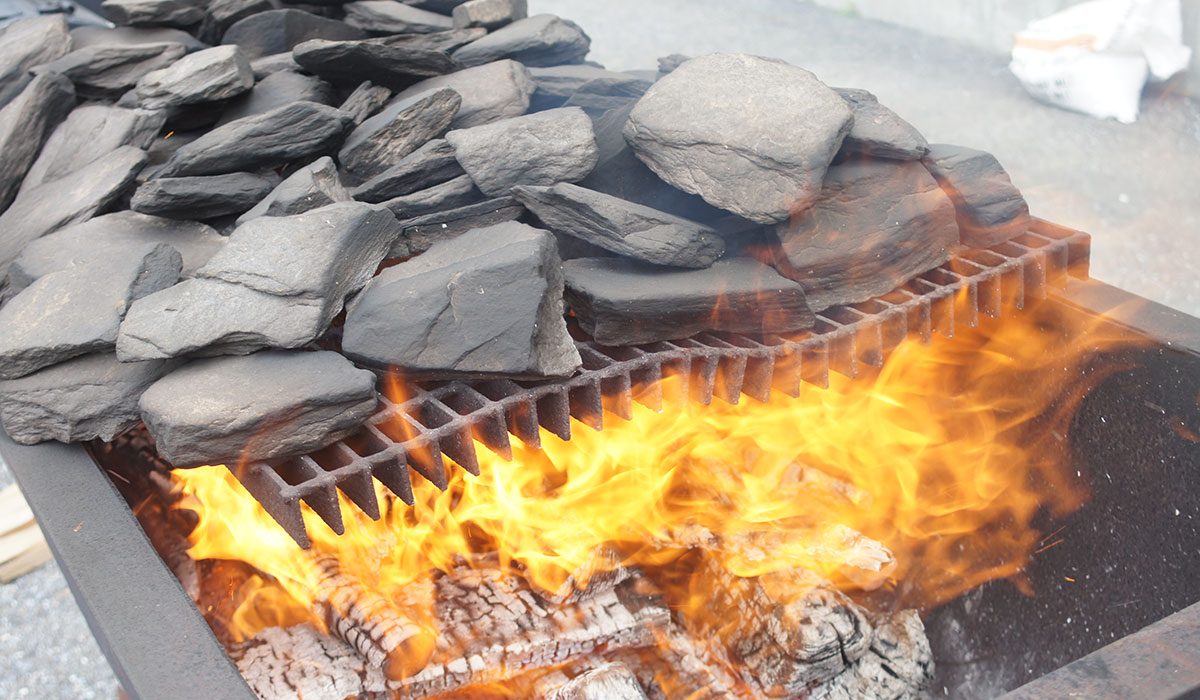 Once the wort is boiled, the brewing process follows the same path as the brewery's other beers. Though steinbier can be made as an ale, Queen City's version is a lager.
"We wanted to have a cleaner malt character," Hale says. "We use all German malts."
Steinbier is not commonly made by commercial breweries in the United States.
(MORE: 7 Offbeat Places to Drink Craft Beer)
"It has to be really expensive to do it on a large scale," Hale says. "The whole process is time-consuming and pricey. The wort boiling takes a lot longer—the brewing process takes four or five hours longer than for other beers. You'd have to charge too much for the beer. Once in a while you see somebody doing it, but they're not doing it the way Rauchenfels did it. They're either doing it with just a small about of rock or the wrong type of rock."
"As a homebrewer," Hale says, "I made very traditional styles of beer, and steinbier just fit right in. If you look at dunkel, helles, and steinbier, those are all classic German beers."
A few months, and a couple of healed burns later, the first batch of Queen City's Vermont Steinbier proved to be a hit, and the 500 gallons they brewed lasted just a short time.
"It was kind of a fun little adventure," Hales admits. But never fear: Steinbier brewing is now an annual event in Queen City Brewery.
CraftBeer.com is fully dedicated to small and independent U.S. breweries. We are published by the Brewers Association, the not-for-profit trade group dedicated to promoting and protecting America's small and independent craft brewers. Stories and opinions shared on CraftBeer.com do not imply endorsement by or positions taken by the Brewers Association or its members.