It hardly seems like it has been 20 years, yet time has certainly flown by for Real Ale Brewing Co. since it first opened its doors in July 1996 in the basement of a Blanco, Texas, antique shop.
Situated in the small picturesque Hill Country town of Blanco, Real Ale is smack dab in between San Antonio and Austin. Blanco exemplifies small town Texas: friendly people, plenty of hiking at nearby Blanco State Park, antique shops, history and a sunset that is hard to beat.
(MORE: How Does the Three Tier System Work?)
A Trip to the Laundromat Gives a Confidence Boost
Just two years after it opened, current owner Brad Farbstein purchased Real Ale Brewing from the original owners. Farbstein was a homebrewer who also volunteered at the small fledgling brewery. By 2000 he was cranking out close to 5,500 barrels a year with three year-round offerings. By 2006, Real Ale moved just north of downtown to its current location with a 60-barrel brewhouse.
Twenty years is a milestone for a brewery, and Real Ale has gone through profound changes, from a rebranding of their beers and logo, to a new, much larger tap room that overlooks a new expanded brewhouse and the Texas Hill Country.
"I remember when it all finally hit me," says Farbstein. "It was around 2000, and my wife and I were living in a house with no washer. After heading into a laundromat, I noticed on a nearby table a bottle of our Full Moon Rye. At that movement, I realized that what we were doing was working. Up to that point, I always thought it was mostly our friends buying the beer."
A Push to Innovate
2010 saw the appearance of the soon legendary Hans Pilz. This 2012 silver medal winner at the Great American Beer Festival has become one of Real Ale's biggest sellers, whether on draft or in bottles and cans. In fact, this ode to the German-style Pilsener has been given its own Facebook page where fans post pictures of their can or bottle of Hans and wax poetic to its beauty.
Another Real Ale staple is Fireman's 4, a blonde ale named in honor of a local bike shop, Firemans Texas Cruzer, and constituted their fourth year-round offering.
"A funny thing happened when applying for federal label approval." says Farbstein. "When we submitted the label to the then ATF — the department of Alcohol, Tobacco and Firearms — we were denied. Annoyed, I called the ATF and spoke to an agent who only wanted to know what the '4' in the name meant, so I sarcastically said it was the number between three and five. We got our label approval two weeks later."
Innovation at Real Ale is still seen throughout the brewery with many new brews in the works. Schwartz and his team spent a year developing Axis IPA (released in 2016); they experimented with different hops and malts until they ended up with a recipe that wowed them. Though it has elements of Northeast and West Coast styles, they consider is a Texas IPA jammed with flavor and aroma.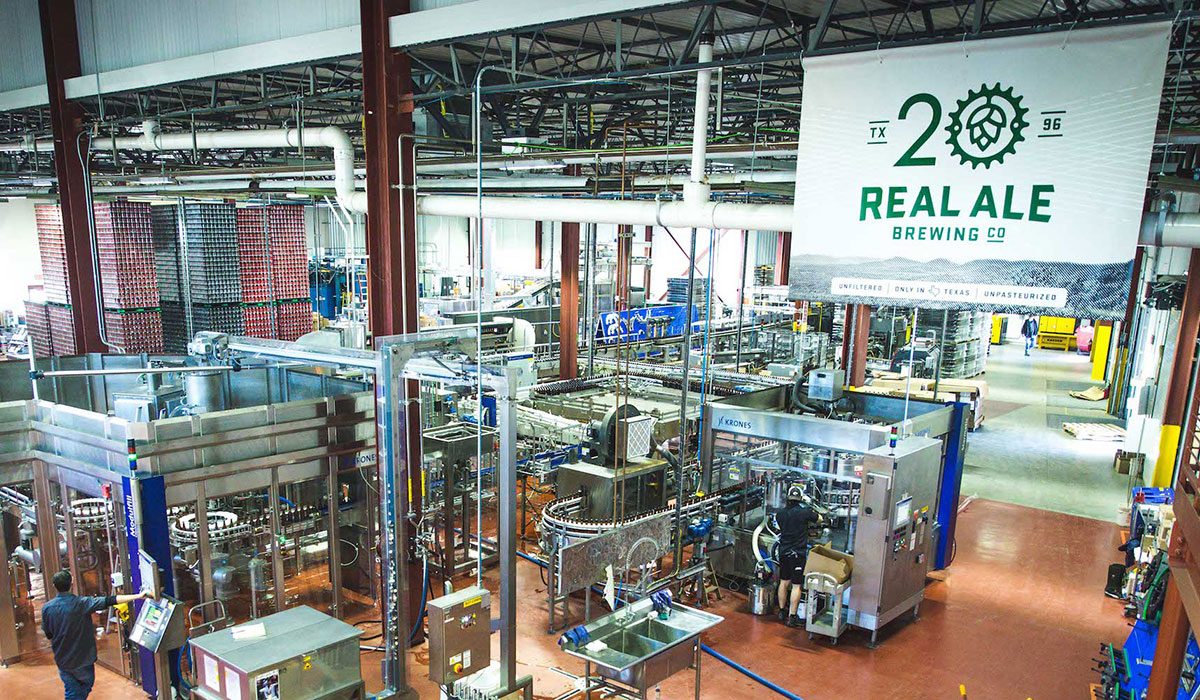 Real Ale's barrel program started small with only four barrels, but it's now grown into the Mysterium Verum series, something far bigger than they ever imagined. It now includes American Wild Ales, barrel aged versions of their seasonal releases, and even a sour Scotch Ale. Mysterium Verum beers are usually aged in new oak barrels, wine and even several varieties of spirits barrels.
Continuing to push the edge, Real Ale is getting into the spirits game. With state licensing obtained, this is a program two years in the making and an estimated release date in April 2017. Aptly named "Real Spirits" the distillery end of Real Ale will produce a gin and two whiskeys with the base spirit made at Real Ale.
(MORE: 8 Women Making a Mark on Craft Beer Right Now)
Real Ale Brewing is Growing, But They're Still Focused on Home
Today Real Ale produces upwards of 60,000 barrels per year with distribution all over Texas and has become a destination brewery. Farbstein and Director of Brewing Tim Schwartz, apprised that another expansion is on the horizon: in March 2017 they're breaking ground on a new 120 barrel brewhouse. It should be complete and brewing beer by August.
Don't expect this new brewhouse to catapult them into national distribution – they have a different plan. "We are focused on Texas right now," says Schwartz. "That's been our focus from the beginning and will remain so for the foreseeable future."
The existing brewhouse will be sold and replaced with a 10 hectoliter pilot system that will allow Real Ale to focus on small projects, one off brews, and tap room only releases.
The new system will allow Real Ale to move from a 24 hour, five to six days a week overnight schedule back to a two-shift operation.
(MORE: What is a Craft Brewery?)
"This will allow for a better work/life balance for our employees," says Farbstein. "The goal was not to increase our production, thus our distribution reach, but to brew the same volume we do now, easier and with more efficiency."
Eventually, the system will allow Real Ale to more than triple production in time. With the new system's cutting edge technology, consider this mission accomplished.
What Farbstein, Schwartz and their team want you to take away is that Real Ale is built on four very basic pillars: Quality, consistency, innovation and value. Their efforts toward these goals allows for a consistent quality that both Real Ale and their consumers expect.
"It's not in our DNA to do things any different," said both. "We want folks to walk away from Real Ale not being able to wait to get back."
CraftBeer.com is fully dedicated to small and independent U.S. breweries. We are published by the Brewers Association, the not-for-profit trade group dedicated to promoting and protecting America's small and independent craft brewers. Stories and opinions shared on CraftBeer.com do not imply endorsement by or positions taken by the Brewers Association or its members.