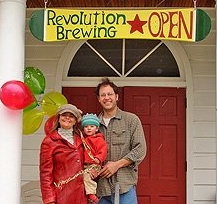 Revolution Brewing
What do you get when you cross a law school graduate, a diesel mechanic and a certified master gardener? The answer is really good craft beer. It's easy to see that for Mike King, founder, owner and brewmaster at Revolution Brewing in Paonia, Colo., beer is the career path that really gets him jazzed.
His passion traces its roots back to the early small batch-brewing scene of the 90s in Boulder, Colo. He was a still a teen at the time, but his older brother and a friend started brewing and bottling their own beer and occasionally let Mike hang around. "Back then, all the small regional brewers shared yeasts and recipes, it has always been a friendly scene," said Mike.
A bit of Boulder panache served Mike well, and helped to shape his malty vision for the future. When he and a friend won the Alaska State Fair with their Blueberry Wheat in 2006, he knew it was time to open a brewery. He returned to Colorado along with his wife Gretchen (Revolution's business manager) and their one-year old son and began looking for a place to set up shop.
All of his scouting trips included a stop by the local town hall for a water analysis report. "The water report in Paonia was the best I found," Mike recalls. "This water sets up crystal clear and needs no treatment—no balancing or filtration at all," he explained. That Paonia is near the headwaters of the North Gunnison River in the stunning North Fork Valley doesn't hurt either. In a state known for spectacular scenery, the North Fork Valley is the kind of place other Coloradans want to visit.
The brewery's name comes from the "revolutionary" concept that he would not go into debt to launch the operation. Mike designed and constructed his own fermenters to save money, and set up a bike powered grain grinder, which he still uses, that mills 500 pounds of grain an hour. He attracted and retained really motivated people to work with him, offering part ownership in the operation in return. He traded work for space in a former Episcopal Church where his first brewing room was set-up. Today, the de-certified sanctuary is the tasting room and beer garden.
And then there is the beer—fresh, local and tasty. It's all here, from golden ale and award-winning stout, to an orange amber, red ale and grapefruit India pale ale. The seasonals will send beer drinkers on a quest faster than Indiana Jones into a booby-trapped cave. These include IPAs in lime, cherry and lavender, and Apple Ale, a wheat lager based on a Thomas Jefferson recipe and others. It's no wonder that there is little beer left over for canning.
Winter is the best time to find Revolution's beer in regional stores, because in the summer months 80 percent of the beer doesn't make it out of town. But such demand has prompted an expansion, as Revolution is in the process of adding a new 20-barrel tank.
According to Mike, the DNA of all small brewers is in violating the following equation: model brewing = maximum efficiency. "I do a lot of things that aren't efficient," Mike explained. "For example, we mash and boil longer. But this extra time greatly improves clarity and flavor. Corporate brewers can't do that and turn the profit they want."
CraftBeer.com is fully dedicated to small and independent U.S. breweries. We are published by the Brewers Association, the not-for-profit trade group dedicated to promoting and protecting America's small and independent craft brewers. Stories and opinions shared on CraftBeer.com do not imply endorsement by or positions taken by the Brewers Association or its members.