Salt Marsh Brewing Co. Lays Roots In Historic South Carolina Community
Historic live oak trees and palmettos line the streets of Bluffton, South Carolina. The salty smell of brackish water from the nearby river floats in the breeze. This tiny slice of Southern paradise has become a destination for new breweries in South Carolina. This holds true for Salt Marsh Brewing Co. as they laid their roots in historic Old Town Bluffton where locals stroll the sidewalks in search of local fare.
Salt Marsh Brewing Co. is a nano brewery that sits atop Fat Patties, a burger joint, craft beer bar and local favorite. This symbiotic relationship between restaurant and brewery was the brainchild of owner Nick Borreggine and local brewer James Brown. Borreggine recalls that five or more years ago, it was very difficult to find a decent spot to grab dinner with the family and enjoy a craft beer. He saw a need for more kid friendly places; thus, the idea of Fat Patties was born.
(MORE: Awaken Your Senses with Single Origin Coffee Stouts)
The first location of Fat Patties opened in 2012 near Beaufort, South Carolina. After the success of the first location, Borreggine knew it was time to expand from Beaufort to Bluffton, where the craft beer scene was gradually taking off.
It was fate (and a beer release) that brought Brown and Borreggine together at the original Fat Patties. After many talks, the two craft beer aficionados began their journey to Salt Marsh Brewing Co. While planning the Bluffton location, Borreggine reached out to Brown about starting a small brewery at the second location of Fat Patties. Brown and Borreggine both felt a strong connection to the community and wanted to bring locally handcrafted beer to this location.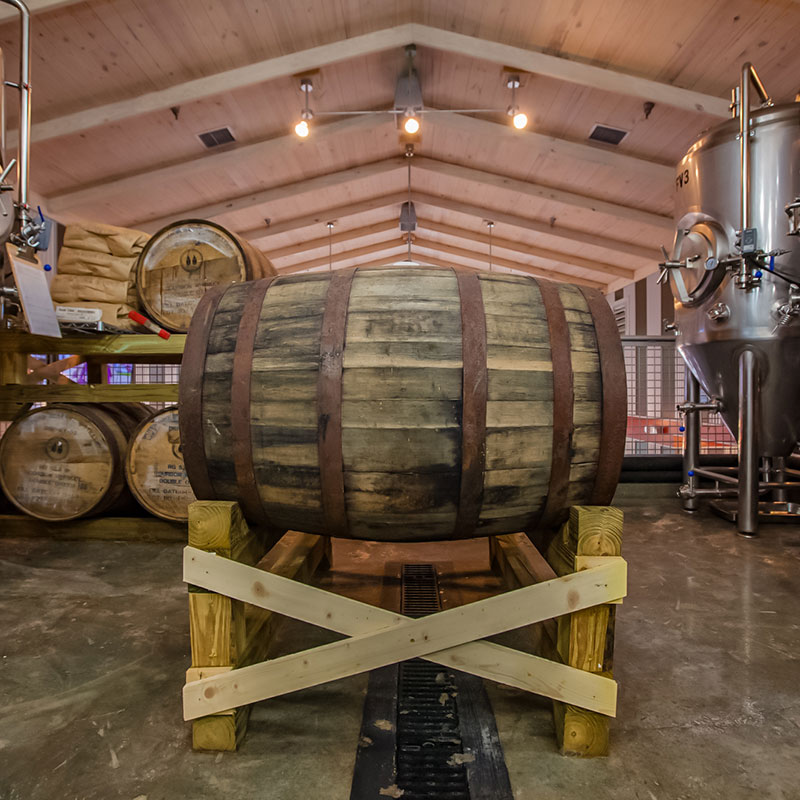 Bluffton, a small riverside community has grown quite a bit over the last five years. Surrounded by marsh and water, the people of Bluffton have deep ties to the salt life. The name Salt Marsh evokes a sense of community and hometown pride to those living in Bluffton, South Carolina. It made perfect sense for Borreggine to use that idea when naming the nano brewery above Fat Patties. This overarching theme stretches across not only the name of the brewery itself, but carries through the names of the beers as well. Head brewer Brown tells a story about the community through his beers with names such as Slo-Country Session IPA, Oyster Town Brown, State of Mind Saison, Riverwise Berliner Weisse, Stuck on Daufuskie Golden Ale and many more. Salt Marsh has also featured fresh fruits, local honey, as well as local May River Oysters. The use of local ingredients only enhances this connection between community and small business.
Brown's passion for brewing stems from traveling the country and discovering great beer. He also recalls a trip he took to Italy to visit a friend who owned a vineyard and a nano winery. Being a long-time DIYer, Brown knew brewing would be in his future. He began his brewing career in the mid-nineties on a small batch system. His love for crafting homemade alcohol turned into a lifelong passion. He helped start two breweries and a local homebrewers club, the Lowcountry MALTS. As a passionate person and brewer, Brown pulls inspiration from the world around him: music, food, the ocean, and other forms of art. His goal is to bring the love of craft beer to the Bluffton community and to create palate friendly beers to make even the novice beer drinker happy.
Currently, Salt Marsh operates on a four-barrel system. Brown and Borreggine both agree that having a smaller system allows for more experimentation, and frees them from being tied down to a certain line up. Brown explains that they have the opportunity to serve locally handcrafted beers to non-craft beer drinkers who wander into the restaurant for a burger. This allows him the chance to spread the knowledge and love of craft beer to patrons who may be unfamiliar with it. Borreggine and Brown both feel they are helping the connection between the Bluffton community and craft beer community.
(MORE: How to Order a Craft Beer)
While their symbiotic relationship may seem like rainbows and butterflies, there are challenges they have to face together. Salt Marsh Brewing Co. cannot distribute their beer. South Carolina law dictates that brewpubs are not allowed to distribute outside of the brewery. Borreggine hopes this law will soon be changed due to the South Carolina Brewers Guild and craft beer advocates working hard to transform beer laws within the state. Salt Marsh Brewing Co. currently has crowlers and some bottles for on-premise sales.
Despite this setback, they have high hopes for their future endeavors. There are plans to bring in 10 BBL tanks, a foeder (a large wooden vessel for aging wild ales) and to expand their barrel aging program. Brown and Borreggine are excited to grow their business in an up and coming craft beer scene.
CraftBeer.com is fully dedicated to small and independent U.S. breweries. We are published by the Brewers Association, the not-for-profit trade group dedicated to promoting and protecting America's small and independent craft brewers. Stories and opinions shared on CraftBeer.com do not imply endorsement by or positions taken by the Brewers Association or its members.