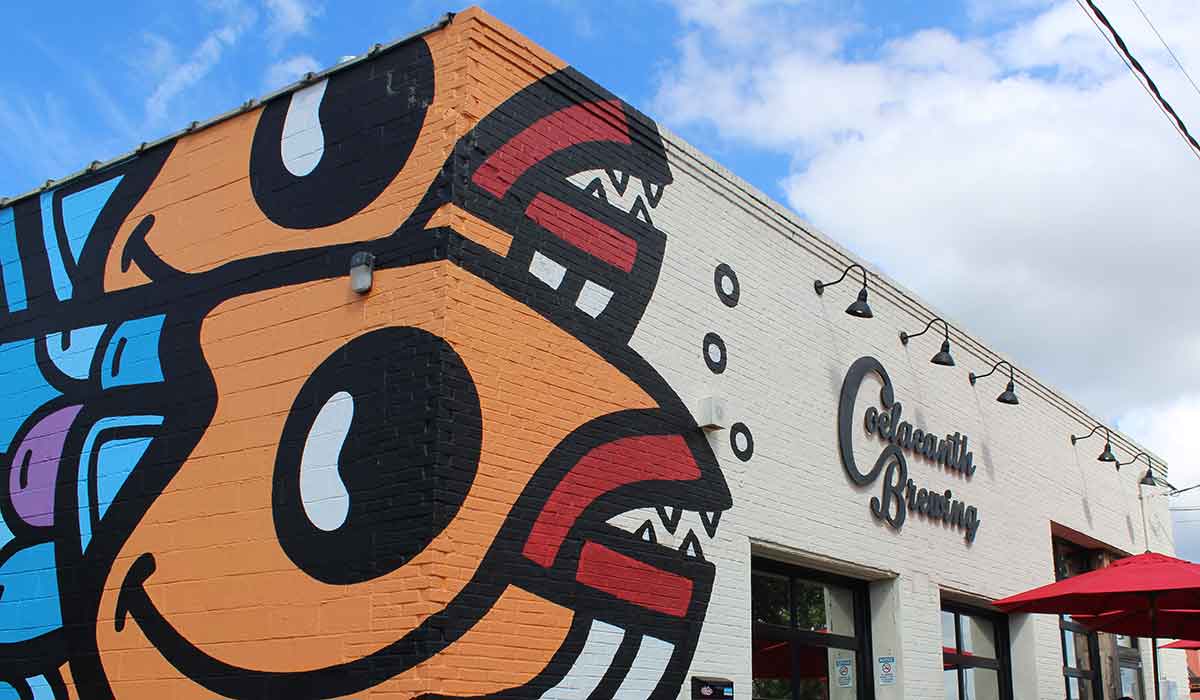 The 'Seinfeld' of Breweries: Coelacanth Brewing
"No hugging, no learning." That slogan behind the creation of "Seinfeld" stemmed from the notion, "Everyone else is doing this. We'll do none of that!"
Not that there was anything wrong with what others were doing. Pursuing something unique and bold, building a great comedy—that was what mattered to the tv show's creators Larry David and Jerry Seinfeld. And it caught on.
No yoga, no trivia, no pumpkin beer. Coelacanth (pronounced see-luh-kanth) Brewing Company Founder and CEO Kevin Erskine, along with Head Brewer Matt Topping, devised such (anti-)sentiments while building a quirky brewery in Virginia. And it's caught on.
"I didn't set out to be a great bar," Kevin says, ruminating about December 2015, when the curtain opened on Coelacanth, named for the Cretaceous-Period fish thought extinct—yet found very much alive. "I want to be a great craft brewery."
Being great but doing it differently is what Kevin and Coelacanth are all about.
Kevin's Brewery Vision Reflects His Personality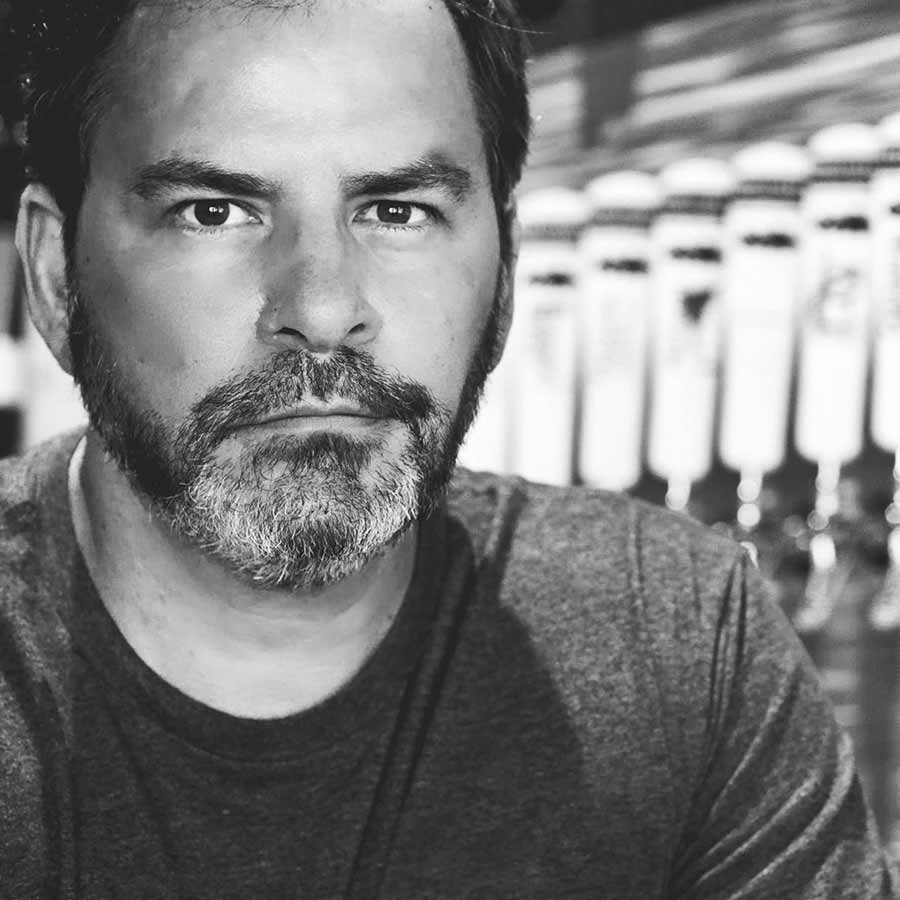 The brewery's slogan, painted on the wall and also printed on labels, alludes to Coelacanth's personality: "Ugly fish. Beautiful beer."
Setting up shop in Ghent, a funky segment of Norfolk, Virginia, helped Kevin's vision from the get-go. Think tiny slice of Austin, Texas, with the slogan "Keep Ghent weird." Yet more than millennials and hipsters meander through, looking for a tasty new craft beer.
Kevin's professionalism germinated in a private sector place far from the cheery hops-and-barley world: the tricky world of the health care industry.
Hailing from New York City, this strategic thinker by trade journeyed from DC to Richmond, Virginia, to California and back to Virginia before realizing he wanted out of insurance and into a more desirable trade. He wanted to be in an industry that would ensure satisfaction in a product well done, an atmosphere of the avant-garde, and a community reveling in the joie de vivre of it all.
Moonlight-consulting for beer, wine and spirits businesses along the way introduced Kevin to that trade he was seeking. At first, he dabbled in spirits in Virginia, but the regulations at that time stifled that industry's attractiveness to him. So he returned to his first love: craft beer.
(More: Craft Beer Programs in Senior Living Communities Show Beer's Ageless Appeal)
No Regular IPA? No Problem for Coelacanth Brewing
Kevin's not hung up on any one beer style.
"When we started, we were doing lagers and goses when few, if any, in our area were doing those mainly. Everyone was too busy chasing the IPA. I wanted to be different—yet do it well," he says.
That explains Coelacanth producing only a few IPAs annually, and only one regularly—around April 1—aptly dubbed Fool's Gold.
"People have told me, 'I hate you because you don't have an IPA,'" Kevin says with a nonplussed grin and curved eyebrow a la "Huh?"
Touching on diverse beers they've brewed turns the spotlight on native Virginian Matt, who attended Virginia Tech then leaped onto the brewers' stage, first at Bell's Brewery then at Maui Brewing Co. His recipes abounded when the curtain went up on the Coelacanth.
"We make nearly all of 'em at some point, any beer, you name it," Kevin says. "We do it to show everyone that we can make any beer great."
One recipe he thought beer nerds might question at first was the brewery's American pale lager Old Glory. But it won a gold medal at the 2018 Virginia Craft Beer Cup and is among the brewery's top-selling beers.
"It's the second bestselling beer, on and off-premise here," Kevin states—then opens the aperture again to focus on the bigger picture. "We just want to be different. That's our whole raison d'etre. When others zig, we zag."
Brewing goses when IPAs are in high demand only exemplifies that Seinfeld-ian do-the-opposite impulse. "They do pumpkin beer, we do caramel apple pie porter," he says. "They do milkshakes, we do a crystal clear lager."
(More: Red Shed Brewery is a Hit in Baseball-Loving Cooperstown)
The Brewery with No Name (that Anyone Can Pronounce)
That nonplussed grin, smart glint in the eyes, infectious laugh—all belie a man about more than his business. For one, he vice-chairs the Virginia Craft Brewers Guild, helping grow independent breweries across the state.
From the movie-allusion marketing (e.g., the imperial stout Megalodon with its dead-on "Jaws" poster chalk-drawing with the quip, "You're gonna need a bigger glass"), to the sweet reflection on once working at the Big Apple's first all-metal radio station ("where I met the Ramones and hung out with roadies from Pink Floyd," he muses, "too cool"), Kevin is, well, cool about it all.
If droves continue to mispronounce the brewery's name (or in the case of one retailer, refuse to sell Coelacanth because he hates the name), he's good with that too.
As long as a great time at this 22nd Street treasure was had by all, and they talk about it and bring others to it…well, in the slogan-ish words of another "K-man"—Cosmo Kramer—as Kevin himself would approve: Giddy up!
CraftBeer.com is fully dedicated to small and independent U.S. breweries. We are published by the Brewers Association, the not-for-profit trade group dedicated to promoting and protecting America's small and independent craft brewers. Stories and opinions shared on CraftBeer.com do not imply endorsement by or positions taken by the Brewers Association or its members.