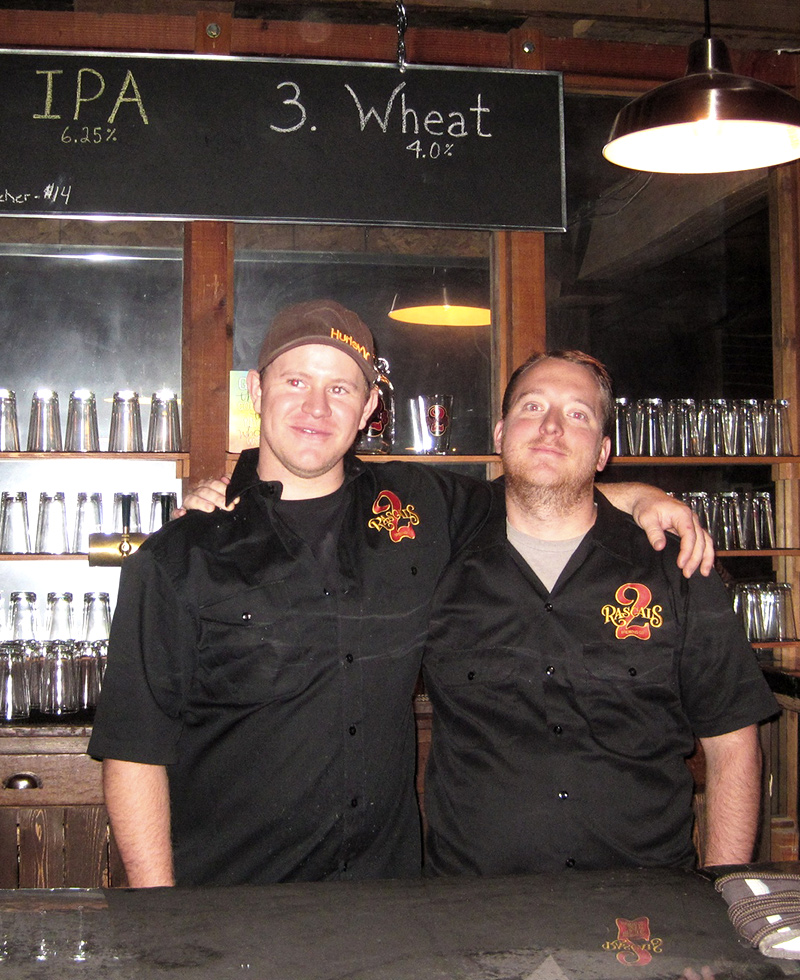 Two Rascals Brewing Company
Montrose, Colorado
Two Rascals Brewing Company's Brandon Frey and Dan Leonardi met on the front lines as Bureau of Land Management firefighters on the Western Slope of Colorado. Fighting fires makes a person thirsty, and the two realized a mutual passion for homebrewing. They quickly grew beyond the basic extracts of most newbie home kits however, and went in together on an advanced homebrewing system. This step up introduced them to the wide world of hops and malts.
After five years, the guys got serious with a two-week total immersion course with well-known brewmaster Tom Hennessey at Colorado Boy Brewing in nearby Ridgeway, Colo. They then found themselves with investment backing and looking for brewing space. Just off the historic main streets of Montrose, which bills itself as the Gateway to the Black Canyon of the Gunnison National Park (think mini-Grand Canyon), they came upon an old railroad packing station most recently used for storage. The building, which has 75-year-old graffiti painted on the inside and outside of its solid brick walls, just flat-out beckons you to come and visit—especially now with the added aroma of beer being brewed.
Two Rascals retained the old exterior painted signs, adding a large 20-foot "Brewery" tag of their own to help loyal craft beer drinkers find their way. "It's a lot easier than fighting fires," Frey said, "and most days a lot more fun."
But it still requires work and commitment, according to Leonardi. "It feels like we opened a week ago—it's been a good learning experience for us."
Two Rascals Brewery offers a solid line-up of customer favorites. The IPA is tangy, the wheat smooth and the amber greets like an old friend. Their stout and brown ales—the dark side of the Two Rascals' lineup—offer newly-tweaked recipes that are going over well with the regulars. Leonardi stressed that they want a beer that has drinkability and is familiar to their customers, both regulars and new patrons. "We don't want our customers to know when we've switched batches, something we have achieved in the last four or five months," he explained.
Their business plan is to increase keg sales to other bars and restaurants in the area. They're also looking to add a small canning line for another carry out option at both their taproom and other retail stores. Two Rascals Brewery's answer to food is to keep the menus handy to several nearby downtown restaurants and eateries that will deliver food to the brewery.
What really compliments the beer at Two Rascals Brewing is the venue. You will not find a nicer taproom. The old building has been lovingly renovated by the two partners, including a bar that was built from salvaged brick from a chimney at Leonardi's parents' home. It is just a great place to hunker down and enjoy the company of other beer buffs. Regulars often bring their families in and it's not unusual to see board games in progress. It is also a comfortable venue for live music that is regularly featured.
CraftBeer.com is fully dedicated to small and independent U.S. breweries. We are published by the Brewers Association, the not-for-profit trade group dedicated to promoting and protecting America's small and independent craft brewers. Stories and opinions shared on CraftBeer.com do not imply endorsement by or positions taken by the Brewers Association or its members.