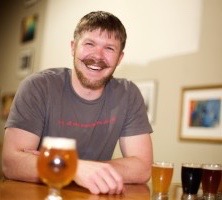 Wanderlust Brewing Company
Nathan Friedman, owner of Wanderlust Brewing Company, greets visitors with a big smile, a big handlebar mustache and imparts a huge aura of someone who enjoys himself immensely.
"This," he said waving his hand like a magician inside his brewery, "is a hobby that comes with a 3,000 square foot warehouse."
He's only half serious, of course, but he does keep his day job as a mechanical engineer, which clearly contributes to what differentiates Wanderlust Brewing. After all, a fellow who designs medical stents and grafts for a living—upon which people stake their lives—can't help but bring some of that precision and efficiency into his approach to brewing.
Above all, Wanderlust is an extremely efficient brewing operation. You won't find any repurposed tanks or bicycle grain grinders here. The brewing system is a finely honed machine that allows Freidman and his staff to work smarter.
"This is a very efficient brewing line. I designed most of it myself," said Friedman. "I was tinkering with it right up until the end, which I'm sure drove the guys at Brewmation—who were making the system—a little crazy at times."
But his fastidiousness about the operating details yielded a three-barrel system that is very efficient, resulting in double-batch brew days being the standard.
"The line turned out well—I can make the brewhouse sing with this system," he said.
With this commitment to design, Friedman also had a clear vision for his brewing style.
"I drew a line in the sand. I wasn't going to brew your commonly found, mainstream beers, but I also want the beers to be approachable to our customers," he explained. "I enjoy Belgian and German style beers."
To keep things interesting yet simple, he offers three year-round beers plus up to four rotating seasonals. Friedman said that in 2015 he is committed to keeping at least one sour on tap at all times. On my visit, I sampled:
928 Local: a farmhouse-style beer featuring a proprietary wild yeast harvested from local apples and locally-sourced honey
Pan-American Stout: an oatmeal stout with vanilla and coffee
Coconino Common: an unusual sour session rye inspired by old Kentucky recipes
Friedman expects to brew about 500 barrels in 2015, and now has an assistant brewer who keeps the batches of the house standards in production. Friedman primarily handles the seasonals and collaborations, such as their Belgian-style Birch on Hops he brewed in collaboration with Four Peaks Brewing Co. for Arizona Craft Beer Week.
He also has 16 wine, whiskey and tequila barrels stacked up in the brew house full of beer, with some intentionally soured. He bottles these barrel-aged beers a couple times a year. The rest of his beer is only available in kegs—about 80 percent is sold to draught accounts around town and the other 20 percent is sold in the Wanderlust taproom.
"Flagstaff is a growing craft beer community and Wanderlust has had good steady growth," said Friedman.
CraftBeer.com is fully dedicated to small and independent U.S. breweries. We are published by the Brewers Association, the not-for-profit trade group dedicated to promoting and protecting America's small and independent craft brewers. Stories and opinions shared on CraftBeer.com do not imply endorsement by or positions taken by the Brewers Association or its members.