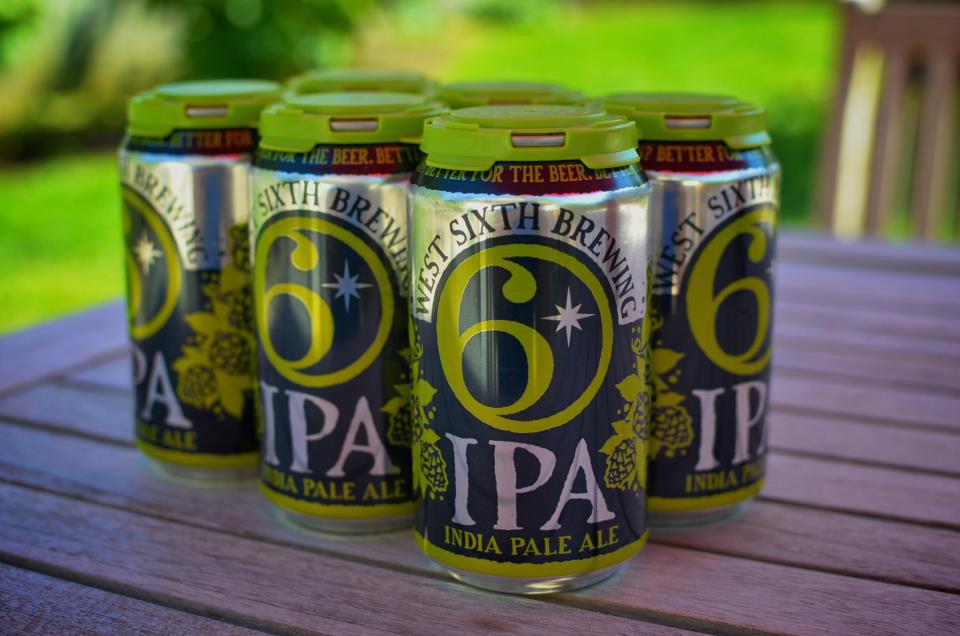 West Sixth Brewing Company
Show up a little before 9 a.m. on a Saturday morning at West Sixth Brewing Company and the beer garden is already packed and buzzing. Twenty something's mix and mingle with others in their 30s, 40s and 50s. No, they're not there for a special early-morning tasting or even a tailgate party in the brewery's spacious taproom. They're there for the West Sixth Running Club's half marathon training team workout, just one of many events at the new brewery on any given day that gives the operation housed in a former bread factory a true community feel.
Other days it's a yoga class in the beer garden, or perhaps a group of science enthusiasts listening to an informal presentation on topics ranging from fracking to the way wine drinking affects aging. On the sixth of every month the brewery hosts "6th for a Cause," events where West Sixth donates six percent of its profits to charity, allowing the brewery's owners to continue to foster their mission and give back to the same community that has helped it become one of the fastest growing and most popular hangouts in town.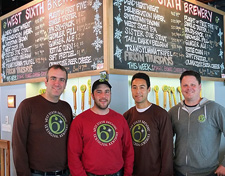 Founded in 2012 by Ben Self, Brady Barlow, Joe Kuosman and head brewer Robin Sither, West Sixth Brewing is located not far from the center of downtown Lexington, Ky., in what used to be known as the city's Smithtown area. One of West Sixth's brews, Smithtown Brown, draws its name from nearby Smith Street and the area of the city that has been revitalized thanks to the opening of eateries and businesses frequented by clientele that range from bike-riding hipsters to yuppies.
The Bread Box
That's the type of crowd that gathers on any given night at West Sixth, which occupies space inside the former Rainbo Bread Company building purchased by the brewery's owners in 2011 with designs to transform the structure into a tool for the community. The 90,000-square foot building dates back to the late 1800s and was renamed The Bread Box.
West Sixth's owners sought out other like-minded businesses and non-profits to share space in The Bread Box. Others already established there include the Broke Spoke Community Bike Shop, Cricket Press and FoodChain, a non-profit urban indoor food-farm operation that grows leafy greens and raises tilapia in tanks—fish that will one day be served at a restaurant on site. The Roller Girls of Central Kentucky also practice in a portion of the building and stage match after-parties at West Sixth.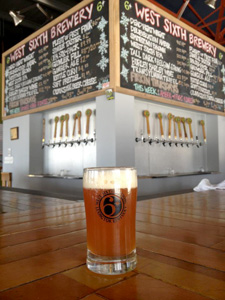 "When we were looking for a space for the brewery, we wanted to find a building in a neighborhood, but also suitable for production," said Self, a 35-year-old Lexington native whose background is in marketing. "This building met a lot of our needs, but it was also 90,000 square feet, so we said let's kind of expand what we're thinking about and fill it with other tenants who are similarly community minded. We've had great luck with that."
Canning at West Sixth
Shortly after turning on the taps and throwing open its doors on March 31, 2012—an opening that serendipitously coincided with the beloved University of Kentucky men's basketball team's run to the national championship—West Sixth started selling its flagship IPA in cans because "it's better for the beer and better for the planet."
Six-pack sales of the IPA—a tasty American IPA with the perfect combination of floral and citrus flavors (7% ABV)—soared and West Sixth doubled its production efforts less than five months after opening. The brewery then announced a second beer, the Deliberation Amber (5.5% ABV), would be canned in early 2013. The two canned beers, along with Dead Heat Wheat and Smithtown Brown, are always on tap at West Sixth.
West Sixth's expansion into a second canning came a few months after the brewery doubled its capacity to 5,000 barrels. West Sixth produced more than 2,000 barrels in its first nine months, a significant amount compared to other breweries of similar size and scope, and the owners point to Kentuckians seeking a good product as the reason.
"It makes a difference when you have a local craft beer versus just a craft beer from some other great companies," said Barlow, 39, who has lived in Lexington nearly two decades. "Local makes a difference. I always said in Lexington if you make a good product, this town will beat your door down to support you."
"We don't have a very complex marketing strategy," Self said. "Basically our strategy is we think we have an excellent beer and the more people who taste it, we're convinced that they'll buy it when they're out. And so we've been really happy with the number of our fans who have gone out there and taken the lead and introduced the beer to people, or brought in a family member, and that's really what we've credited our growth to, those people really feeling like they're a part of it and a part of our success."
Plans to can a second beer came shortly before West Sixth announced plans to reach more potential fans in Northern Kentucky (just south of the Ohio River and Cincinnati), giving the young brewery a foothold in the three areas (along with Lexington and Louisville) that account for more than a quarter of the state's population.
Community Focus a Key to Success
Despite West Sixth's increasing reach into other parts of the state, it is the inroads the brewery made within its local community that continues to set the pace. And its founders would have it no other way.
"The whole idea of the tap room from the beginning was a marketing arm," Barlow said. "The idea was you make the beer in the back, they taste it in the front, and what you hope happens is they leave here with a good experience and good impression and then buy it elsewhere."
"We've experimented with certain things, like something as simple as the running club, to try and do different things to get this space to become a destination and gathering spot," said Kuosman, 35, a native of Pittsburgh whose background is in operations. "From the first day we opened, a lot of the things we've done, like the 6th for a Cause events, they've kind of morphed over time as we've seen the need and people have come to us and said, 'What do you think about this?' And we've said, 'Yeah, that sounds like a great idea.'"
"We want to make sure we continue to grow this as a community spot, to look for other creative things that can utilize the space and building. We'd like to see the building and the brewery become a destination when people come to Lexington. We want it to be something Lexington and Kentucky can be proud of; just a really neat place with a different dynamic, for organizations getting together and people getting together and just doing cool stuff."
The community, of both craft beer enthusiasts and citizens of Kentucky's Bluegrass region, seem equally thankful for the great idea West Sixth's founders put into action less than a year ago with the belief that Lexington was the perfect market for a local craft brewery and all the cool stuff that comes with it.
---
Tom Law, a homebrewer and craft beer enthusiast, is an award-winning horse racing journalist who has covered that sport's major events in the U.S. and Canada for nearly two decades.
CraftBeer.com is fully dedicated to small and independent U.S. breweries. We are published by the Brewers Association, the not-for-profit trade group dedicated to promoting and protecting America's small and independent craft brewers. Stories and opinions shared on CraftBeer.com do not imply endorsement by or positions taken by the Brewers Association or its members.