"Cruisin' for a Brewsin'" ain't your father's beer blog and Ale Sharpton ain't your father's beer blogger.
Ale's reach in the craft beer community extends far beyond his blog. He's an accomplished photographer, speaker, consultant – and he's flat out dope. When Ale wants to do a craft beer tasting, he taps legends like Def Squad's Keith Murray and DJ Quik.
And, if that isn't enough, he pulls off a flat cap with so much confidence, anyone donning a pretzel necklace next to him at a festival might feel seriously out of place.
(MORE: Great American Beer Bars 2017)
He's created such a strong brand for himself (almost leaving behind his birth name, Dennis Malcolm Byron), he's well-known far outside his Atlanta home base.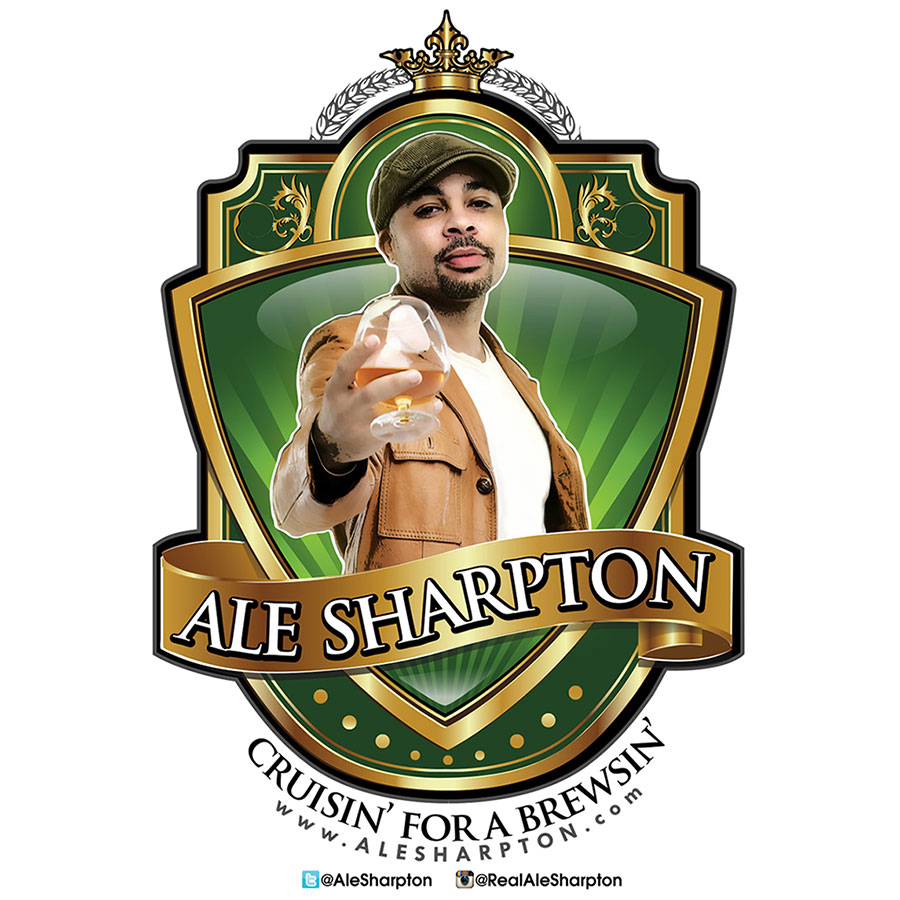 CraftBeer.com sat down with this true craft beer ambassador to get a glimpse of the man under the flat cap.
CraftBeer.com: How would you describe what you do in/for the craft beer community?
Ale Sharpton: Since I began writing about beer in '96 for a hip-hop mag in Atlanta called Cypher, I have brought a different energy to this industry. I'm an idea man, and if there is something I enjoy that could use my God-given talent, it's a wrap. Beer brings that out of me.
So with that spirit, I try to showcase and disclose all the cool people, marketing and of course, palate-pleasing properties craft beers bless us with. My style is more in your face and frankly expressed whether by keyboard, video, or print. It's a priority to be as real as possible with whatever I do. Being a "brotha" of Jamaican origin and coming from a different perspective doesn't hurt either.
CraftBeer.com: What's something that people don't realize you do?
Ale Sharpton: I do this dope hat, beer, and music event called Brews.Brims.Beats alongside the multi-talented, globetrotting DJ and stylist mikeflo. The next one will be in the late spring.
I also produce music having worked with Sony/Columbia in the marketing and A&R department when I first moved here. I also helped produce a dope album called The Takeoff under my record label called Earkraft. I have something brewing right now down that same lane.
On the food side, I consult with restaurants on their beer selection, pair them with their food, and host beer dinners. (I can cook my ass off thanks to being a Cornell Hotelie and my family's history in the culinary industry!)
Then there is my photography and not being shy in front of the camera. I've done a lot of television and web videos.
Bottom line, it is more than just one role. I just said all that to say my life is multi-faceted, bananas, and more than just blogging.
(MORE: 9 Breweries You'll Want to Follow on Instagram)
CraftBeer.com: Why did you choose to build your personal brand around craft beer?
Ale Sharpton: I knew when I wanted to make beer a serious part or my life, I would be doing more than just writing. There was no person in the beer industry who made their name a brand as far as I knew at the time, and I love being original with what I do. I didn't want to use my government name because it sounds like a law firm. I wanted to come up with something everyone could remember.
Enter: Ale Sharpton. I was on a mission to create a name, so I had a little greenery and two Brooklyn Black Chocolate Stouts at 2 a.m. way back when, and haven't looked back since. I designed the logo with a friend who's talented with graphics named Vince. That was 10 years ago.
CraftBeer.com: Why are beer ambassadors like yourself important to the craft beer community?
Ale Sharpton: I assume people like me are just passionate, give a real shit about the brewing community, are not doing it for simply making a buck, and are completely natural—no fake shit. With that understanding, we go out there and utilize the talents we have been blessed with, and help the world understand this: Beer is the most incredible beverage in the world. I really believe that.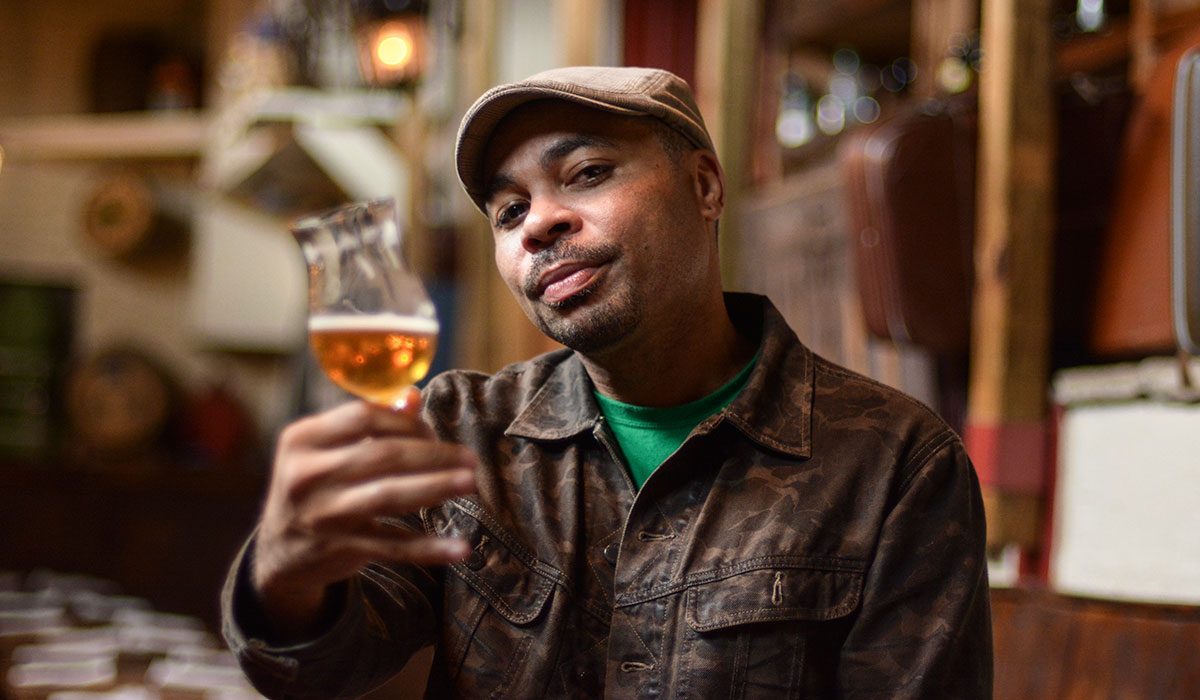 CraftBeer.com: You also have a key visual element: from the logo to your photography to starring in videos. You're more of a persona than a blogger. Should more bloggers consider getting out from behind the keyboard and in front of the camera?
Ale Sharpton: Thanks, bro.
Yeah, often when I solely hear the "blogger" title, I think it leaves out the numerous other roles I also do. I have been writing and editing for magazines, websites, newspapers and, hell, other blogs for more than 20 years to get to where I am. Becoming Ale Sharpton was taking things to the next level by officially carving out a lane for myself.
Now trust me, I have nothing against solely blogging because that is the one time I can write with my voice. I even think it will become even more important for me to blog because of all the awesome things that are starting to blossom. I also do it for my followers, so [they] keep me typin'!
(MORE: 14 Spring Beers Brewers Want You to Try in 2017)
CraftBeer.com: How would you like to see the industry change?
Ale Sharpton: Good question. I am riding with the pace it is going now, because the industry is starting to push boundaries more, whether it's becoming more diverse in every sense of the word, or slowly getting rid of a lot of restrictive laws pertaining to where beer is sold, how it is distributed, and where we can drink it.
Restaurants who used to be solely about wine and spirits are finally recognizing beer is the shit. Go get a late pass! More need to wake up and recognize.
CraftBeer.com: You have some pretty cool ideas about adding diversity to the industry. Talk about some of those.
Ale Sharpton: I'm asked about [racial diversity] a lot. I just want everyone happy. I am also a Libra and believe balance is the key to life. Well, being a brother too, and wanting equality is naturally a life-long mission.
Specifically, I have a few great ideas I would like to actualize to help promote minorities and women being more involved, whether it be scholarships, internships, being a part of an initiative with a major brewing organization, or bringing all people together during events, which I enjoy putting together. The turnouts for the ones I am a part of are like the epitome of racial harmony. Great beer, art, music and a dope theme to tie it all together is my formula.
What I love about beer is it brings people together. There is a history behind it that goes back to hieroglyphics and we all need to acknowledge that. The history is rich and enlightening. From Africa to Europe and now North America's surge, the world has stories! Don't sleep on Asia and South America. They are next to go hard!
CraftBeer.com: Do you see the industry trending in the right way in terms of diversity?
Ale Sharpton: Yes, slowly but surely. I am seeing it happen right in front of me. I have been given a lot of props and "Thank Yous" for what I have done to help this along and that is very, very rewarding. And that's coming from everyone. Not just black people. Earning that respect is very important to me.
Happy sippin'!
For more on Ale Sharpton check out Cruisin' for a Brewsin, or follow him on Twitter and Instagram.
CraftBeer.com is fully dedicated to small and independent U.S. breweries. We are published by the Brewers Association, the not-for-profit trade group dedicated to promoting and protecting America's small and independent craft brewers. Stories and opinions shared on CraftBeer.com do not imply endorsement by or positions taken by the Brewers Association or its members.