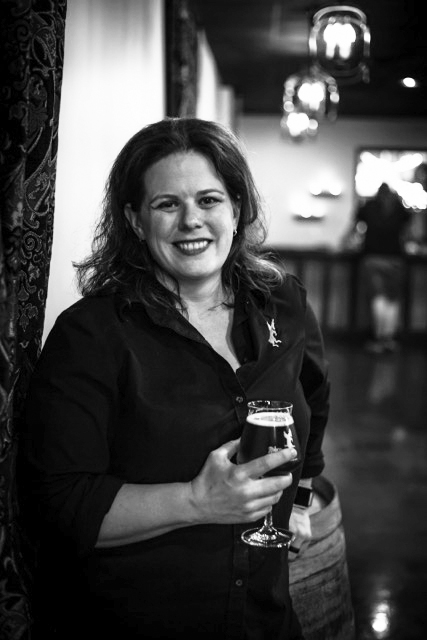 Full Pour: Abbey of the Holy Goats' Kathy Davis on Opening a Brewery
Abbey of the Holy Goats is, at first, a funny little name for a brewery. About 15 miles north of downtown Atlanta in Roswell, you'll find this small, beautifully-designed brewery filled with distinct Belgian-style beers and a lot of character.
When you walk inside the doors of this Georgia brewery, you're transported from a business development outdoors to a beautiful taproom, where the pièce de résistance is a 3-ton, white pine table made by a local artist that stretches nearly the length of the tasting room. You're now in a world created in the mind of owner and founder Kathy Davis.
Davis has spent most of her adult life trying on different careers. She started in the culinary world, moved to teaching martial arts and yoga, almost bought a goat farm in Maine and also came oh-so-close to becoming a nun — the brewery's name a jigsaw puzzle of her journey.
(MORE: The Illusion of Choice and American Craft Beer Drinkers)
But life didn't intend for Davis to be a nun. Instead, a trip to Atlanta's Brick Store Pub turned her onto Belgian beers, and a gift of a homebrew kit from her parents turned her onto homebrewing. Shortly after, the idea that she wanted to open her own brewery settled in.
Davis, a precise, thoughtful soul, which you glean from your first five minutes with her, didn't want to blindly jump into opening a brewery — she wanted to do it right. She went back to school and got a master's degree in business. She spent years learning about the business of beer and perfecting recipes before opening the doors in spring 2016.
So what is it like to see a longtime dream become a reality? Davis talks about the journey in this CraftBeer.com Full Pour.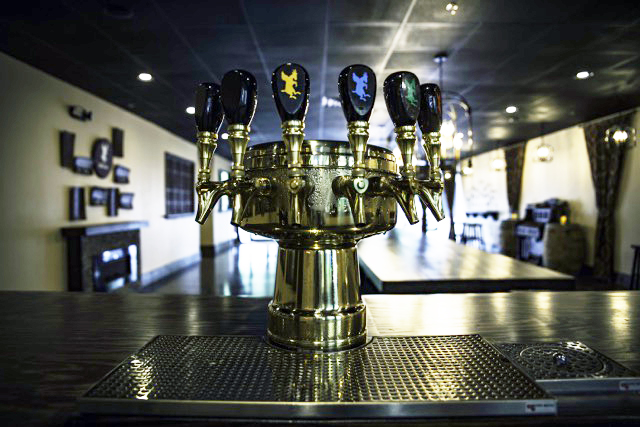 Q: How does it feel now that Abbey of the Holy Goats is open?
Kathy: I'm one of those people who has a project, and you keep looking for a new project, so you never take the time to look and say, "Hey we did it!" I'm onto the next project. I'm extremely excited and very happy that this is open but as a business owner, I'm constantly thinking what do we need to do next. Once we get to that sigh of relief point without not being hungry I think I can actually enjoy this.
Q: Do you think with your personality you'll ever get to that place where you aren't hungry?
Kathy: No. No. I'll always be hungry, but opening a brewery is the best thing in the world.
Q: How did you get interested in beer?
Kathy: My parents were open to us having alcohol growing up so it was never a taboo subject. Having beer growing up, just sips and stuff, I always was attracted to it. Of course going to culinary school you don't do keg parties of Miller Lite. So we had the best stuff you could find at the time and I fell in love with beer there. After I left the culinary industry, I almost became a nun. I had taken lay vows to be a Buddist nun and in a couple of weeks my best friend took me to Brick Store Pub and introduced me to Belgian beers.
Q: You were that close?
Kathy: I was that close. And I didn't tell my parents. They didn't find out until the first article came out after the brewery opened. They were like "What?" They knew I was fascinated with Buddism, but they didn't know I had taken vows.
Brick Store was the impetus to me. Nine years after doing many, many things, I got a brew kit from my parents for my birthday. And then two beers later it's like, "I'm going to open my own brewery."
I did go back to business school with the intention of opening this place. Brewing beer is a huge passion. I knew I wanted to take it farther but I didn't want to jump in and completely screw things up. Brewing beer is 5 percent of owning a brewery. The rest is paperwork and cleaning.
(FULL POUR: 'This Is the Hardest Thing I've Ever Done')
Q: What is it about the brewing that you like so much?
Kathy: It's the meditative process behind it. Everyone is like, "It's about the finished product." Yes, it's about the finished product but the process of brewing itself is so meditative to me. The idea of mashing is that idea. Mixing the grain with the water and going in — everything about it is meditative.
Q: What do you want people to feel when they walked in the door?
Kathy: That it's a place of community. That's why we have the huge table in here. I don't want people to stand in their own groups of friends and talk amongst themselves. I want them to experience the brewery and everyone who comes in.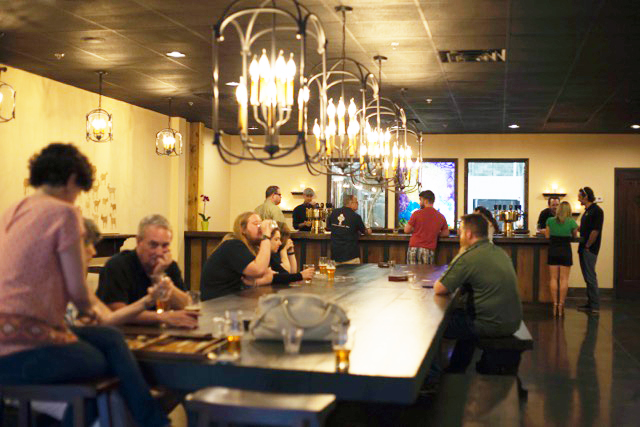 Q: Anything that surprised you as you were preparing to open?
Kathy: The tasting room I built out myself except for putting up the walls. I painted the ceilings. I did all the trim work in here. Hung all the windows. The only thing I didn't build was the bar and the table. That has nothing to do with brewing but the fact that you're opening a business and you realize you have such a short budget for build out. You decide you want to the tasting room to be open and you gotta do it yourself, like learning to use a chopsaw.
Q: You taught yourself to do all that?
Kathy: YouTube is a wonderful thing.
CraftBeer.com is fully dedicated to small and independent U.S. breweries. We are published by the Brewers Association, the not-for-profit trade group dedicated to promoting and protecting America's small and independent craft brewers. Stories and opinions shared on CraftBeer.com do not imply endorsement by or positions taken by the Brewers Association or its members.