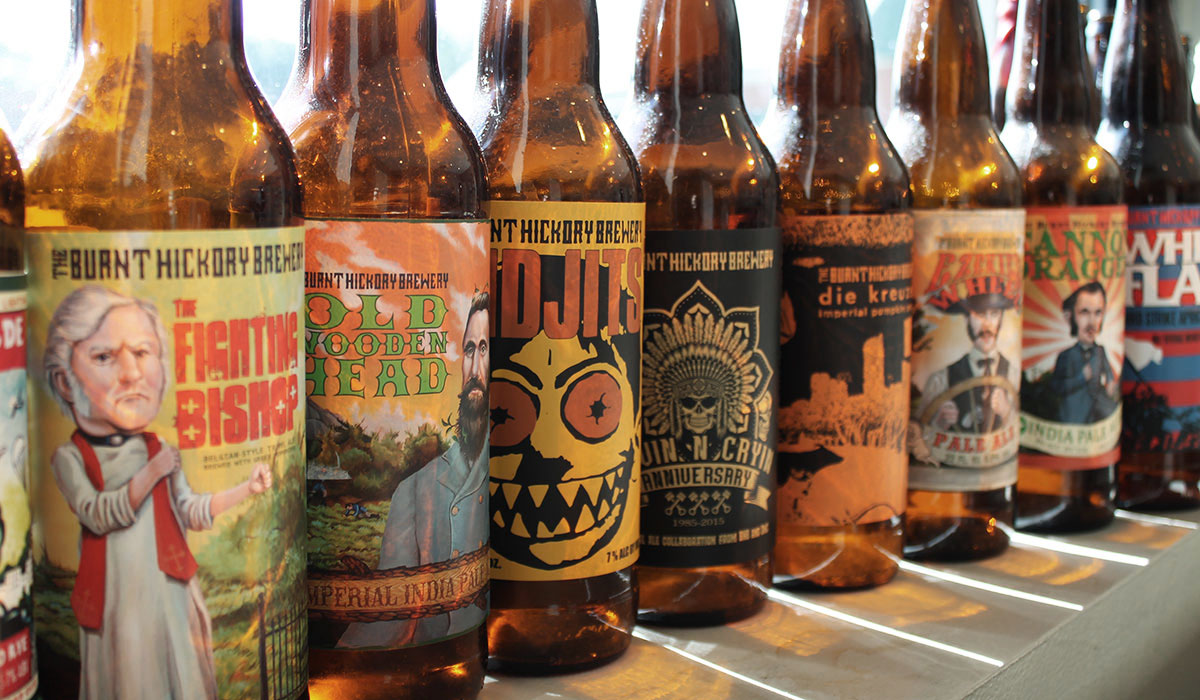 Full Pour: Burnt Hickory's Scott Hedeen, the Punk Rock, DIY Brewmaster
Scott Hedeen, founder and brewmaster of Georgia's Burnt Hickory Brewing, says, "I refer to us as more of a spaghetti western, Civil War, heavy metal, biker brewery." That about hits the nail on the head.
Burnt Hickory in Kennesaw, north of Atlanta, started as a nano brewery in 2011. Hedeen is a longtime craft beer fan, a 20-year tv news veteran, and a metal/punk rock music devotee who sold a bunch of his treasured albums to make seed money to start the brewery.
In the old days, BHB was open only one Saturday a month for five to six hours. That's all the beer they could spare as a nano in a state where you couldn't (and still can't) sell beer straight to consumers in a taproom. Back then, you'd get to the brewery early, promise yourself you're leaving early this time, but break that promise every time because bonus hourly tapings of BHB one-offs created lines resembling a mini-GABF. Weather didn't matter: on sweaty summer days or wedged-in, blustery winter days, beer lovers didn't care. They showed up. It was glorious fun.
(MORE: Atlanta's Sour Beer Trailblazer)
BHB has grown and is no longer a nano, but maturing as a brewery doesn't mean sacrificing the punk rock, do-it-yourself spirit Hedeen and his team built. He talks about the brewery's survival — and how owning a brewery is like being a record mogul — in this edition of CraftBeer.com's Full Pour.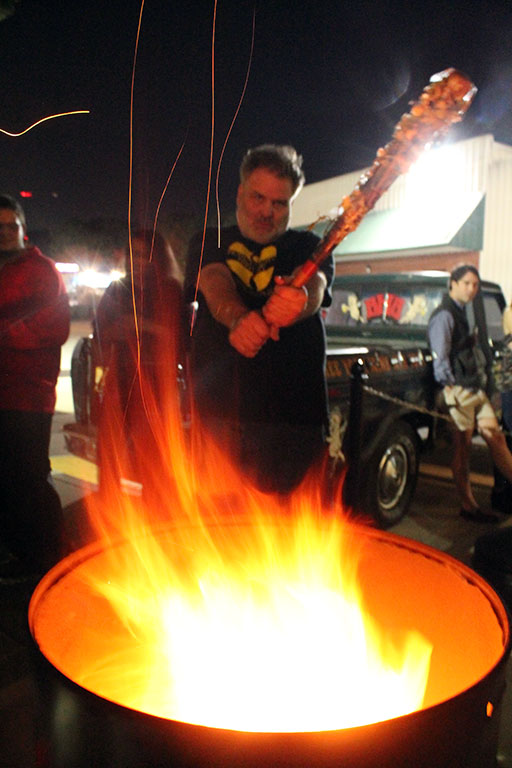 Q: Going back to the very beginning — the raucous, once a month open houses — those were crazy times. You have grown so much since then, and done so in a state with unfriendly beer laws. How do you do it?
Hedeen: I'm a real big believer in slow and manageable growth. When I got my brewer's notice, I was maybe the eighth brewery ever in the state of Georgia since Prohibition. Now we're up at like, 50. Fifty breweries in a state now a days is not really that big of a deal, but for Georgia, with the antiquated three-tier system here, that's a lot of breweries. I think the hard thing with running a brewery in this state is you don't have a lot of advantages, like being able to sell right out of your brewery like 49 of the other states in this country do. For us, we had to survive by concentrating on making good beer.
Q: How would you describe "being yourselves?"
Hedeen: The more "Do it Yourself" style. I'm the primary investor so I pretty much call the shots. It's basically being about to be independent of a ton of investors. We're on a vicious hamster wheel in Georgia. You have to have money to make beer, but you have to have beer to make money. You gotta do something to stand out.
Q: That has to be really hard for you.
Hedeen: It is. People will come in and say, "Don't you have koozies? Don't you have swag ?" Our swag money this month was allocated into buying hops. Who wants to wear a hat from a brewery that sucks? I'd rather put my money into beer.
Q: Do you have hope that Georgia's laws will change?
Hedeen: That's what I'm hoping. It has to. With Mississippi brewers and wholesalers agreeing on a compromise it puts heat back on Georgia wholesalers and the state to take a hard look at the fact that we are the last state in the country to still hold onto this antiquated three tier, where all the beer legally has to go through wholesalers. In reality, I have one customer: That is my distributor. I'm allowed to give away beer based on tours. I tell people it's like if you go to a Mercedes factory, the tour may cost $100,000, but you get a free car at the end. That's how we are able to put up to, but not over, 72 ounces of beer in the hands of the people who actually physically visit our brewery.
Q: How does that reflect in the brewery?
Hedeen: I've always kinda looked at things a little differently — anywhere from music, films, books, television shows — my whole attitude. I also believe in local. Right here in Kennesaw there was a huge Civil War battle and we have beers that reflect the local lore of that here. People will say, "You make Civil War beers. Where is your Robert E. Lee beer?" I tell them Robert E. Lee was never at the Battle of Kennesaw Mountain.
I look at Burnt Hickory like a band. You gotta get out there and gig it. You gotta pay your dues and play in basements. Our original nano brewery was like a demo tape that we went and played in small clubs. Then when we expanded, we put our own record out, but people already knew the songs so we made them bigger and better. So now we're still not on a major label, per se, but we're moving a lot of singles.
(MORE: 10 Pieces of Taproom Etiquette)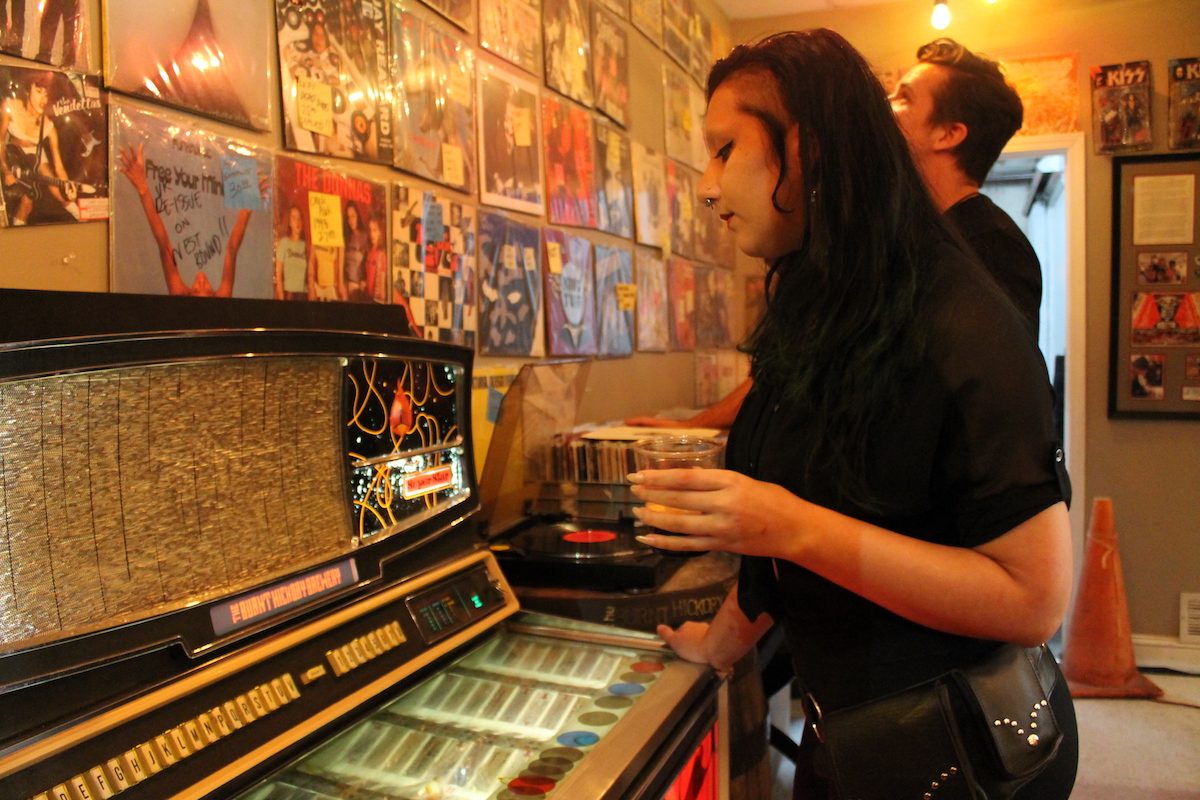 Q: That's exactly who you are. It's brilliant.
Hedeen: It goes hand in hand with the DIY mentality. It's like I'm running an independent record label and every one of my beers is one of my bands I have to promote. Like Big Shanty is a band that I promote a certain way and it has to get out there, get marketed, record, get released. Same thing with beer. I gotta make sure I get it out there, promote it and get it in the hands of the consumer — like a record mogul running a brewery.
I was a record collector since I was 10 years old. I know the record has to look a certain way and sound a certain way. Look at the Beatles' White Album. It's a great album but the cover is just white. So that proves that the actual material is what moves it. We have cool labels, but I like to think that if our label just said "Beer" on it, people would still buy it because it's what is inside the bottle or can.
Q: And now you're in a band. How did that happen?
Hedeen: This guy comes into the brewery and asked if I had ever heard of a band called the Cheifs. I said, "Yeah. They're out of Los Angeles and spelled wrong on purpose." He tells me it's his band. I say, "Well, hell, you're one of the investors in my brewery because I had your single and sold it for $300 five years ago." So we laughed about that. They hadn't played since 1982, so low and behold, he and I started talking and he found a singer and a drummer and so now we're the Cheifs and we're playing again. We may even go out West to where they first played and hit some spots. I got the punk rock brewery going. Now we have our own punk rock band.
Note: Burnt Hickory is one of 16 breweries headlining the first ever Decibel Metal and Beer Fest featuring Denver's TRVE, Indiana's Three Floyds and Tampa's Cigar City. The bands Sleep and Agoraphobic Nosebleed headline the music on the ticket. The festival is set for April 22-23, 2017, at the Fillmore Philadelphia.
CraftBeer.com is fully dedicated to small and independent U.S. breweries. We are published by the Brewers Association, the not-for-profit trade group dedicated to promoting and protecting America's small and independent craft brewers. Stories and opinions shared on CraftBeer.com do not imply endorsement by or positions taken by the Brewers Association or its members.