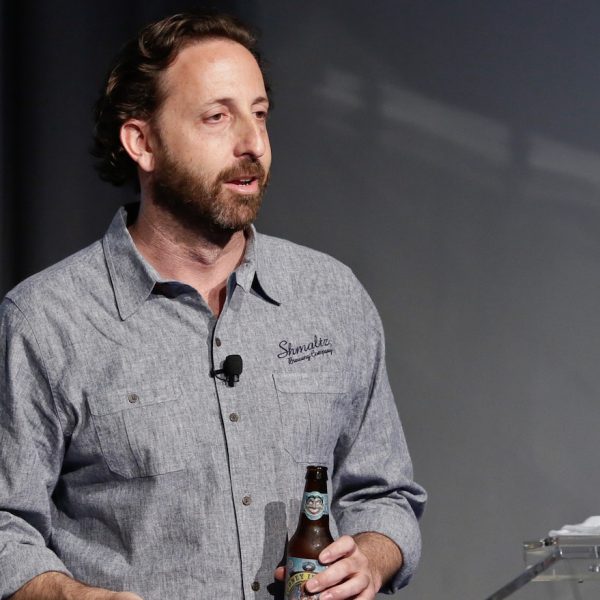 A Little Bit of Shtick Goes A Long Way at Shmaltz Brewing
Jeremy Cowan had never been a brewer or a business person before he started Shmaltz Brewing Company 20 years ago. Instead, he says he was motivated by the idea of having a niche brewery with personality, based on "shtick and unorthodox beer styles."
"I thought it would be fun and funny and meaningful to have a beer called He'brew," he explains.
Selling the first bottles of Genesis Ale in honor of Chanukah in 1996, Shmaltz was breaking into the brewing world at the same time that other breweries were finding it tough to keep going.
(MORE: U.S. Brewpub Wins Monumental Award)
"Closings, consolidation and failures. So many brands didn't survive," he says. Twenty years later, Shmaltz is a nationally recognized brand that continues to thrive. After contract brewing for more than 15 years, it now helps other small brands make their product out of their 50-barrel brewhouse in Clifton Park, New York.
For someone who wouldn't have called himself a business person two decades ago, Cowan has seen a lot — and learned a lot. He shares that insight with us in this edition of CraftBeer.com's Full Pour.
Q: Congratulations on 20 years! How has the craft brewing industry changed in the last two decades?
Cowan: In so many ways, it's a completely different beer world. In 1996, we all had to struggle to even justify why anyone should want to taste, drink, buy, promote small, independent breweries and flavorful beer. We called it "educating" – the consumer, retailer, wholesaler.
But I'm a bit lucky that I built the brand and the business on a rather unique niche with a specific personality and reason for being. Without the more traditional beer model of flagships and home market focus, we always grew Shmaltz with a hunger for creating releases based on shtick that led to unorthodox beer styles – a slew of special releases, collaborations and our barrel aging program. That was a perfect fit for the late 2000s with the growth of Beer Advocate and Rate Beer and the beginning of social media.
Twenty years later, I'm on the other side of the country with a wonderful staff of over 30 coworkers, brewing over 20 styles of Shmaltz branded beers distributed in over 30 states. And in many ways, it's harder than ever. So many enthusiasts and retailers now want craft beer but there's 2-3-4+ times more options than just the recent past. There's a ton more beer marketing outlets, but there's an equal avalanche of new labels, puns and social media filling the ether.
Q: What was the hardest lesson you learned early on? 
Cowan: The early years were filled with endless questions about everything: sales, marketing, beer styles, distribution. I asked advice over and over from anyone who would listen and respond. Throughout the whole 20 years, one of the hardest things to do has been to learn how to get to the next step while being so busy and hectic just navigating the current projects. Learning everything while being in the thick of it has consistently been my biggest challenge.
(MORE: 7 Craft Beers as Mouthwatering as Candy)
Q: What advice would you give someone who wants to open a brewery today?
Cowan: So many people are still talking about opening breweries today and I always say the same thing I've said in the past: Research, research, research … and a little more research. If it's a good idea today it will be a good idea in the near and even further future. And it's so much easier to clarify potential mistakes before making them all in the throes of the actual work.
Q: Shmaltz is a niche, nationally recognizable brand. When a new beer lover sees your labels or logo, what do you want them to know about your brewery?
Cowan: When I started the company I had a very specific vision in mind: to be the first Jewish celebration brand in the country. I'm proud and honestly a bit shocked that we made it – and are still growing. But I didn't necessarily think we'd still be the only one! That sensibility still informs everything I do about the He'brew brand but I also work hard with my team to build a truly compelling lineup of beers based on the recipes, the ingredients, the brewing process, that can stand with the best craft beers anywhere in the country and beyond, regardless of branding intention. I've also added new goals and new projects and love to collaborate with my art director, brewing, sales and marketing teams to crank out our evolving brands such as Alphabet City and 518 Craft. Especially with the expanded brewery and tasting room in Clifton Park, New York, we are pushing harder than ever to participate and succeed in our home market. Luckily, we consider that local neighborhood to span from Boston to Buffalo and Montreal to Washington, DC — and of course to my hometown in Northern California.
Q: Why do you think being a small, independent craft brewery is important?
Cowan: I am a big fan of small business in general. I think it's a healthy human scale and can be an excellent environment for many people to spend this much time and energy. I also love ambitious creativity. I'm sure it is possible to be innovative and imaginative in a bigger setting, but the smaller indie breweries can be agile and freethinking and take risks with a velocity and intensity that is inspiring. The excitement and the personal connections generated by the so many small breweries enliven communities and expand notions of what might be possible both in flavors and in action — a righteous accomplishment.
CraftBeer.com is fully dedicated to small and independent U.S. breweries. We are published by the Brewers Association, the not-for-profit trade group dedicated to promoting and protecting America's small and independent craft brewers. Stories and opinions shared on CraftBeer.com do not imply endorsement by or positions taken by the Brewers Association or its members.