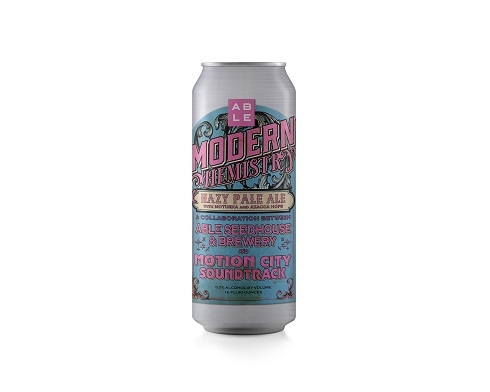 Introducing: Modern Chemistry A Bond Between Able Seedhouse + Brewery and Motion City Soundtrack
Minneapolis – Able Seedhouse and Brewery is proud to release Modern Chemistry. This hazy pale ale is a collaboration between Able and Motion City Soundtrack to celebrate the band's return to the Twin Cities February 15th through the 17th for sold out shows at The Fillmore Minneapolis.
"Our friends at Motion City Soundtrack helped design and brew this beer, incorporating their favorite hops into the recipe to create a favorable, drinkable, and flavor-pack beer for fans," says Alan Erbach, Able Assistant Brewer.
Modern Chemistry is an extremely easy to drink beer. Its soft and smooth finish is the result of a blend of English and American malts with a touch of white wheat malt. "The hops are an awesome combo of New Zealand Motueka hops and American Azacca hops," says Able Head Brewer Bobby Blasey. "I think they are a perfect match of tropical flavors (like pineapple, mango, coconut, etc.) and have nice hints of lemon and lime to keep them in the juicy realm with bright peach notes that peeked into the flavor profile while we were finishing the beer. Modern Chemistry is easy to drink with low hop bitterness because we used the hops more for flavor and aroma."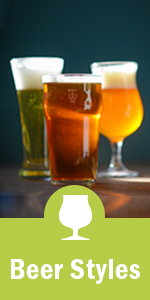 Modern Chemistry is a hazy pale ale with 5.7% ABV and 6 IBU. This soft sipper is available just before Motion City Soundtrack rolls into town. Enjoy Modern Chemistry in the Able taproom starting Friday February 7th and on the streets in your favorite retailers and restaurants starting Monday, February 10th.
For samples, interview opportunities or additional details, please contact Kelly Plummer at 651-206-9852 or kelly@superstarpr.com.
ABLE Seedhouse + Brewery
Founded in 2015, Able Seedhouse + Brewery is a community of creative, hard-working and thoughtful people dedicated to building locally-inspired and ultra-fresh beer. Every concept, piece of art, package, design, and beer poured at Able are the result of a very curious group of people and the community supporting them. ABLE is located in the Arts District of Northeast Minneapolis at 1121 Quincy St NE. Check out our taproom, active event schedule and an evolving beer menu. ABLE is also home to Animals Barbeque Company. To learn more, go to: www.ablebeer.com
DO THINGS. FIND STUFF. BE ABLE.
Contact Info
Company: Able Seedhouse + Brewery
Contact: Kelly Plummer
Email: kelly@superstarpr.com