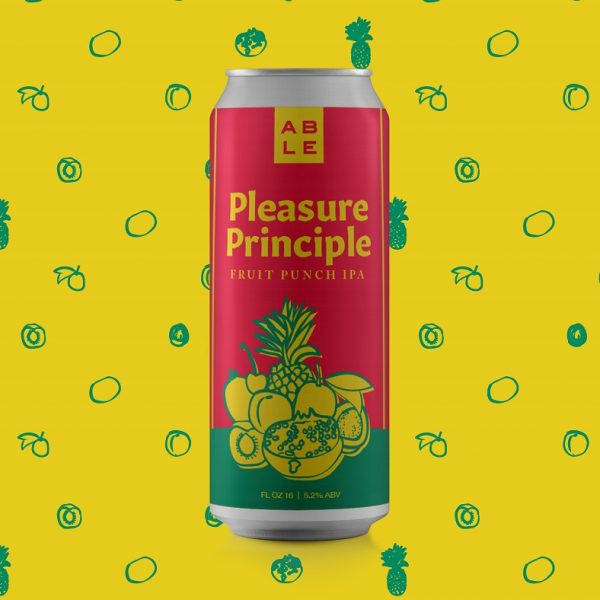 Able Seedhouse + Brewery Introduces Pleasure Principle
Minneapolis –Able Seedhouse + Brewery in Northeast Minneapolis is proud to unleash Pleasure Principle. This fruit punch, hazy IPA is packed with more than 40 pounds of fruit per barrel and a delicious amount of vanilla for a treat we all deserve right about now.
"To make this beer so tasty, I started with a balanced and pleasant malt bill," says Head Brewer Bobby Blasey. "The blend of English and American malt, with the touch of white wheat malt, give the beer a soft and sweet base. Then, after adding a healthy amount of fruity and citrusy hops, the beer starts to come together. It's the blending of the beer and the fruit where Pleasure Principle comes alive."
Pleasure Principle is an IPA with hazy, fruity deliciousness, a 5.2% ABV and 6 IBU. Get your hands on this new Able offering in crowlers at our to-go window starting Wednesday, April 29th and in local liquor stores the week of May 4.
For samples, interview opportunities or additional details, please contact Kelly Plummer at
651-206-9852 or kelly@superstarpr.com.
ABLE Seedhouse + Brewery
Founded in 2015, Able Seedhouse + Brewery is a community of creative, hard-working and thoughtful people dedicated to building locally-inspired and ultra-fresh beer. Every concept, piece of art, package, design, and beer poured at Able are the result of a very curious group of people and the community supporting them. ABLE is located in the Arts District of Northeast Minneapolis at 1121 Quincy St NE. ABLE is also home to Animals Barbeque Company. To learn more, go to: www.ablebeer.com.
DO THINGS. FIND STUFF. BE ABLE.
Contact Info
Company: Able Seedhouse + Brewery
Contact: Kelly Plummer
Email: kelly@superstarpr.com