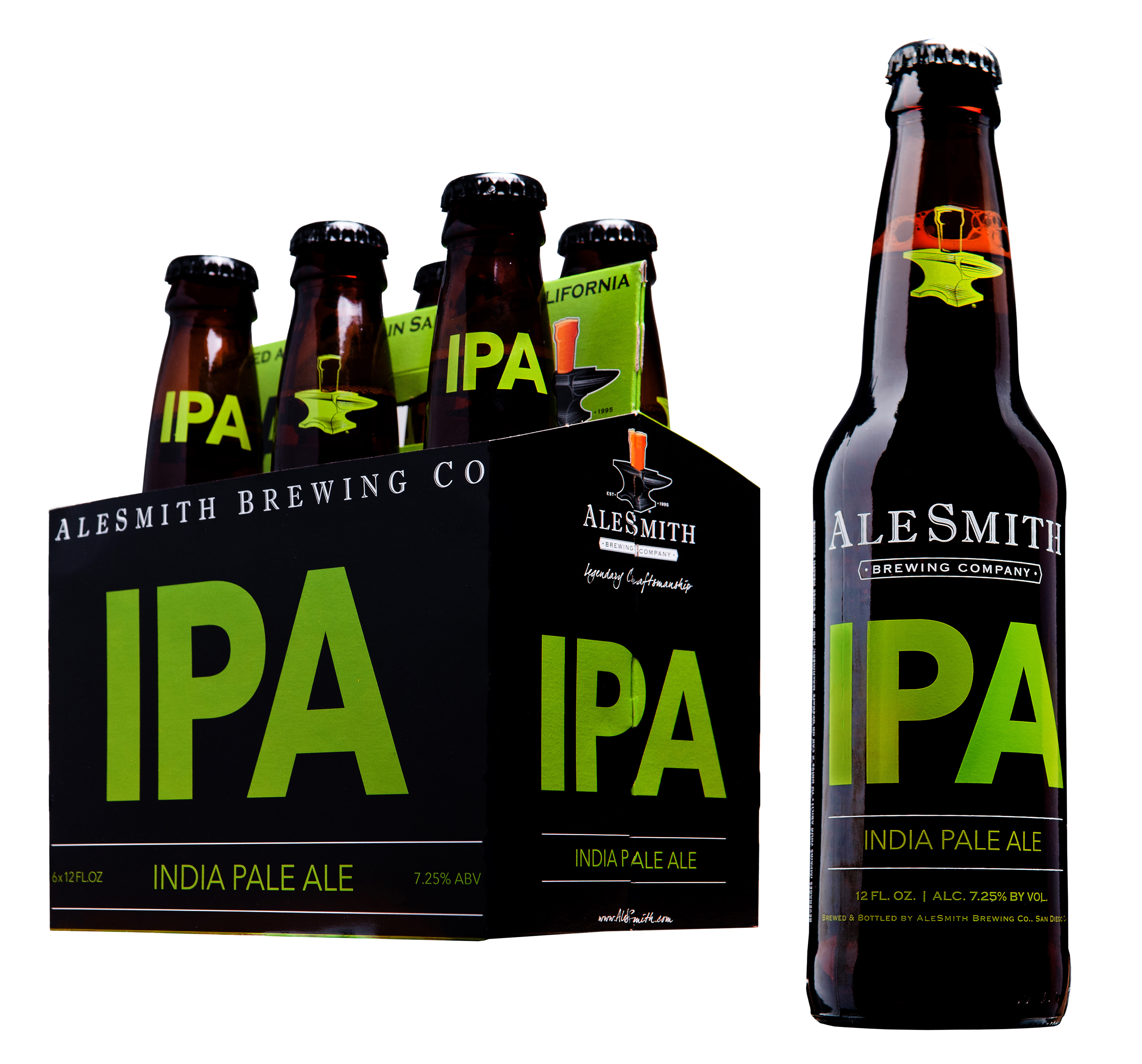 Alesmith Debuts IPA, Nut Brown & Lil' Devil in Six-Packs
AleSmith Brewing Company offers three of its award-winning, fan-favorite craft beer creations via six-packs for the first time in its 20-year history
San Diego, California (October 1, 2015) — Having harnessed the capabilities of its new, state-of-the-art, 80-barrel Steinecker brewhouse and increased cellar capacity, San Diego-based AleSmith Brewing Company is coming through on its mission to make much more of its critically acclaimed beers available to ale enthusiasts. Step one in that process is exploring a new packaging option for three of its most popular beers. Six-packs of AleSmith IPA, AleSmith Nut Brown and AleSmith Lil' Devil have begun their migration to store shelves and should be widely available in places where AleSmith beer is sold by mid-October.
"The incredible demand for us to package our beers in a 12-ounce format has always existed," says AleSmith sales director James Valles. "Now, with our increased production capacity, we are finally able to fulfill that demand. We are currently in the process of shipping the new six-packs within our 24-distributor network, spanning across 19 states."
When deciding which beers to offer in six-packs, the AleSmith team leaned on long-term fan sentiment, selecting two of its historically best-selling beers—AleSmith IPA and AleSmith Nut Brown. That duo provides equally delicious yet starkly contrasting options for beer fans, with AleSmith IPA erupting with potent and pointed bursts of hop-borne citrusy flavors and aromas, and AleSmith Nut Brown delivering exquisitely balanced nuances of roasted malt, chocolate and nuttiness against a smooth, creamy backdrop.
AleSmith Nut Brown spent 14 years as a draft-only beer until ardent customer demand led to its debut in 22-ounce bottles in 2012. Following in that beer's footsteps is AleSmith Lil' Devil, a refreshing Belgian-style pale ale bursting with fruity, spicy character. A kegged staple since 2002, this is the first time it will be available for off-premise consumption; a prime reason for its selection as the third in this varied trio of six-pack brews.
This is the first in an ongoing series of evolutionary packaging modifications for AleSmith, which is poised for roughly 250% annual production growth over 2014 year-end totals by the close of 2016. Increased production of its beers will allow for expansion into numerous untapped markets, including recent additions such as Chicago and Minnesota.
Contact Info
Company: AleSmith Brewing Co.
Contact: Brandon Hernández
Email: brandon.hernandez@alesmith.com