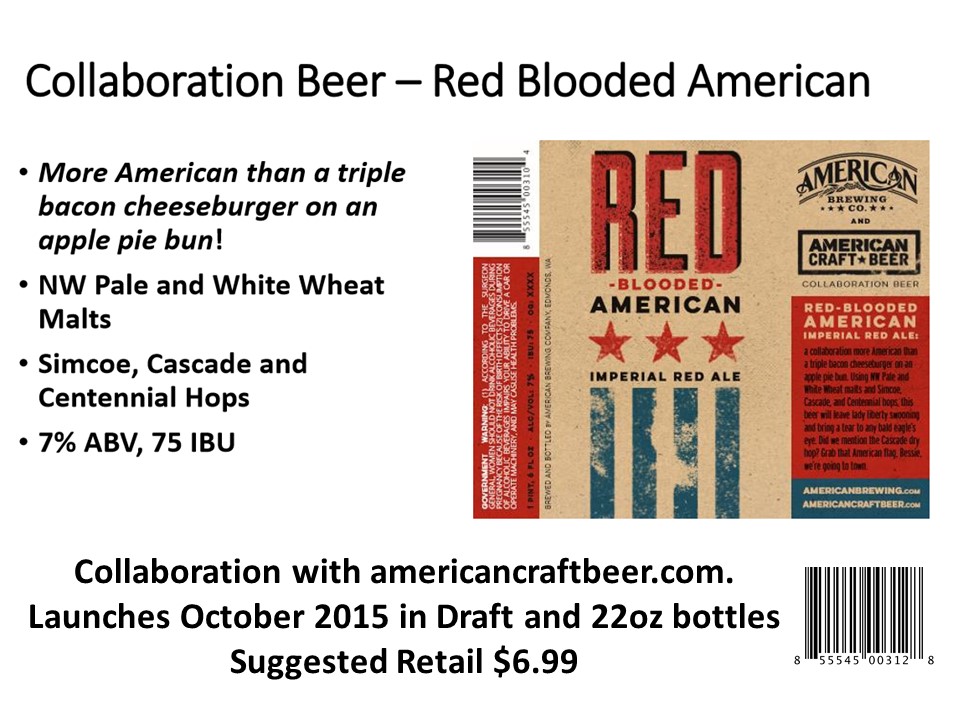 American Brewing Company announces collaboration: Red-Blooded American Imperial Red Ale
American Brewing Company and AmericanCraftBeer.com announce a new collaboration: Red-Blooded American Imperial Red Ale
Edmonds-based American Brewing Company releases an Imperial Red Ale to help get you through the fall.
EDMONDS, Wash. (October 1, 2015) – As the seasons change, so should your beer. That's why American Brewing Company and AmericanCraftBeer.com have joined forces on Red-Blooded American Imperial Red Ale; a bold, hoppy brew that will leave you praising the good 'ole U S of A.  Pull up a chair, pop open a 22-ounce bottle, and prepare your taste buds for this delicious new addition to American Brewing Company's already robust line of beers.
"We are really happy to have put this together with AmericanCraftBeer.com," quoted Adam Frantz, Head Brewer at American Brewing Company. "We have come up with a beer that is not only a delicious red ale, but has the hoppy kick that we all love so much."
Red-Blooded American Imperial Red Ale was brewed with Northwest Pale, Wheat, and Dark Crystal malts to give it a deep burgundy color. The additions of Simcoe, Cascade, and Centennial hops brings in piney and citrus flavors; and a double dry hop regime brings that extra punch that craft beer drinkers love so much. Adam said he wanted this beer to taste like a hike through a Northwest Forest.
"We couldn't be more excited about this collaboration and to have had the opportunity to work with Adam, Neil, and the whole crew at American," commented Tom Bobak, Editor-In-Chief at AmericanCraftBeer.com. "These are good people and they brew serious beer. This project has just been a blast from start to finish. The beer itself is pretty special and I still can't believe that we were the schmucks they wanted to brew it with."
Red-Blooded American Imperial Red Ale will be available beginning October 20th, 2015 in 22-ounce bottles at American Brewing Company's Edmonds facility, as well as bottle shops around the Seattle and Tacoma area. There will also be kegs distributed to select local establishments.
Also on October 20th, 2015, American Brewing Company with host a release party at their brewery and taproom in Edmonds, Washington. Attendees will have a chance to meet American Brewing Company Head Brewer Adam Frantz, as well as the local contingent of AmericanCraftBeer.com.
American Brewing Company is most well known for their flagship beers Breakaway IPA, American Blonde, Caboose Oatmeal Stout, and Flying Monkey Pale Ale. The newest member of their portfolio is Pale-Gater Session Pale Ale, a 4.5% alcohol pale ale that is bursting with citrus and passion fruit aromas.
For more information about American Brewing Company and their passion for combining beer craftsmanship with science, check them out on Facebook, Twitter, Instagram, or visit www.americanbrewing.com.
For more information about AmericanCraftBeer.com and their desire to celebrate the craft beer industry, visit their website at www.americancraftbeer.com, and follow them on Facebook, Twitter, and Instagram.
 For additional information on the brew, please email Rich Roberts at rich@americanbrewing.com.
 About American Brewing Company At the American Brewing Company, we believe a great beer is like a great story. From the first sip it's captivating. And it finishes strong – leaving you wanting more. Each of our meticulously crafted concoctions is inspired by a great American story. Some our parents told us as kids. Some we've read in the news. Some we've lived. Every story reflects the personality and flavor of the beer it represents. Whether the source of our inspiration be earth-shattering news, outlandishly wild barroom tales, or triumphant moments in American history, the result will always be the same. Our beer will inspire you to do more than drink– it will inspire you to become worthy of your own tale. For more information about the American Brewing Company, visit www.americanbrewing.com
About AmericanCraftBeer.com AmericanCraftBeer.com is a national craft beer news & lifestyle site based out of Washington, DC. Founded by Tom Bobak in 2012, AmericanCraftBeer.com is one of the industry's most exciting voices committed to covering the craft beer business and its fans, and having some fun while doing it. Publishing 5 days a week, 52 weeks a year, AmericanCraftBeer.com is actively growing an extensive team of regional correspondents who celebrate and promote America's emerging craft beer scene. For serious beer news and industry insight, there's only one site you need to know – www.americancraftbeer.com.
Contact Info
Company: American Brewing Company
Contact: Rich Roberts
Email: rich@americanbrewing.com