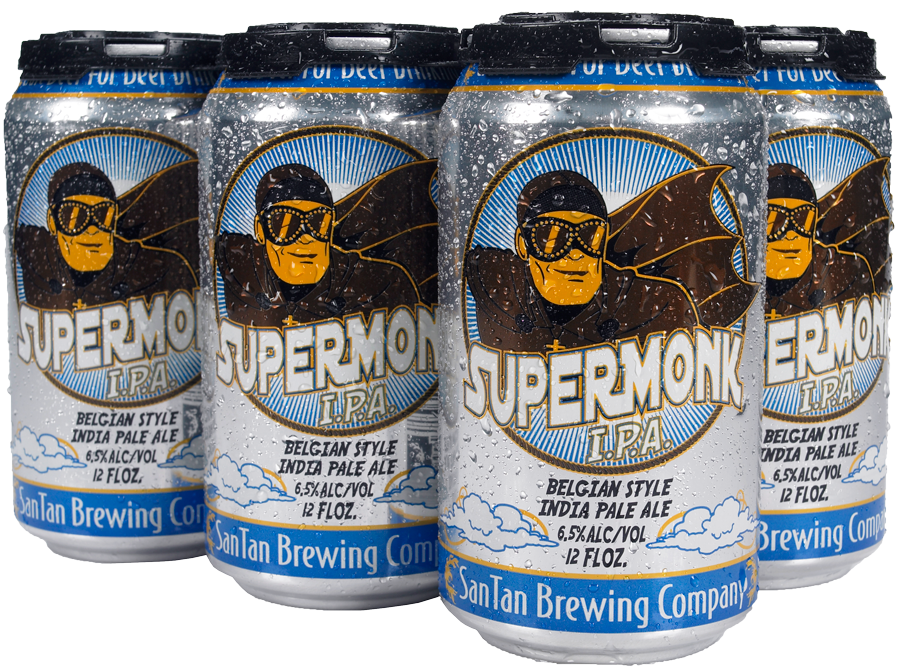 Arizona IPA Meets Belgian Wit in SanTan Brewing's Citrusy Super Hero Style Belgian IPA, SuperMonk, Launching Labor Day
Chandler, AZ (August 15, 2013)—Belgian Monks are known for brewing much of the world's best craft beer, and now SanTan Brewing Company is delivering a hybrid brew that marries the hoppy magic of a West Coast IPA with the traditional spice and fruitiness of a Belgian Wit beer in this fall seasonal, SuperMonk IPA.
12 oz cans of SuperMonk IPA will be available at valley craft beer retailers from Labor Day through the end of October.
SuperMonk IPA is a naturally hazy, Belgian Style IPA with notes of citrus and orange peel dominating the aroma. Upon first sip, hoppy bitterness dances with peppery clove notes and finishes with a light orange and fruity flavor. SuperMonk IPA is a very drinkable craft beer. It's light on the palate and ideal for craft beer lovers and hopheads alike.
Made with a hybrid "super yeast", the secret behind SuperMonk is a combination of Proprietary California Ale yeast and a Trappist Ale Yeast Blend with Cascade and loads of Columbus hops. During the fermentation, the Belgian strain came across slightly more dominant and thus the SuperMonk name was born!
SuperMonk IPA Quick Facts
Style:     Belgian Wit IPA Malt:     Pale Malted Barley, White Malted Wheat, Munich Malt, Vienna Malt
Hops:    Cascade and loads of Columbus
Yeast:    Proprietary California Ale Yeast/Trappist Ale Yeast Blend
OG:        16 Plato (1.065)
ABV:      6.5%
Color:    5 SRM
IBU:       70 IBU
SuperMonk IPA pairs well with spicy dishes including curry dishes, sharp aged cheddar, rare prime rib with horseradish and crème brulee for dessert.
In November, 2012, SanTan Brewing Company launched Arizona's first ever seasonal canned beer series with the introduction of RailSlide Imperial Spiced Ale. SuperMonk IPA is the fourth seasonal brew to don an aluminum suit. To find a pint of SuperMonk near you, visit SanTan Brewing Company's Beer Detective online at www.santanbrewing.com/find-santan-on-tap. 
About SanTan Brewing Company
Open since 2007 under the leadership of head brewer and owner, Anthony Canecchia, SanTan Brewing Company has established a strong reputation as Arizona's favorite craft beer. In addition to brewing, SanTan features a friendly neighborhood brewpub in Downtown Chandler, which has quickly become one of the top local food and beer destinations in the East Valley.
In 2009, SanTan Brewing began distributing their core and seasonal brews throughout the state of Arizona, operating with a mission to pair craft beer with craft food that would inspire great conversation and good times.
The brewpub and SanTan beers have won numerous national and statewide awards including two awards at the US Open Beer Championship: bronze in 2013 and gold in 2011. SanTan Brewing also took home a silver medal at the 2011 Great American Beer Festival and won Best Brewery in Arizona, selected by the Phoenix New Times, in 2011.
Visit SanTan Brewing Company at 8 S. San Marcos Place, Chandler, AZ. They're open Sunday-Thursday, 11 a.m.- 1 a.m. and Friday-Saturday, 11 a.m. – 2 a.m. Also, check out SanTan Brewing Company online at www.santanbrewing.com and become a fan on Facebook at www.facebook.com/SanTanBrewingCo or follow them at www.twitter.com/SanTanBrewing for more information on upcoming specials and promotions.
Contact Info
Company: HDE Agency
Contact: Jen Pruett
Email: jen@hdeagency.com