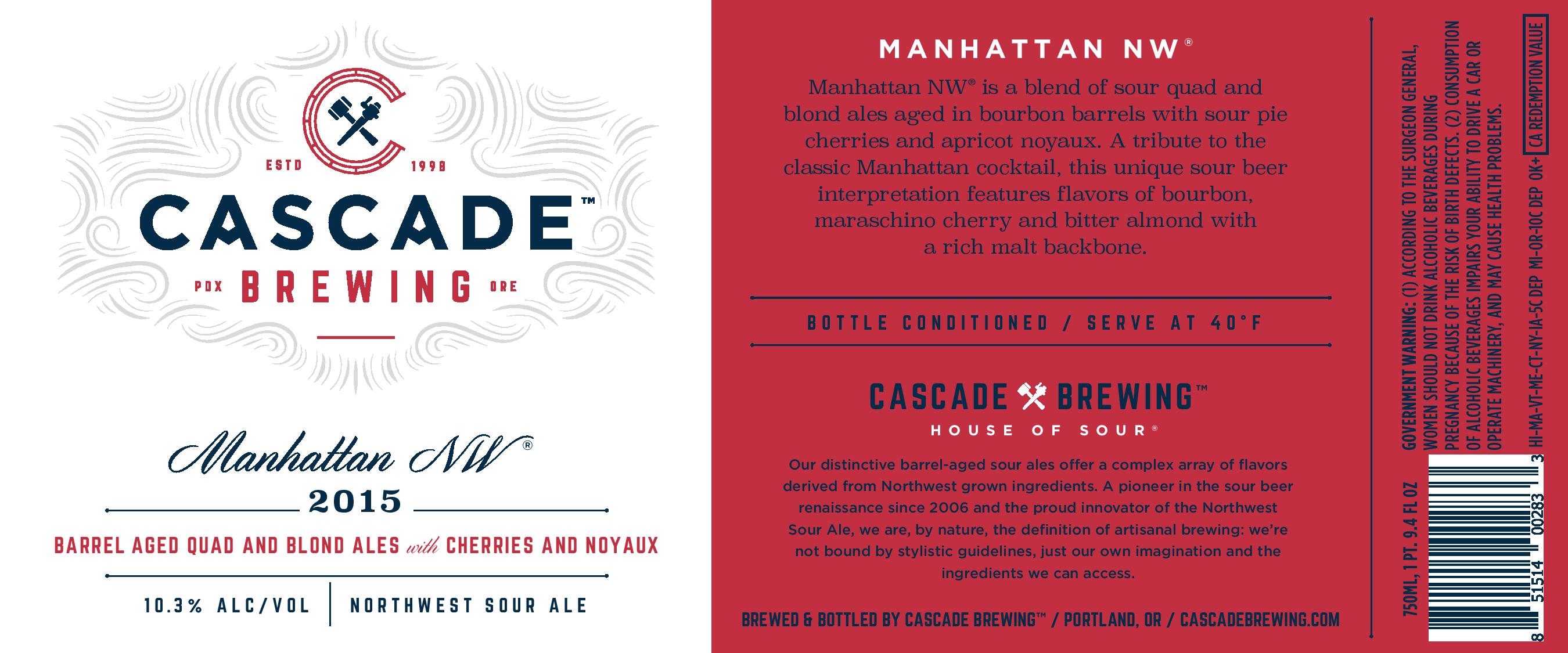 Cascade Announces Release Dates of Manhattan NW 2015
PORTLAND, Ore – Cascade Brewing will release its Manhattan NW 2015 project today at 12pm PDT; and on June 13, it will release Crazy Navel 2016. Both projects will be available in bottle and draft at its two pubs – Cascade Brewing Barrel House and Raccoon Lodge – and through its distribution channels.
Manhattan NW is a blend of sour quad and blond ales aged in bourbon barrels with sour pie cherries and apricot noyaux. A tribute to the classic Manhattan cocktail, this unique sour beer interpretation features flavors of bourbon, maraschino cherries, bitter almond and rich malt backbone (10.3% ABV).
Crazy Navel 2016 is a blend of sour wheat and blond ales aged in oak wine barrels for 14 months with fresh orange zest. Using both Cara Cara and Heirloom varietals, Crazy Navel captures the essence of the navel orange balanced with a refreshingly tart and dry base beer (7.6% ABV).
"Manhattan NW has long been one of our most popular releases and is one of highest rated beers in our portfolio," explained Tim Larrance, vice president of sales and marketing. "We're also excited about our long awaited new orange project, Crazy Navel, and are confident it will be a summer hit."
Manhattan NW is a tier three offering, while Crazy Navel is a tier one. The new bottles have distinct label styles for each of the three Cascade Brewing pricing tiers, with each label within the tier utilizing distinctive colors to clearly differentiate each beer. The tiers differ by the style of beer used in the product, the type ingredients contained within, the time aged in the barrels and types of barrels used.
About Cascade Brewing Cascade Brewing has been a pioneer in the sour beer renaissance since 2006 and the proud innovator of the Northwest Sour Ale. Its distinctive sour beer blends feature fruit forward, barrel-aged ales with an emphasis on project year-to-year variation. These beers offer a complex array of flavors derived from the acid, the fruit and the residual flavors present in the barrels in which they age. The resulting beers offer a complex array of flavors and aromas derived from with each project year release capturing the unique subtleties of that year's growing season. Cascade Brewing's sour ales are brewed and blended in Portland, Oregon. Cheers to the Sours. Enjoy in a profoundly wise manner. # # #
Contact Info
Contact: Chris Crabb
Email: crabbsoup@gmail.com