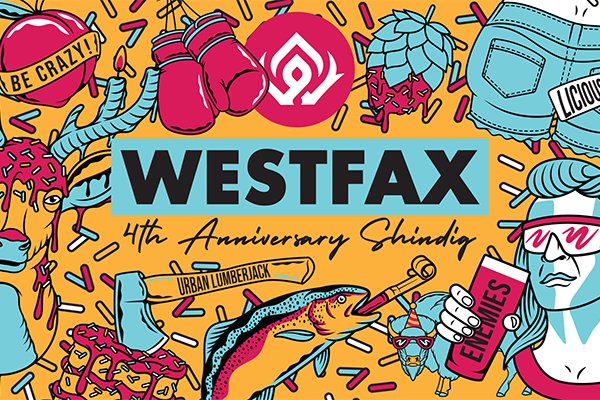 Celebrating 4 Years of Liberating Beers with Colorado's Westfax Brewing
Just 4 years ago, Westfax Brewing opened its doors in Lakewood, Colorado. They hope that you're ready to celebrate with them with a good ole shindig! They have a weekend packed full of events for you! Full details can be found below.
Come all 3 days and collect all three glasses and be instantly entered into a drawing to win a Westfax Loyalty Membership. Punchcards will be provided with your glassware purchase on Friday, March 27th to enter this contest! You must bring your punchcard each day to participate.
Friday, March 27 starting at 2PM
Keep The Glass "Big Horn" Rocker Glass $4 + price of pour or $8 glass only.
Double Chocolate Beta Wave – 10.1% – 14 Month Barrel Aged Imperial Stout aged on Cacao Nibs. Available in bottles and on draft in 10oz pours.
Cellared Bottles of Beta Wave 2019 & BA Tears of our Enemies 2019 available for on-site consumption.
New Merch: T-Shirts, Hats
Food Truck: Sha-WING Food Truck
Saturday, March 28th starting at 11AM
Keep The Glass "4th Anniversary" Full Wrap Nordic Cooler $6 + price of pour or $12 glass only.
Can Release:
Foggy Forecast Double Hazy IPA – Brewed with Strata & HBC586. Available in 16 oz cans, 4-packs, and on draft starting at 12PM
Strawberry Fruit Shake Smoothie Sour – Kettle sour brewed with lactose & strawberries producing a nice soft mouthfeel with a sweet tart finish. Available in 16 oz cans, 4-packs, and on draft starting at 2PM
Golden Tickets: On select 4-packs we will placing golden tickets underneath the 4-pack holders to a chance to win a variety of prizes from free beer, crowlers, merch, and more!
Small Batch: Peanut Butter Banana Porter at 4PM
Small Batch: The Last Word Tripel (Lime, Cherry, Juniper) at 6PM
Live Music starting at 7PM: Howard Dlugasch & Jonas The Space Cowboy
Food Trucks: Central Texas Pitworks, LLC at 11AM & Basic Kneads Pizza at 2PM
Sunday, March 29th starting at 11AM
Contact Info
Company: Westfax Brewing Company
Contact: Justin Graziano
Email: justin@westfaxbrewingcompany.com