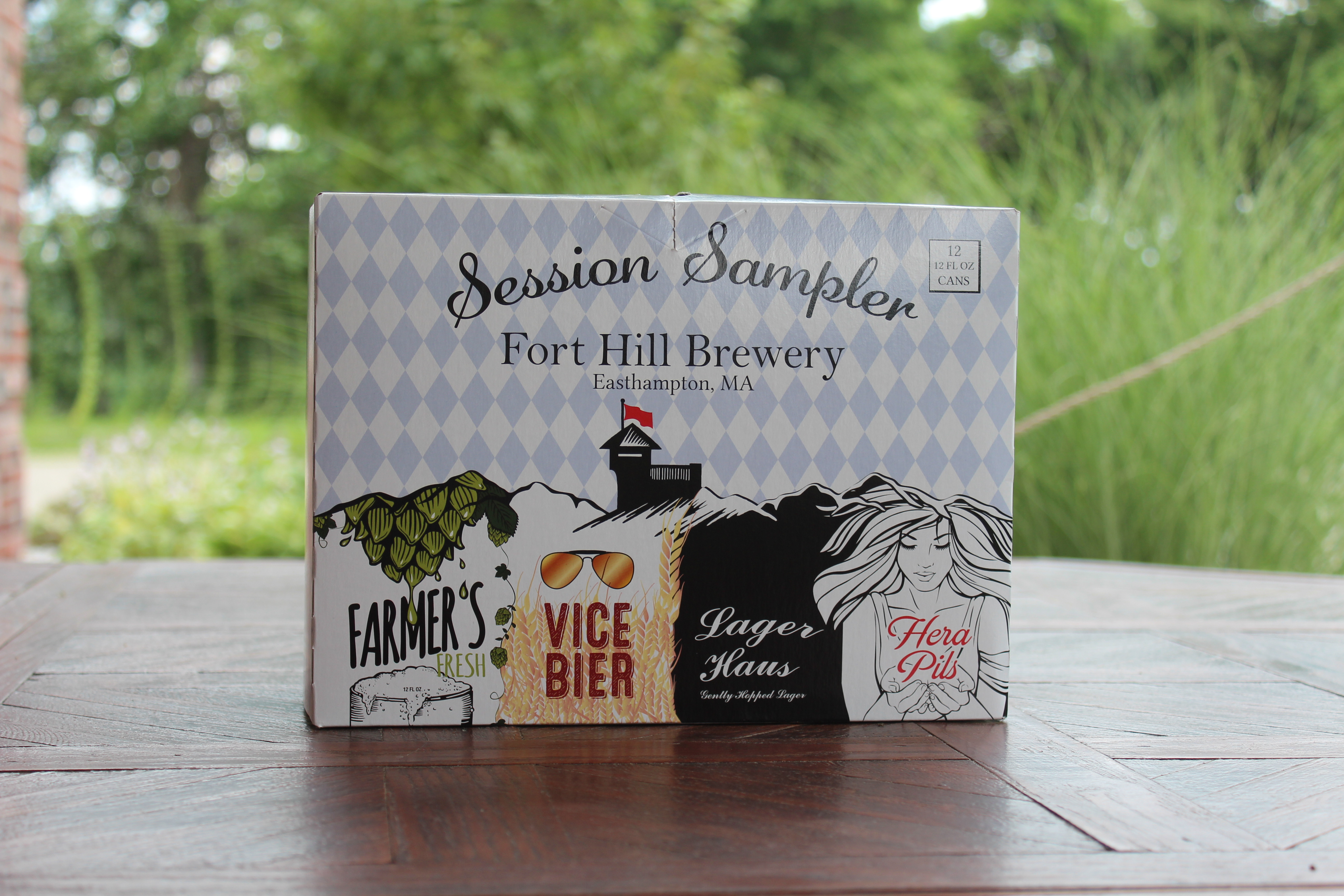 Fort Hill Brewery Expands Mixed Pack Lineup with "Session Sampler"
Easthampton, MA – August 10, 2016 – Fort Hill Brewery released the Session Sampler mixed 12-pack, containing four sessionable brews for easy-drinking. The Session Sampler joins the Lager Sampler as the second mixed 12-pack in Fort Hill's lineup. The variety pack starts rolling out to retailers across Massachusetts this month. Including two ales and two lagers, the Session Sampler is designed for the warmer months and beyond.
Farmer's Fresh borrows fermentation strategies from lagers and applies them to an ale. The old-world brewing of this beer would typically produce a Kölsch, but an aggressive approach to late hopping results in a juicy Session IPA. Dry hopped with 3 pounds per barrel of Simcoe, Centennial, and Cascade hops, Farmer's Fresh is bursting with citrus hop notes and aroma.
Vice Bier was Fort Hill Brewery's first ale. This take on a classic Bavaran Hefeweizen is brewed with a generous portion of white wheat malt. Vice is fruity, refreshing, and slightly cloudy in appearance. Its strong head and bright color are best showcased in a tall, curved glass. Vice cans are available for retail exclusively through the Session Sampler.
Hera Pils is a traditional Czech-style Pilsner. Beautifully light and refreshing, this brew celebrates a combination of Czech Saaz hops, pure Pilsen malt, lager yeast, and award-winning Easthampton, MA water. Crisp and clean with delicate hop flavor, this lager is as elegant as Hera herself.
LagerHaus combines German and Czech hops for an award-winning session lager with a subtle hop presence. Caramel, Pilsen, and acidulated malts balance out the hops, leaving a crisp, clean finish. This sessionable take on a hoppy lager leaves plenty of room to enjoy another.
"For our second mixed pack, we wanted to showcase a variety of unique styles," said Eric Berzins, Fort Hill Brewery's Head Brewer.
The Session Sampler will be available across Massachusetts year-round, beginning this month.
About Fort Hill Brewery
Founded in 2014, Fort Hill Brewery crafts lagers and ales using the finest quality ingredients, with a focus on German brewing techniques and traditions. Many Fort Hill brews, including its flagship Märzen, Red Flag, follow the German purity law of Reinheitsgebot, meaning they contain only four ingredients: water, malt, hops, and yeast. Based in Easthampton, MA, the location was chosen for its award-winning water. Since opening in 2014, Fort Hill has brewed, kegged, and canned a variety of ales and lagers, distributing throughout the state of Massachusetts. Learn more at www.forthillbrewery.com.
Contact Info
Company: Fort Hill Brewery
Contact: Kristen De Lancey
Email: kristen@forthillbrewery.com