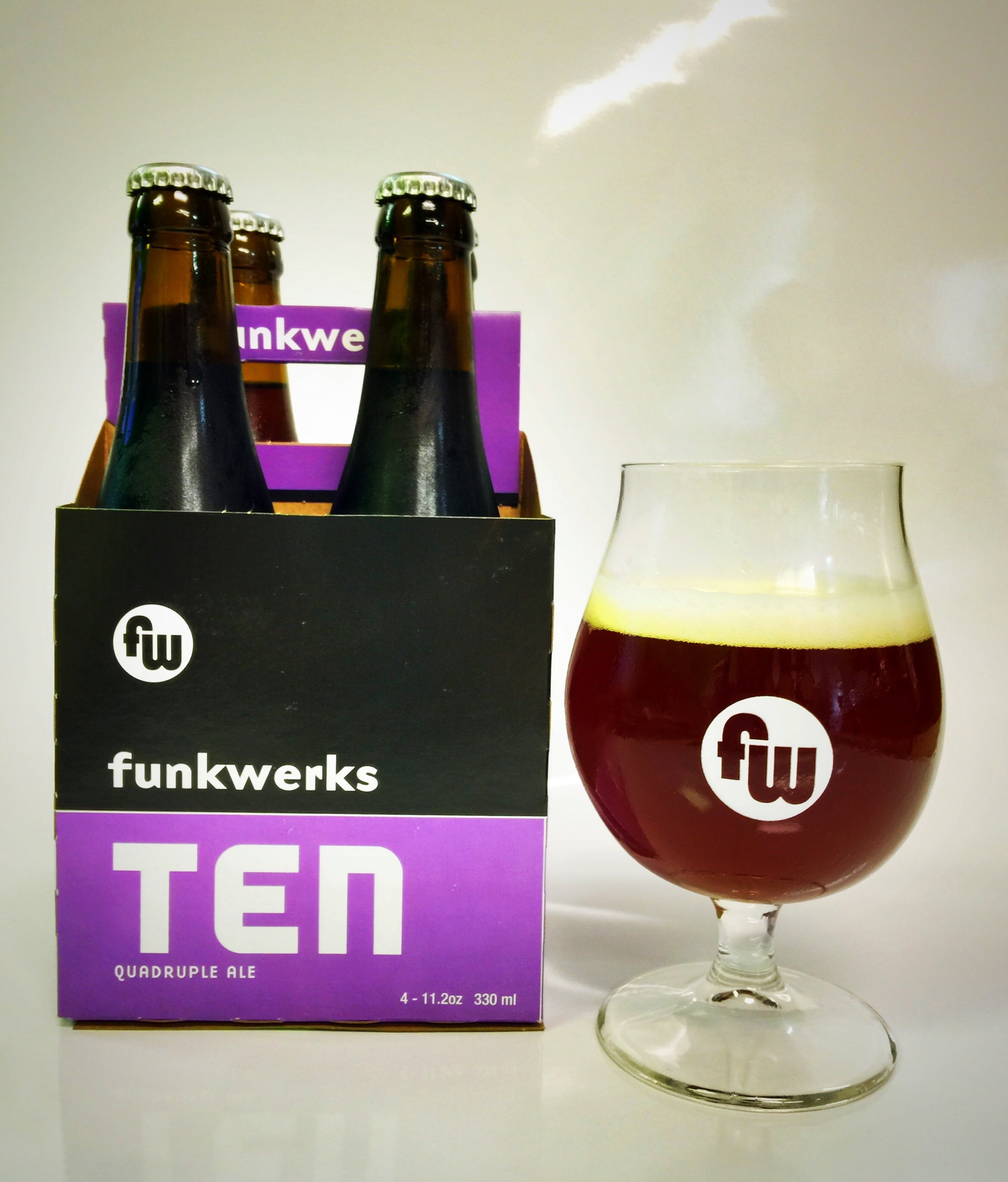 Funkwerks' Ten Released in 4-packs
FORT COLLINS, CO (November 2015) – Funkwerks' Ten, a Belgian-Style Quadruple ale is now being packaged in 4-packs of 330ml bottles. Customers can now enjoy the same delightfully warming beer in a smaller, more convenient bottle. 4-packs will hit liquor stores shelves in Colorado around the first week of November, and the rest of distribution by December.
The name Ten stands for its strong alcohol percentage, at 10%ABV. Inspired by the Dark Strong beers of Belgium, this full-bodied Quadruple Belgian-style ale pours with a deep burgundy hue and a frothy tan head. The malt-forward aromas of toffee and chocolate compliment the dark fruity aromas of raisins and plums. The aromatic qualities follow through in the flavor and combine with refreshing effervescent carbonation. A dry and balanced finish makes this strong but quaffable beer the perfect way to end a long, Winter day!
"Ten is our fall/winter seasonal because it is a great winter warmer and has notes of dark fruits and chocolate compliment the colder weather," explains Gordon Schuck, co-founder and head-brewer. Ten will be the first seasonal beer to be packaged in 4-packs, and will be produced throughout the winter.
Funkwerks started bottling in 330ml bottles last year. Brad Lincoln, co-founder explains, "people tend to save larger bottles of beer for a special occasion or to share with others." Smaller bottles provide more variety, accessibility, and the convenience of enjoying a single beer without the commitment of a larger bottle. Ten will still be packaged in 750ml bottles to bring to holiday parties and family gatherings.
For more information on our beer, upcoming events, tastings, recipes and more, visit Funkwerks' website and follow the company on Facebook, Twitter, Instagram, and enjoy the blog.
The Funkwerks Story:
In 2007 Gordon Schuck's recipe design and brewing skills resulted in a gold medal-winning Saison at the National Homebrew Competition. Brad Lincoln first experienced craft beer while working as an accountant in Portland, OR. The two met during the winter of 2009 while attending the Siebel Institute and studying brewing science. After being immersed in beer for the better part of five months, the two graduated and shared a desire to open a brewery. This resulted in the Saison-focused brewery that is now Funkwerks, opening December 9, 2010. Funkwerks' three mainline beers, Saison, Tropic King, and Deceit are produced year round. Also brewed annually are three seasonals, a number of small experimental batches, and select barrel-aged releases. Funkwerks flagship Saison was awarded a gold medal at the 2012 Great American Beer Festival (GABF) and a silver medal in 2011. Deceit, a Belgian-Style golden strong ale, was also awarded a gold medal at the GABF in 2012 and a Silver at the World Beer Cup in 2014. In addition to receiving two gold medals in 2012, the GABF named Funkwerks the 2012 Small Brewing Company of the Year. The latest gold medal was awarded to Raspberry Provincial at the 2014 GABF. Funkwerks is located at 1900 East Lincoln Avenue in Fort Collins, Colorado. The tasting room- complete with an indoor bar, retail area and spacious outdoor, dog-friendly patio- is open 7 days a week: Sunday 11am-8pm; Monday through Thursday 12pm-8pm; Friday 12pm-9pm; and Saturday 11am-9pm. Brewery tours are given Saturdays at 2pm and 4pm. Funkwerks is currently distributed in Colorado by C.R. Goodman, in Nebraska by Quality Brands of Omaha and Double Eagle Beverage, in Arizona by the Hensley Beverage Company, in Dallas and Fort Worth are in Texas by Andrews Distributing, and Iowa by Johnson Brothers Distributing Company.
Contact Info
Company: Funkwerks
Contact: Francesca Dreith
Email: francesca@funkwerks.com