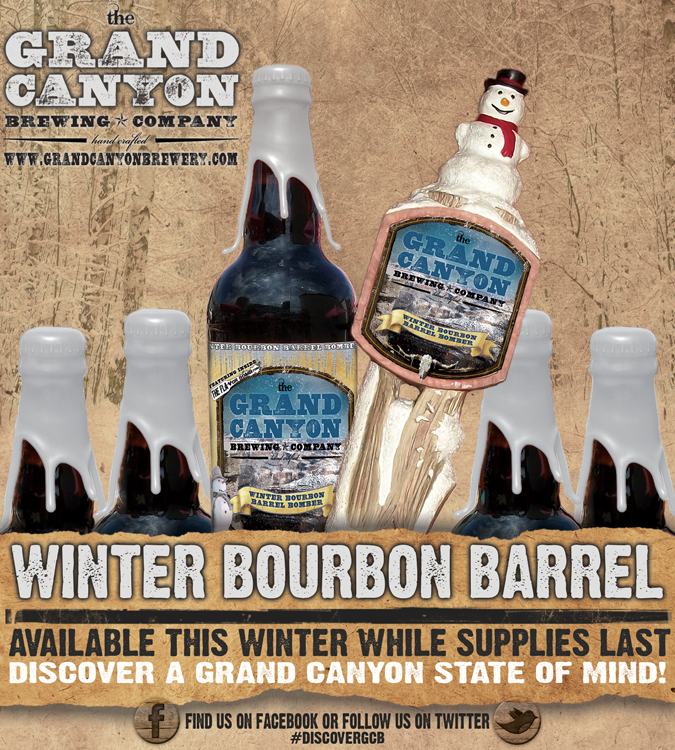 The Grand Canyon Brewing Company's Winter Bourbon Barrel Bomber Returns, November 10, 2014
Just in time for cozy fireside nights, the GCB delivers the full body flavor with bourbon, maple syrup and aged oak – it's a winter wonderland
Phoenix, AZ (November 4, 2014)—The holidays are near and that means it's time for cozy fireside nights and the Grand Canyon Brewing's Winter Bourbon Barrel Brown. Set to release in early November, this year, you'll get a chance to discover what winter at the Grand Canyon really tastes like.
The 2014 batch is packed with the full body flavor of malt, bourbon and maple syrup. Plus, there's an oak aged flavor bomb packed inside for an added depth of flavor. Winter Bourbon pairs well with beef dishes and rich cream sauces.
"We're excited to bring Winter Bourbon back a bit earlier this year after successful first year launch in late 2013. This year's batch has a stronger flavor profile and a smooth finish," said Alexander Phillips, director of sales and brand ambassador.
Winter Bourbon Barrel Bomber Quick Facts
Style:   English Ale
Malt:   Brown Bairds & Maris Otter malt with maple syrup added at fermentation
Yeast:  Blended Ale
ABV:   6%
Color: 18-20 SRM
IBU:      20
Availability: Kegs and bomber bottles, November-January
The Brass Tap in Mesa is hosting a special Winter Bourbon Barrel release party on November 10, 2014 with one regular seasonal tap and a second that will be ran through a Randal beer flavor infuser packed with toffee and vanilla beans.  Stay tuned to the Grand Canyon Brewing Company Facebook page for more information on that at www.facebook.com/grandcanyonbrewery.
Winter Bourbon Barrel Bomber will be available at select craft beer bars across Arizona and Nevada including Cruisers 66 in Williams, Brass Tap, Papago Brewing, World of Beer Locations, Taste of Tops, Bourbon Jacks, Boulders on Broadway, The Hungry Monk, Whole Foods Chandler, GCM, City Wine & Spirits, Tap & Bottle, 1702, and more, while supplies last. 
About The Grand Canyon Brewing Company
The Grand Canyon Brewing Company is located in historic downtown Williams, AZ at 233 W. Route 66. This family owned and operated microbrewery produces a dozen different specialty craft brews each year. They recently began production on a new 22 oz Bomber bottle featuring their revolutionary new Flavor Bomb beer flavoring widget. For more information about the Grand Canyon Brewing Company, visit online at www.grandcanyonbrewery.com and be sure to "like" us in Facebook at www.facebook.com/grandcanyonbrewery.
The Grand Canyon Brewing Company made history in March, 2013 as the first craft brewery to expand into the Nevada market. With sights set on eventually expanding into Southern California, New Mexico and Colorado, the Grand Canyon Brewing Company has taken a huge leap representing the notoriety of the Grand Canyon State through this market expansion.
While in the Williams, AZ area, patrons can enjoy Grand Canyon Brewing's hand-crafted beer at the Cruisers Route 66 Café located next door to the brewery. Cruisers has all of the GCB beers on tap including Sunset Amber Ale, Horseshoe Bend Pale Ale, American Pilsner, Black Iron IPA, WhiteWater Wheat and more. For more information about the Cruiser's Route 66 Café visit www.cruisers66.com and be sure to stop in the next time you're near the southern rim!
Contact Info
Company: HDE Agency
Contact: Jen Pruett
Email: jen@hdeagency.com