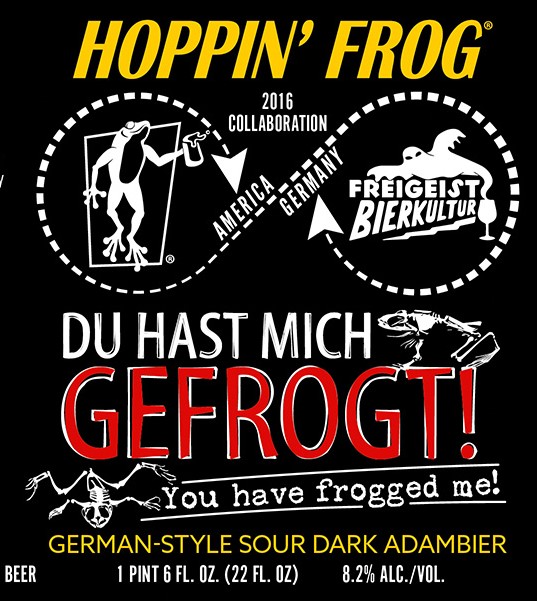 Hoppin' Frog/Freigeist Du Hast Mich geFrogt! Release Details
Join us this Saturday, February 18th at 11:00 a.m. as we release our collaboration with German Brewer Freigeist know as Du Hast Mich geFrogt, available in limited bottles and draft!
Fermented with ale yeast, lager yeast and other things, a wild mix of uber-good flavors is created in this ancient German-style Sour Dark Adambier from centuries ago. Working in collaboration with our friend, historian, and brewmaster Sebastian Sauer from Freigeist Bierkultur in Cologne, Germany we made this old-style beer with a wide array of German malts for a rich and authentic taste. Prost – Cheers!
About Hoppin' Frog
Hoppin' Frog Brewery is a small, hands-on brewery in Akron, making very flavorful beers in the most flavorful styles. We brew the highest quality beer with an uncompromising focus on detail, from the ingredient selection to the brewing process. Our highly rated Tasting Room is on-site, offering fun, adventurous dishes that change with the seasons, and a vast array of the highest quality beers.
With an experienced and enthusiastic staff in the kitchen, the focus is on freshness and vibrant flavors by using superior-quality meats and cheeses to make only 10 or 12 tasty offerings, including appetizers, sandwiches, and entrees. And, with 24 taps plus a special Rare Beer List at the bar, guests can order 5, 8 or 16-ounce glasses of many Hoppin' Frog beers on tap, as well as several very high quality guest beers.
Contact Info
Company: Hoppin' Frog Brewing Co
Contact: Hoppin' Frog Brewery
Email: amandala@HoppinFrog.com