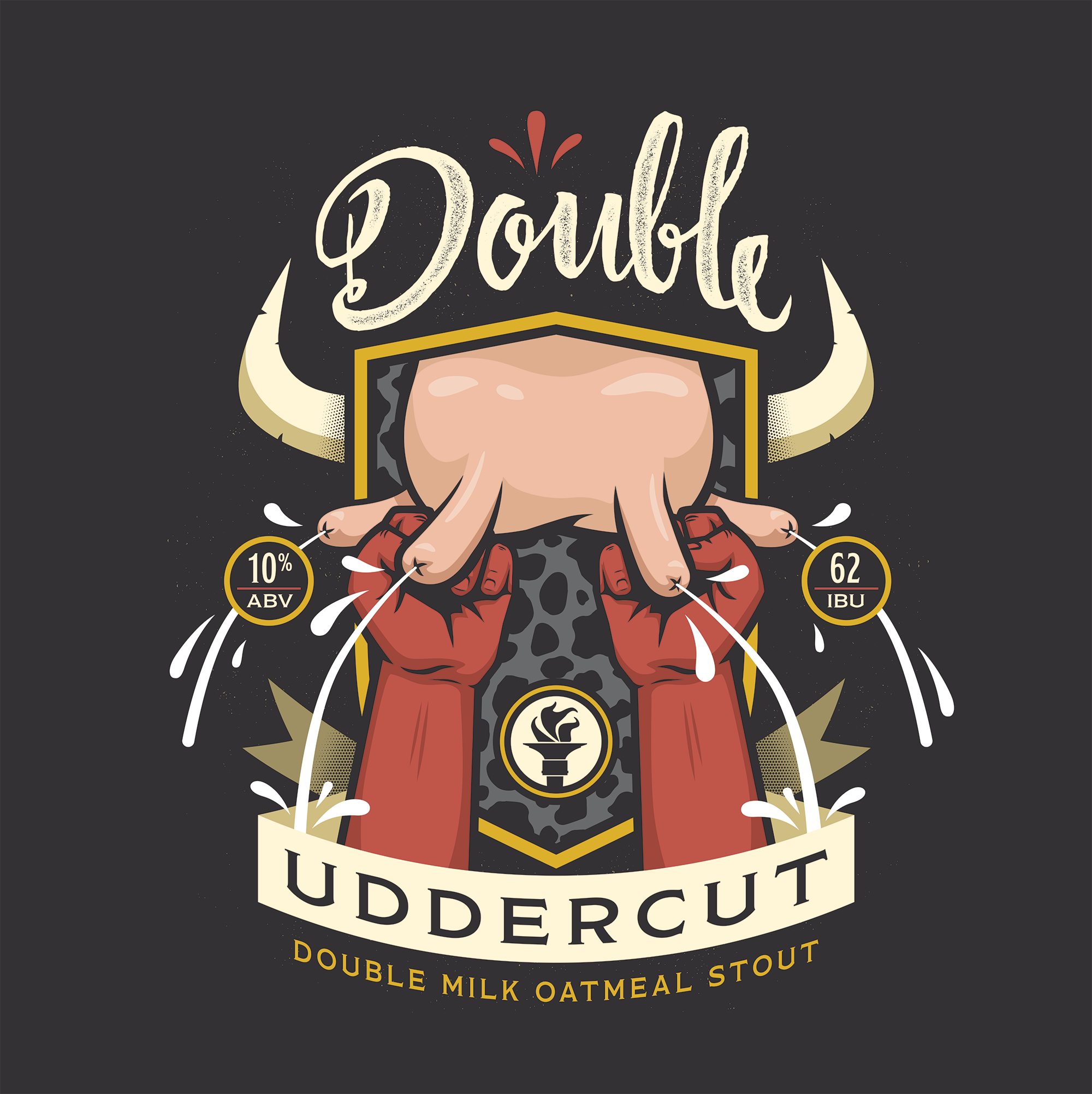 Indiana City Brewing's Double Milk Oatmeal Stout, An Udder Knockout
INDIANAPOLIS, February 18, 2016 — Shadow Boxer, Indiana City's full-bodied oatmeal stout, is brewed in honor of the brawlers—especially those forced to keep their passions alive by moonlight. A stout so solid, has served as a foundation for two of Indiana City's most popular releases, Haymaker and Double Uddercut. Originally brewed seasonally, Double Uddercut is back by popular demand. The beer will release Saturday, February 20 in the brewery taproom and on local shelves and taps.
Double Uddercut is the product of more time spent in the ring—a new move in Indiana City's repertoire. Built on the foundation of their popular year-round oatmeal stout, this brew is scaled up to clock in at a massive ten percent alcohol by volume and is brewed with lactose, the sugar found in milk. The product is a big, double milk oatmeal stout rich in coffee-like roasted malt character, with a smooth sweet finish.
Consistent with the name Shadow Boxer, Double Uddercut's name was inspired by the history of the pre-prohibition bottling house Indiana City calls home. Built in the 1800s, 24 Shelby Street housed Ring Sports Training Center, a thriving boxing gym throughout the 1990s. The play on words keeps this bit of history alive, combining the boxing term "undercut" with "udder."
Illustrated by local artist, Aaron Scamihorn (aka Ronlewhorn Industries), the label design is one of more than 30 he has completed for the brewery. While Indiana City does not condone animal cruelty in any form, the use of boxing gloves against a cow's udder bursting with milk, is intended to be a humorous divergence from their more straightforward labels.
With a solid foundation, increased alcohol and peculiar package design, Double Uddercut is expected to generate a larger following each time it is brewed, selling quickly from store shelves and local taps. Fans are urged to grab a bottle or a glass before the udders run dry.
Contact Info
Company: Indiana City Brewing Co.
Contact: Erin Stevens
Email: erin@indianacitybeer.com