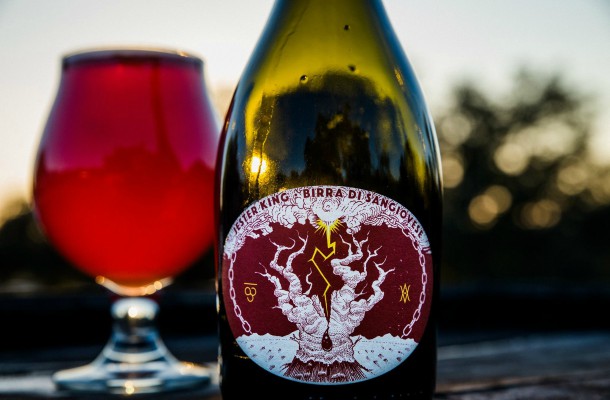 Jester King Brewery Releases Birra di Sangiovese
This Friday, November 24th, when the Jester King tasting room opens early at Noon, we'll be debuting Birra di Sangiovese! Birra di Sangiovese is our barrel aged sour beer refermented with Sangiovese grapes grown at Tyler Farms & Vineyard in Midland, Texas. We got a really great haul of several different varieties of Texas wine grapes this past August, including Sangiovese, Syrah, Muscat, and Blanc du Bois. After fruit refermentation and bottle/keg refermentation this summer and fall, our 2017 wine grape beers are coming out!
In August, we blended eight 225L oak barrels of mature barrel aged sour beer and added about 1,100 pounds of hand-harvested Sangiovese grapes for refermentation. After around a month of fruit refermentation, we racked the beer off the grapes and naturally conditioned it in bottles and kegs.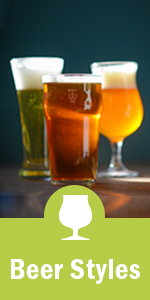 Birra di Sangiovese was packaged on September 20, 2017. It's 7.4 percent alcohol by volume, 9 IBU, 3.5 pH, and 0.999 specific gravity (-0.25 Plato). This is our first ever blend. It will be available by the glass and in bottles to go in our tasting room (500ml/$20). We have about 1,600 bottles available with a bottle limit of three per customer per day. Birra di Sangiovese will only be available at our tasting room and at special events. We hope you enjoy it!
About Jester King Brewery
Jester King is an authentic farmhouse brewery committed to mixed culture and spontaneous fermentation. Our beers incorporate our natural surroundings and local agriculture, so as to make beer uniquely tied to a time, place, and people. Our tasting room provides a beautiful, relaxed setting to enjoy the Texas Hill Country with friends and family.
Contact Info
Company: Jester King Brewery
Contact: Jeffrey Stuffings
Email: jstuffings@jesterkingbrewery.com