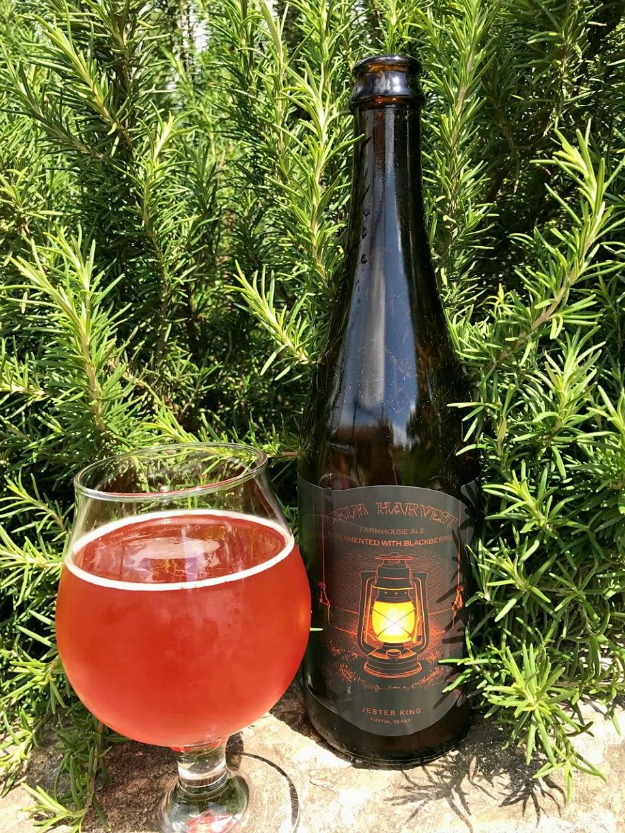 Introducing Jester King Grim Harvest, Ale Refermented with "Spent" Blackberries
Grim Harvest is our farmhouse ale refermented with the "spent" blackberries from Jester King Nocturn Chrysalis.
Several years ago, we noticed that the refermented fruit from our beer still had a lot of character left in it. So we decided to do a second refermentation of the fruit to draw out more of that character. The inspiration for this technique also came from reading that Cantillon had once done this. The result was beers like La Vie en Rose (raspberries) and Detritivore (cherries). We have now completed this technique with blackberries for Grim Harvest. Although, to be precise, a few years ago beer from a second refermentation of blackberries made its way into Synthesis Analogous.
Grim Harvest was bottled on August 12, 2016. It's 5.8% alcohol by volume, 14 IBU, 3.4 pH, and has a finishing gravity of 1.000 (0 degrees Plato). We only have 800 bottles available for sale (750ml/$18). The bottle limit is one per customer per day. Unfortunately, we didn't have enough Grim Harvest to fill any kegs, so it will only be available at bottles to go. Grim Harvest will only be available at Jester King until the bottles are sold out.
We've been looking forward to releasing the second refermentation of the blackberries from Nocturn Chrysalis (working title "Blackberry 2") for quite some time, so we hope you enjoy!
Contact Info
Company: Jester King Brewery
Contact: Jeffrey Stuffings
Email: jstuffings@jesterkingbrewery.com