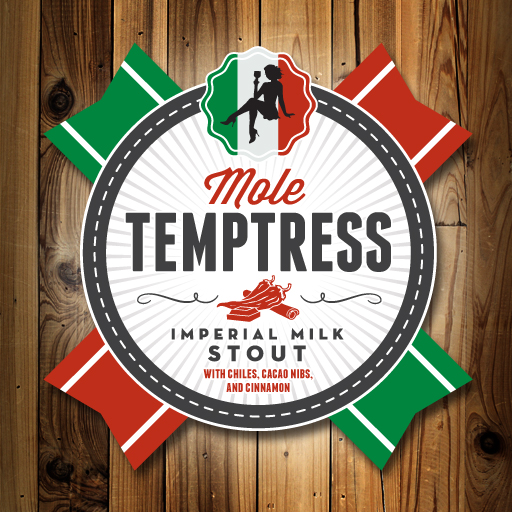 Lakewood Brewing Company Releases Limited "Seduction Series" Edition of Mole Temptress
DALLAS – This Cinco de Mayo, Lakewood Brewing Company will introduce fans of The Temptress to a bolder variation of their popular imperial milk stout. Mole Temptress, the second release in their limited "Seduction Series", celebrates the cultural flavors of the holiday with infusions of chiles, chocolate and spices. This unique 30-barrel batch will be available on draft only beginning April 28 at select bars and restaurants around DFW.
Inspired by the flavorful, traditional sauces used in a variety of Mexican cuisine, Mole Temptress incorporates many special ingredients — assorted chiles including ancho, chipotle, guajillo and pasilla, cinnamon and 100 percent pure cacao nibs sourced in collaboration with DFW-based Dude, Sweet Chocolate.
"We introduced Mole Temptress for the first time in 2013 as a small one-off cask, and the large positive response led us to bring it back again this year," said Wim Bens, founder of Lakewood Brewing Company. "The beer possesses a subtle warmth from the variety of chiles we use, a hint of cinnamon and an extra depth of cocoa flavor."
The ingredients are combined and added towards the end of fermentation. "They slowly seep in, imparting all their unique flavors into the beer," said Bens.
The end product offers the same smooth, seductive taste people know and love about Temptress with a small, subtle kick of festive flavors.
Bens added, "In 2015, we hope to start bottling the Seduction Series with the expansion of our brewery.
Most bars and restaurants that will carry the limited Mole Temptress already serve the regular Temptress. For a full list, beer lovers can get up to date information on Lakewood Brewing Company's Facebook page or on Twitter.
About Lakewood Brewing Company
Lakewood Brewing Company produces internationally inspired, locally crafted beers. Its diverse varieties include year-round, seasonal, and Legendary small-batch brews. Lakewood beers are available throughout the Dallas-Fort Worth area in discerning bars, restaurants, and select retailers. For locations and more information, please visit lakewoodbrewing.com
###
Contact Info
Company: Lakewood Brewing Company
Contact: Carrie Kelly
Email: carrie@lakewoodbrewing.com