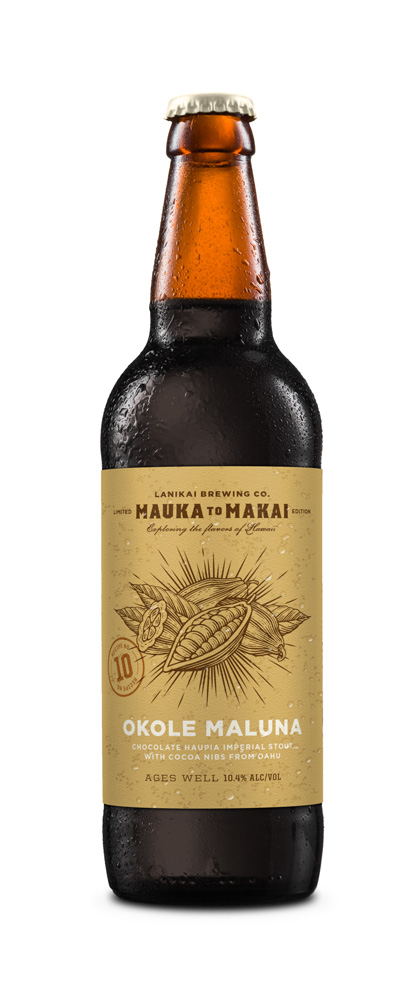 Lanikai Brewing Company Defines Authentic Island Inspired Hawaiian Beer
Lanikai Brewing Company is the original Kailua, Hawaii brewery focused on creating authentic, island inspired® Hawaiian craft beer. This Thursday, they will have a new double release of both bottles and draft.
The first is a bottle release of the third beer in the Mauka to Makai limited beer series. Mauka to Makai (translates "from the mountains to the sea") to complement our year round production brews. These new limited release beers will be distributed throughout Hawaii on a limited basis. The brewmasters focus on using exotic and limited ingredients sourced within Hawaii by foraging, or working with local farmers.
The Okole Maluna (translates to "bottoms up") is a Chocolate Haupia Imperial Stout at 10.4% ABV. It highlights locally sourced Hawaiian Cacao nibs, chocolate and roasty notes with haupia (coconut) and has a touch of sweetness.
Another beer release this week in draft only will be "The Lime in the Coconut." Just like the song, this concoction brings to life a coconut flavor paired with lime to create a refreshing new Smoothie IPA. The Lime in the Coconut has 7.1% ABV and 70 IBUs. It's brewed and dry hopped with mostly Zoso hops from Misty Mountain Hop Farm in Olathe Colorado. Zoso adds tropical and citrus notes with hints of Mango. It will be on draft at the Brewery's Tasting Room on Hamakua Drive this Thursday, January 26.
About Lanikai Brewing Company
Lanikai Brewing Company is an Island Inspired® authentic Hawaiian craft beer company making 100% of our brews here in Hawaii. We take our cues from premium, local, rare, and exotic ingredients found across the Pacific to bring you bold and flavorful beers that you will find nowhere else. Pour a nice solid head to breathe in the flowers and fruits, the same aromas carried by our gentle trade winds. It's paradise in a bomber bottle, best shared with friends.
Lanikai Brewing Company is a community based brewery, with a tasting room overlooking the production floor. Open Thursdays and Fridays between 4-9pm and Saturdays and Sundays between 12-6pm for samples, growler fills and bottle sales. There is no on site parking.
**Please note that variances in growing season conditions can impact batch to batch flavor and aroma profiles.
Located at 175 Hamakua Drive, Kailua, HI 96734 on the beautiful Kawainui Marsh.
FB: Lanikai Brewing Company
IG: @lanikaibrewing
Twitter: @lanikaibrewing.
Contact Info
Company: Lanikai Brewing Company
Contact: Katie Peterson
Email: katie@lanikaibrewing.com