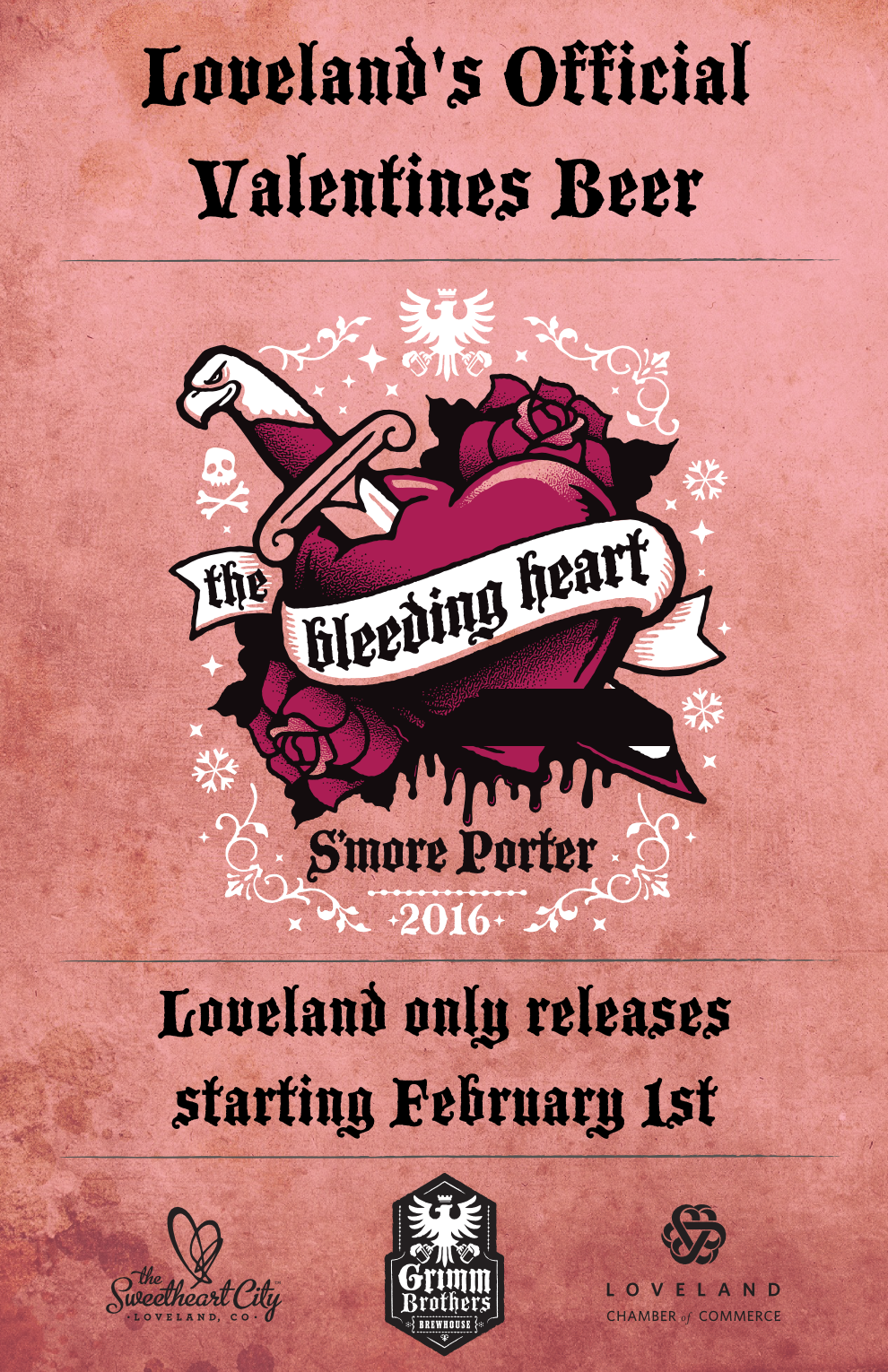 Loveland, CO Official Valentines Beer Releases February 1st
Loveland's Official Valentines Beer Releases February 1st
2016 Bleeding Heart a S'mores Porter
 LOVELAND, CO – December  21, 2015 – Grimm Brothers Brewhouse is thrilled to invite you to join us for the release of The Bleeding Heart, an incredibly delicious S'mores Porter. We brewed this special beer to celebrate Valentine's Day here in the Sweetheart City and are honored to join the Loveland Chamber of Commerce & Visitor's Center in naming The Bleeding Heart the Official Beer of Loveland's Valentine Celebration.
The beer will only be available in Loveland liquor stores, select bars and restaurants, and the Grimm Brothers taproom in 6 packs and on draft. Join Grimm Brothers for a special tapping event February 1st in their taproom. Free samples at noon for Loveland Chamber members then open to the public at 1:00 PM.
And this year Grimm Brothers brings back the Valentines dinner to their taproom with a 5 course tapas dinner on Saturday February 13th from 7-9 PM. Tapas by Brewed Food, based in Denver, CO. $35 per ticket, available for sale in the Grimm Brothers taproom and online.
Or if you can't make it to the  dinner join Grimm Brothers for one of three Brunch & Brew Tours by My Big Date, two on February 13th and one on February 14th. 2016 Bleeding Heart tasting  and brunch by Taste Catering. Visit www.valentinesdayinloveland.com for tickets.
About Grimm Brothers
Grimm Brothers Brewhouse was founded in 2010 by avid homebrewers captivated by the rich tradition of European beers. They knew that the long history of beer production in Germany and surrounding areas would give them plenty of tales to share with their customers.  Inspired by the stories collected by Jacob and Wilhelm Grimm, they craft their beers to tell not only the story of Craft Brewing, but the harrowing and dark tales handed down through the generations. Grimm Brothers operates a tap room at 623 N. Denver Ave., Loveland, CO offering their beer for on premises consumption and carry-out sale.
For more information about Grimm Brothers visit www.grimmbrosbrewhouse.com
Contact Info
Company: Grimm Brothers Brewhouse
Contact: Rose Schlosser
Email: rose@grimmbrosbrewhouse.com