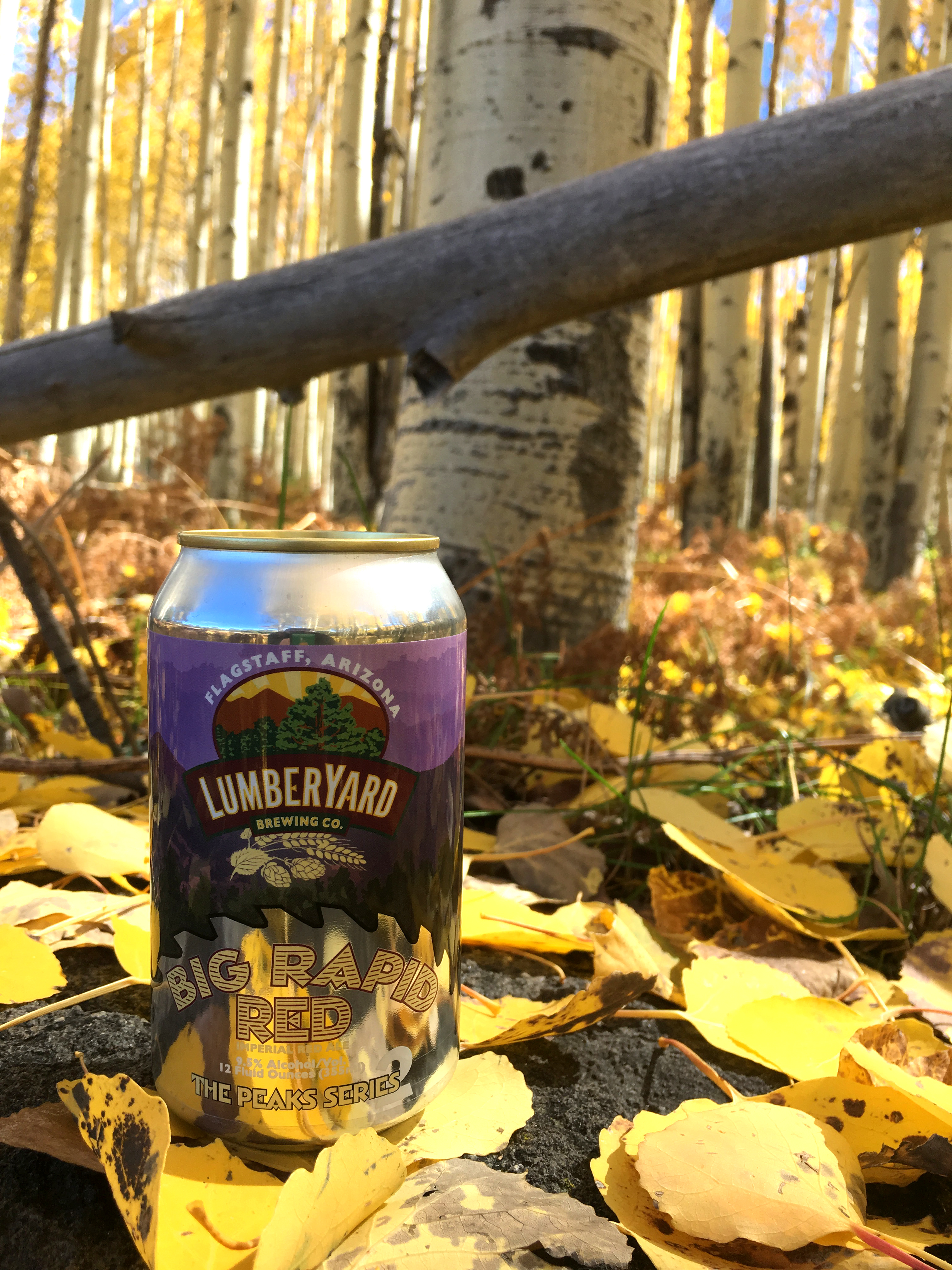 Lumberyard Brewing Company Releases Big Rapid Red in The Peaks Series
Flagstaff, Az.  
Lumberyard Brewing Company is proud to release its second can in The Peaks Series – Big Rapid Red.  This Imperial Red is big, flavorful, and strong.  Big Rapid Red has a rich body and a ridiculous amount of kettle hops and a supercharged dry hop resulting in 110 IBU's.  It is made with a wide variety of malts including Pale, Munich, Crystal, and Wheat (9.5% ABV, 110 IBU).  Big Rapid Red will be available in 12oz cans as well as draft throughout Arizona and on tap at the brewery in Flagstaff.
Big Rapid Red is one of Lumberyard Brewing Company's awarded beers including a Gold Medal at Great American Beer Festival in 2010 and a Silver Medal at the World Beer Cup in 2010.
The Peaks Series was created to highlight Lumberyard Brewing Company's award winning high alcohol beers, and their connection to Flagstaff.  The can is designed to represent Flagstaff, with the iconic San Francisco Peaks, known as "The Peaks" to locals, prominently shown on the can.  This series is highlighting the various seasons that Flagstaff has to offer and the seasonality of different varieties of beer.
This series joins Lumberyard's existing can offerings: Flagstaff IPA, Railhead Red, Knotty Pine Pale and Diamond Down Lager.  The next can in The Peaks Series will be Lumberyard Brewing Company's local favorite Scotch Ale set to release later this year.
ABOUT:
Lumberyard Brewing Company opened in May 2010 in historic Downtown Flagstaff.  Owners, Winnie and Evan Hanseth rehabilitated on of the last remaining buildings of Flagstaff's lumber era to recreate the community hub that it once was.  The building has given them a unique space for packaging their award winning ales and lagers.  The couple also owns Beaver Street Brewery that is located a block away from Lumberyard Brewing Company and has been open since March 1994.
Contact Info
Company: Lumberyard Brewing Company
Contact: Kelly Hanseth
Email: lumberyardbrewery@gmail.com