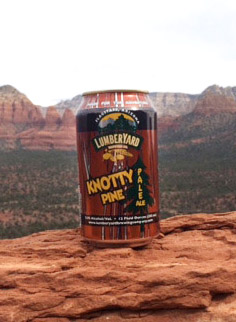 Lumberyard Brewing Company Releases Knotty Pine Pale Ale in Cans!
Lumberyard Brewing Co is proud to introduce Knotty Pine Pale Ale available in 12oz cans. This American Pale Ale is crisp and refreshing with light malt flavors.  It is accompanied with firm hop bitterness and aromas that make this the perfect beer (5.4% ABV, 40 IBU).
Knotty Pine Pale Ale is the third can offering by Lumberyard Brewing Co.  Lumberyard Red and Lumberyard IPA are available in cans throughout Arizona.  Lumberyard Brewing Co has been canning their award winning ales for 4 years.
Knotty Pine Pale Ale (formerly known as Lumberyard American Pale Ale) won the Gold Medal for the American Pale Ale Category at the Great American Beer Festival in 2013. American Pale Ale is one of the most prestigious and competitive categories in the beer community.  In 2013, 124 beers were entered into this category and Lumberyard Brewing Co came out as the best in the country.
The package represents Flagstaff's lumber era with the knotty pine characteristic wrapping the can.  The National Forests are one of Flagstaff's greatest attractions with Ponderosa Pine trees surrounding this mountain town.  The package is ringed with PakTech ring holders, which are 100% recyclable.
ABOUT:
Lumberyard Brewing Company opened in May 2010 in historic downtown Flagstaff.  Owners, Winnie and Evan Hanseth rehabilitated one of the last remaining buildings of Flagstaff's lumber era to expand into a unique space for packaging their award winning ales and lagers. The couple also owns Beaver Street Brewery that is located a block away from Lumberyard Brewing Company and has been open since March 1994.
Contact Info
Company: Lumberyard Brewing Company
Contact: Kelly Hanseth
Email: lumberyardbrewery@gmail.com