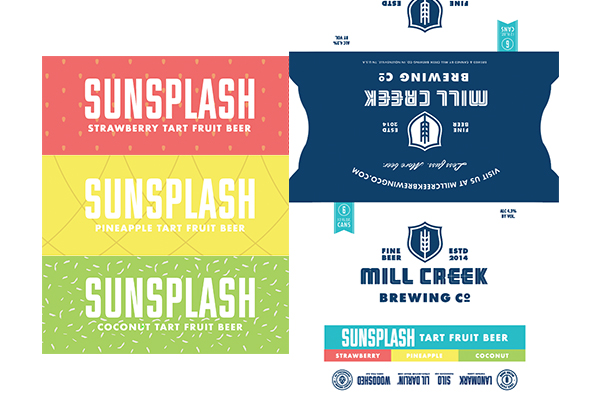 Mill Creek Brewing Co. Announces New Summer Seasonal: SunSplash
Beginning mid-July, make a splash in your cups with Mill Creek Brewing Co's newest seasonal, Sun Splash: Tart Fruit Beer. This crisp and refreshing Berliner Weisse style brew features a light and mild tart flavor paired with not one, but three fruits. Coming at you in a mixed six-pack of cans, SunSplash features individual variations of strawberry, pineapple, and coconut. Savor Strawberry on a summer's afternoon, or play mixologist with this tasty trio, blending the various fruit flavors for a touch of Tiki, no umbrellas or coconut cups necessary. However you choose to enjoy it, SunSplash will be sure to keep your summer cool and your taste buds refreshed.
Mill Creek Brewing Co. is based out of historical Nolensville, TN, just south of Nashville. They specialize in brewing drinkable and approachable craft beers, full of flavor and accessible to all. It's beer at its finest, stripped of pomp and privilege, bare-boned, but bold. It's the beer you can drink all day and never get tired of. At Mill Creek, it's all about the beer.
They carry out their "Less fuss. More beer" attitude from their 27,500 sq. ft. facility, designed specifically to create and churn out gallon upon gallon of delicious beer. Mill Creek Brewing Co. currently distributes their beers in Tennessee, Alabama, and Kentucky.
You can find out more about Mill Creek Brewing Co. on their website www.millcreekbrewingco.com or on Facebook, Instagram (@MillCreekBrewCo), and Twitter (@MillCreekBrewCo).
Contact Info
Company: Mill Creek Brewing Co.
Contact: Camille Tambunting
Email: camille@millcreekbrewingco.com