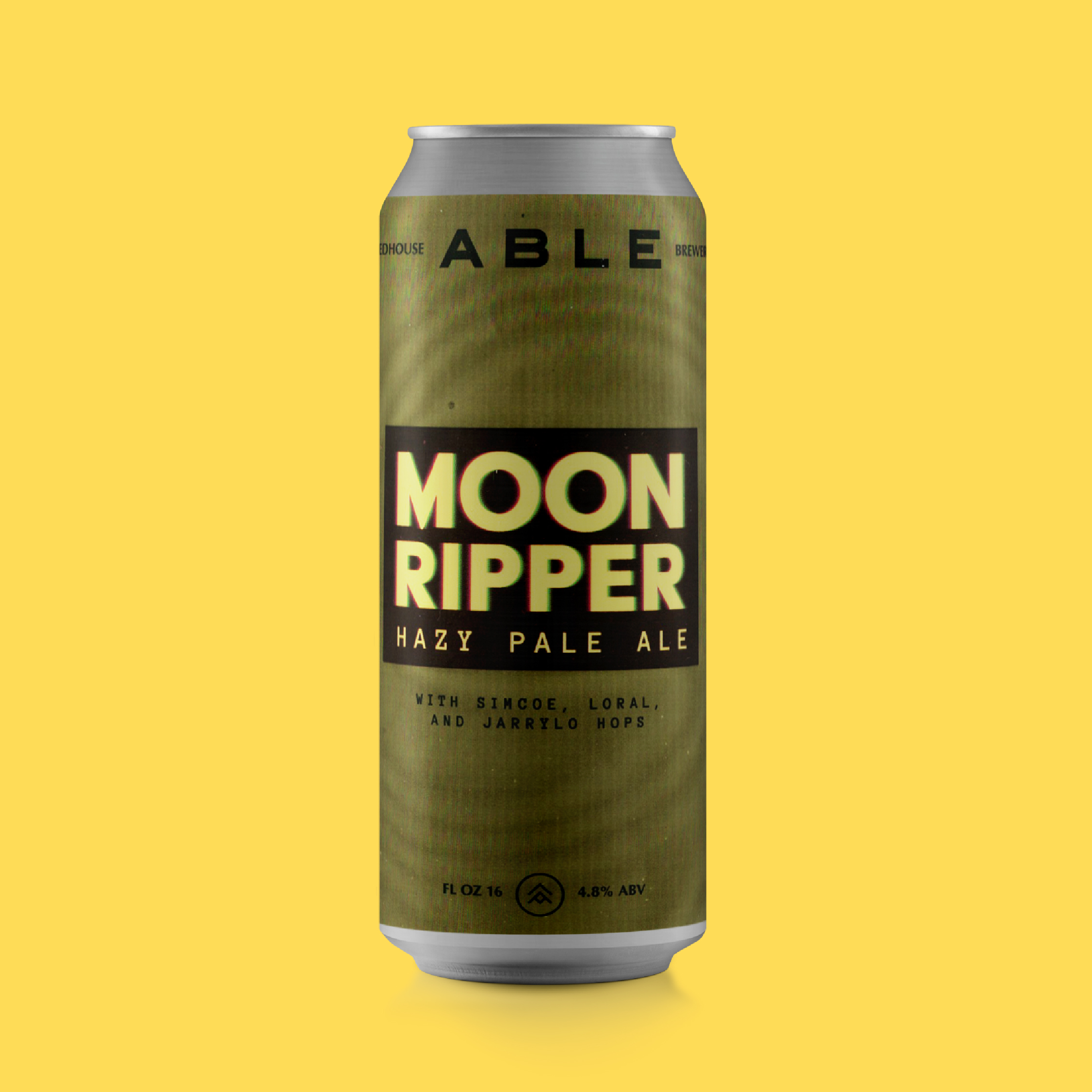 Moon Ripper: Bask in the Light of Able's New Summer Pale Ale
Minneapolis (July 8, 2020) – Able Seedhouse + Brewery in Northeast Minneapolis is phasing in a smooth hazy pale ale for daydreaming, stargazing and everything in between.
Moon Ripper features a distinct and delicious flavor profile, born from being creative with ingredients on hand. "It was actually designed from the extra hops we had in the cooler during the beginning of the pandemic," says Able Head Brewer Bobby Blasey.  "It just happened that we had enough Jarrylo, Loral and Simcoe hops to make something really tasty for the summer. The combination of hops gives Moon Ripper lots of citrus, melon, pear, and berry flavors with just a small touch of pine and pepper notes to keep it interesting."
Moon Ripper is unfiltered, clean, hoppy and juicy, with a 4.8% ABV and 7 IBU.  Give it a try in the Able taproom starting Friday, July 10th and find Moon Ripper on local shelves beginning Monday, July 13th. For samples, interview opportunities or additional details, please contact Kelly Plummer at 651-206-9852 or kelly@superstarpr.com.
ABLE Seedhouse + Brewery
Founded in 2015, Able Seedhouse + Brewery is a community of creative, hard-working and thoughtful people dedicated to building locally inspired and ultra-fresh beer. Every concept, piece of art, package, design, and beer poured at Able are the result of a very curious group of people and the community supporting them. ABLE is located in the Arts District of Northeast Minneapolis at 1121 Quincy St NE. ABLE is also home to Animals Barbeque Company. To learn more, go to: www.ablebeer.com.
DO THINGS. FIND STUFF. BE ABLE.
###
Contact Info
Company: Able Seedhouse + Brewery
Contact: Kelly Plummer
Email: kelly@superstarpr.com